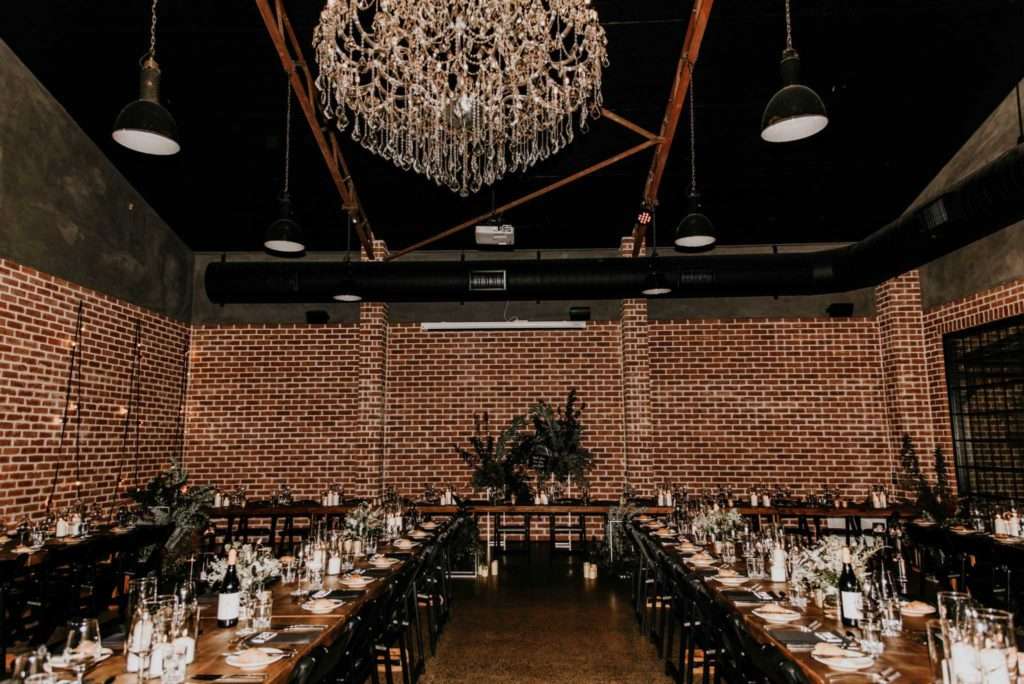 Image: Factory 51, Industrial Wedding Venue
Industrial Interior and Exterior design has become a worldwide trend. The love of this emotive and raw atmosphere has entered the wedding stratosphere, resulting in unique and rustic receptions utilizing raw textures with contemporary elements. This has promoted a love affair with hosting a industrial wedding in Brisbane.
It all starts with choosing both a ceremony and wedding venue in Industrial spaces that are abundant with raw textures like concrete, tin, rusted metal, and bricks. The natural aesthetics of the locations and their rustic buildings will set the perfect atmosphere for the celebration.
Imagine a 200kg giant crystal chandelier dripping down of a rusty 80 year old beam hanging high from the ceiling of an industrial building steeped in manufacturing history. Green foliage floating effortlessly in front of weathered brick walls. Native Australian flowers spilling out of chic repurposed glass jars sitting on handmade recycled timber tables. When raw textures are mixed with contemporary elements and fresh greenery, the result is simply stunning. With polished concrete floors in industrial wedding venues, everywhere is a dance floor!
Industrial Ceremony Venues
The scope for finding an industrial ceremony space is endless. Some couples opt to host their ceremonies inside their chosen industrial venue. This not only sets the scene for the industrial wedding to follow, it also provides a all weather solution and gives all the guests extra time to mingle and enjoy the atmosphere. For the more adventurous type, you can find endless industrial and rustic ceremony opportunities in Brisbane. Locations like Coorparoo and Woolongabba have stunning industrial buildings backing on to council parks. This means for a small council fee, you can access manicured parklands and industrial splendor for your ceremony. You can also hire a local company to set up your ceremony and host post nibbles and refreshments.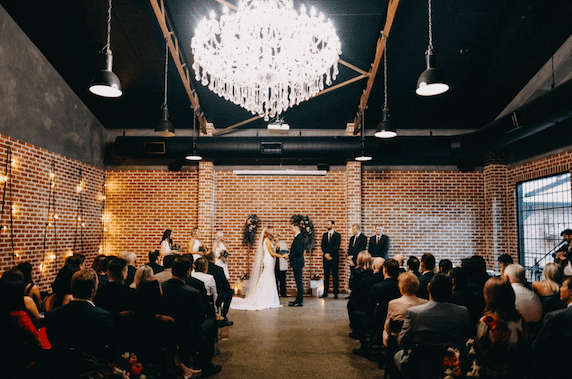 Image: Factory 51, Industrial Wedding Venue
Industrial Wedding Photo Opportunities
As the bridal party sets off for the all important photos, the industrial photo opportunities are even more plentiful. Whether your under a bridge, in front of an old railway line or next to a shed wall covered in graffiti, the contemporary chicness of the bride and her army of willing followers will make the photos amazing. When scouting out these locations, it's a great idea to go and see these spots as a similar time in the day to your ceremony, taking into consideration the changing of the seasons. Other considerations is if the ground is suitable for high heals, there is some filtered cover from the beaming sun and if the wedding car can be parked reasonably close to the photo opportunity. If you have chosen a wall due to the current graffiti, you have to consider that council routinely remove graffiti, so permanent features are suggested.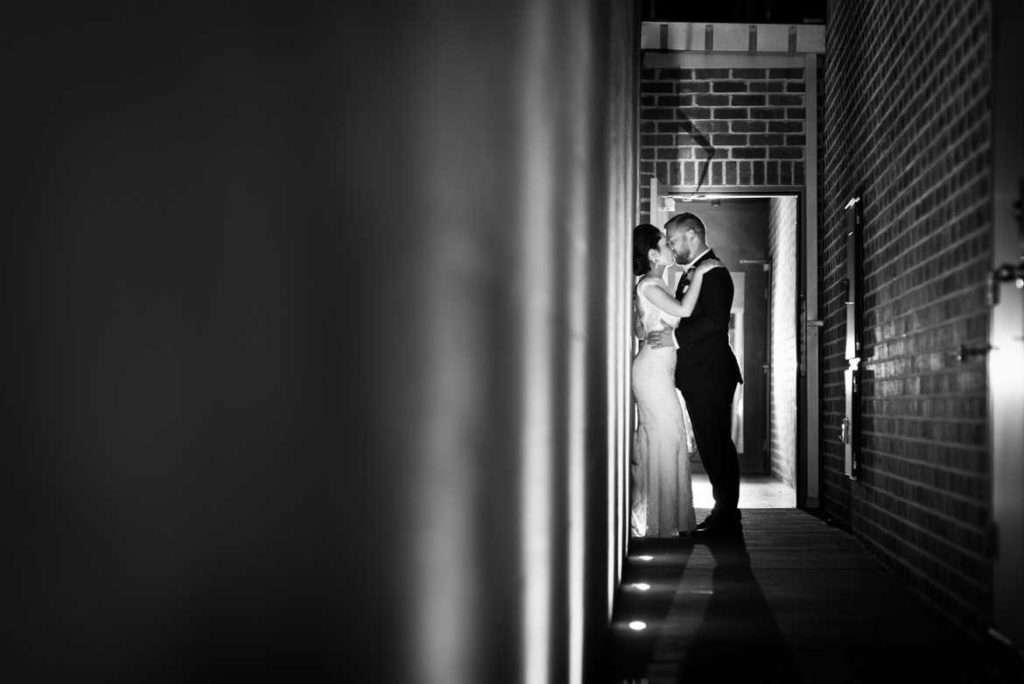 Image: Factory 51, Industrial Wedding Venue
Industrial Wedding Venue Styling ideas
Industrial venues provide the perfect canvas on which to mix vintage and rustic treasures with contemporary furniture and one off pieces. The best reason to choose an industrial space is they can be affordable to decorate and still look great without an excess of flowers or styling elements. To mix textures with contemporary elements is non pretentious and gives brides an opportunity to used salvaged objects to custom style their reception. Industrial spaces and venues have a raw energy that promotes creativity and imagination. In the year leading up to the reception, couples need to be on the constant lookout for items that can be used on the day.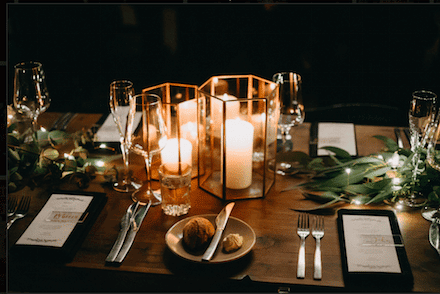 Image: Factory 51, Industrial Wedding Venue
Lighting
Choosing the right lighting can transform an industrial or rustic space into an atmospheric bliss. Draping raw brick walls with festoon lighting or fairy lights will add a splash of prettiness to soften the atmosphere and give guests that wedding feeling. Using classically stunning crystal chandeliers and lighting also adds some unexpected glamour to the industrial setting. If your going for that more dimly lit feel than you could hire or forage for some vintage warehouse lighting. Allot of these lights are sourced from France and Europe who have an abundance of old warehouses. If the ceiling of the venue needs to be hidden, fairy lights can be used to weave through the ceiling and drape down, creating a ceiling of light. This is also a very affordable solution, as long as the ceilings can be easily accessed. Battery powered copper fairy lights are another great tip. These can be weaved through greenery, stuffed in jars, wrapped around posts and glued to signs. The timeless candle is also a must have in an industrial setting and adds warmth and charm. Whether you use tea light holders, jars, candelabras or a modern masterpiece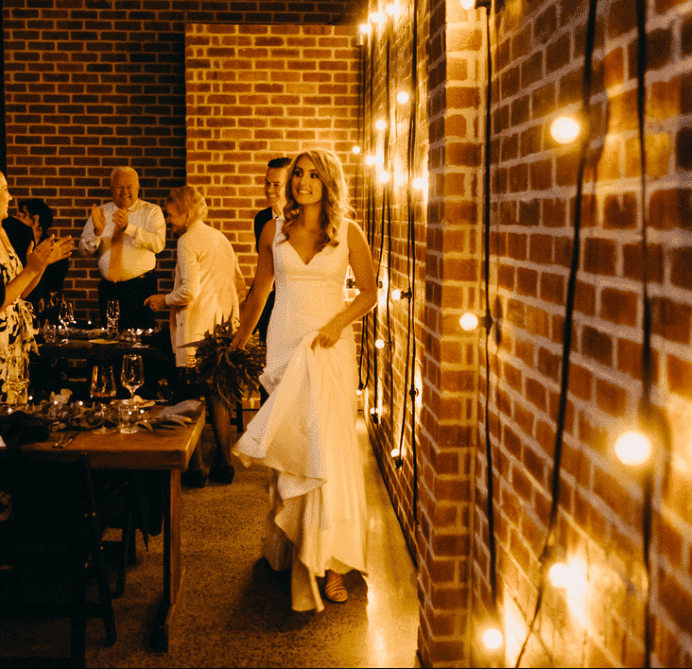 Image: Factory 51, Industrial Wedding Venue
Florals 
The overwhelming benefit from choosing Florals for an industrial Wedding is that they all look magnificent set against raw materials. This creates an opportunity to forage greenery, and create living arbors and wall decorations using recycled materials as the base. Industrial Venues as also blessed with exposed roof rafters that can hang anything from small floral displays to a floating ceiling of greenery. The most popular choice is fresh greenery laid out down the center of the table and it is both affordable and stylish. Succulents and Cacti on the tables also adds an architectural element.
Image: Factory 51, Industrial Wedding Venue
Furniture
To embrace the industrial and rustic theme, couples do away with table and chair covers and choose handmade timber tables and natural chairs. When choosing handmade timber tables, be sure that they are sturdy and practical. The ones pictured below are designed with sturdy folding legs and a strong frame.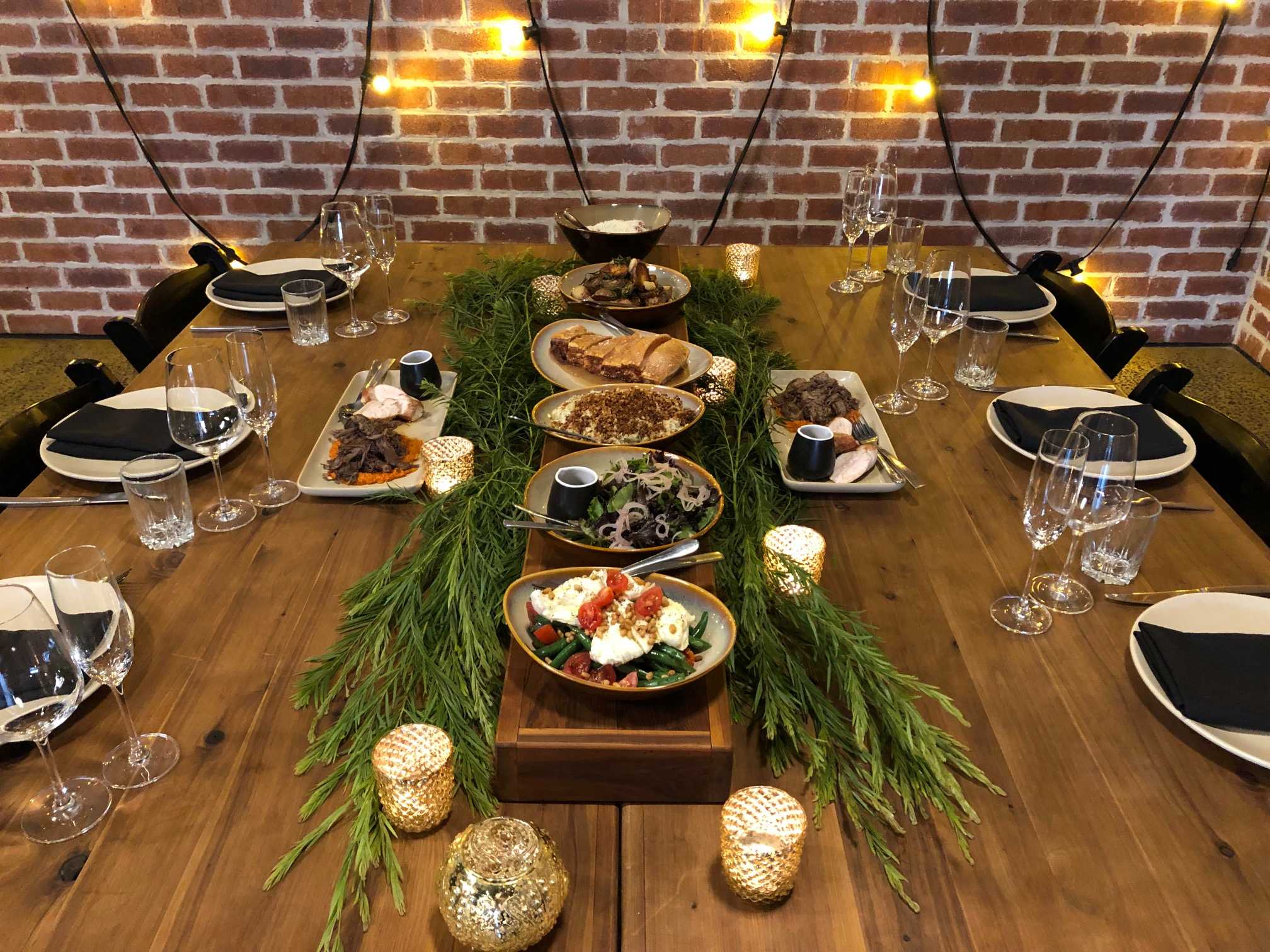 Image: Factory 51, Industrial Wedding Venue
Table Styling
Linen napkins are still necessary to provide elegance and class to the table setting. For vases and decorations, any recycled or chic object can be used as long as it fits the theme of the reception. Using salvaged and everyday objects like jars, rusted mirror's and home made recycled items can bring pleasure and intrigue to the evening. For crockery, choosing earthy rustic tones and unusual shapes as enhances the uniqueness of the theme. Copper candle holders and vases are gaining popularity and add class to the table.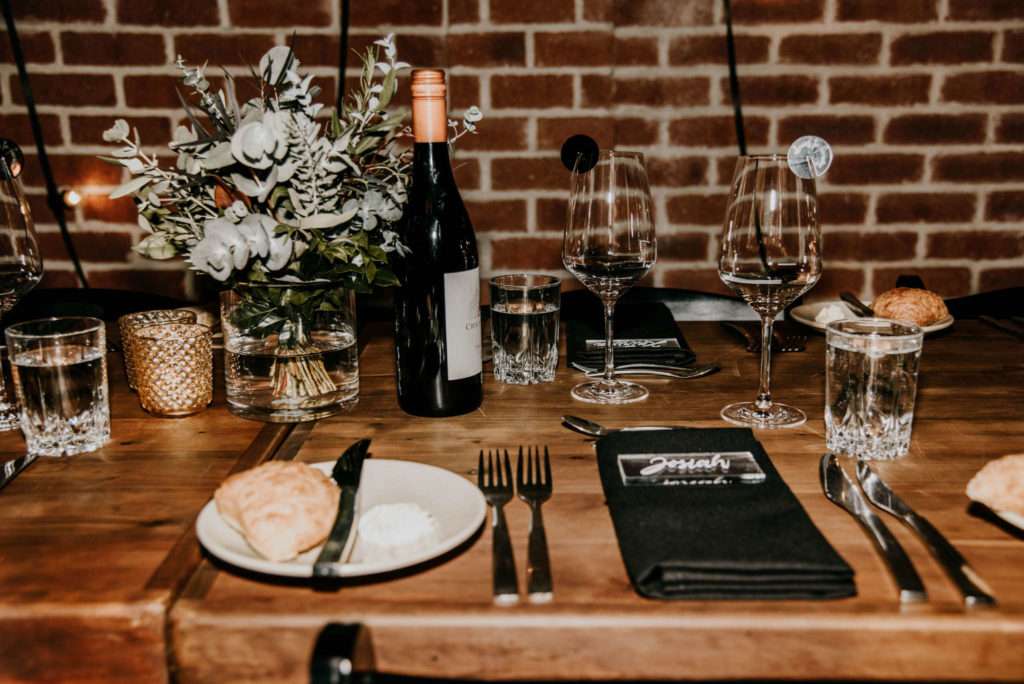 Image: Factory 51, Industrial Wedding Venue