A RELAXED AND EARTHY WEDDING
Like every good story, it all started at The Down Under Bar in October of 2014. Kylie had been backpacking around Australia with her best friend Laura, and had just finished three months of regional farm work when she met Jeremy. As fate would have it, the ladies had planned on spending their second year in Queensland, and so began an inseparable love between Kylie and Jeremy.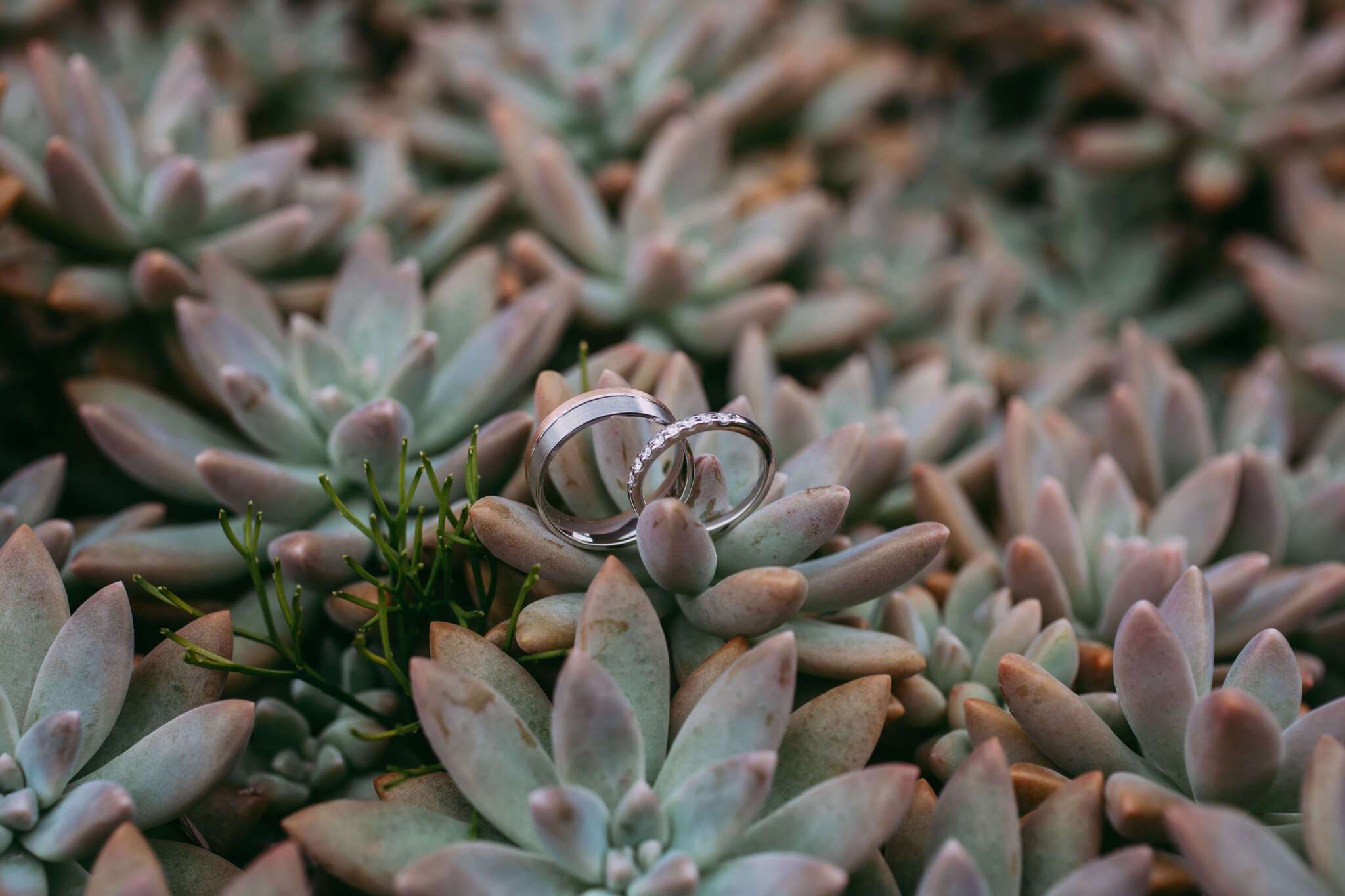 Their proposal story is the perfect mix of humour, awkwardness, and a whole lot of love… which the couple think matches their personalities perfectly. Jeremy recalls the events:
"I proposed to Kylie on Marcus Beach on the Sunshine Coast. It certainly didn't go to plan! Earlier I had gone to the beach to write our initials in the sand asking her to marry me. When I came back, there was a couple sitting on top of my writing. Next, I fumbled through the bag to find the ring to propose. Lastly, as I got down on one knee, our cavoodle chose that exact moment to run away."With cheeky Oliver rescued and sparkling ring on finger, Jeremy and Kylie made plans for a September 2020 wedding. However, with the arrival of Covid-19, they made an early decision to postpone until April 2021.
"We were very keen on the idea of an outdoor wedding and the location at Roma St was absolutely beautiful."
With Love wedding decorators helped set the park for the ceremony, with 80 guests seated on white timber folding chairs.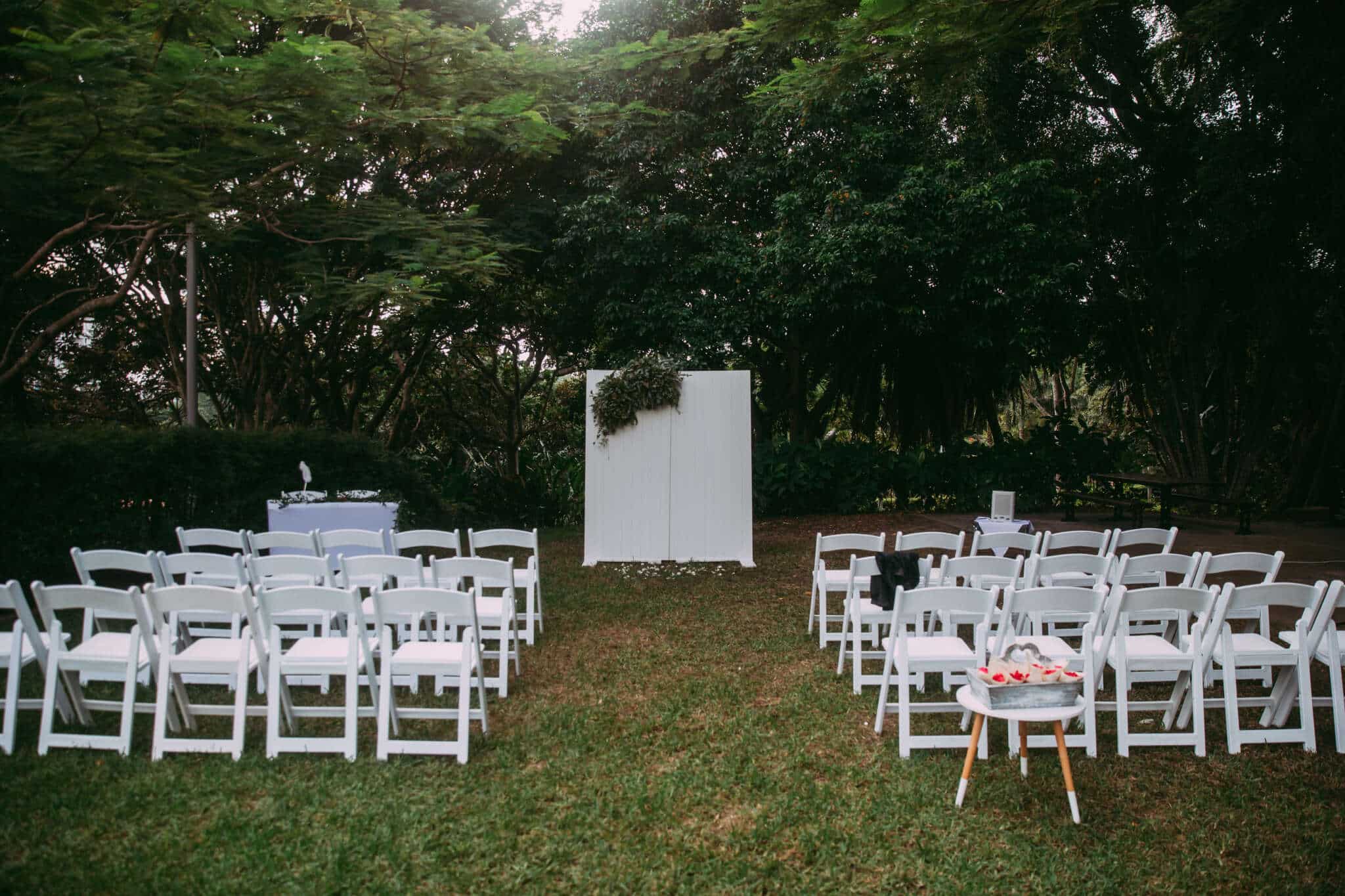 Kylie was accompanied by her best friend Laura and her sister-in-law Emily. The bridesmaids wore sage green silk slip dresses from Bec & Bridge, and Kylie wore 'Vivienne' – a Karen Willis Holmes gown sourced second-hand from Melbourne.
"I fell in love with the simplicity of the dress, but the beautiful puffed sleeves really made it for me."
Jeremy had good friends John, Nick, Ben, and Jaye stand by his side. The menfolk wore matching cream/beige tailored suits from Politix and tanned wicker shoes and belts, with the groom sporting a khaki and gold paisley pocket square.
Tanya from Sugared Style provided fresh Australian native greenery for the bridemaids' bouquets, buttonholes, and ceremonial arbour. Kylie's bouquet was a gorgeous white cascading orchid with minimal greenery.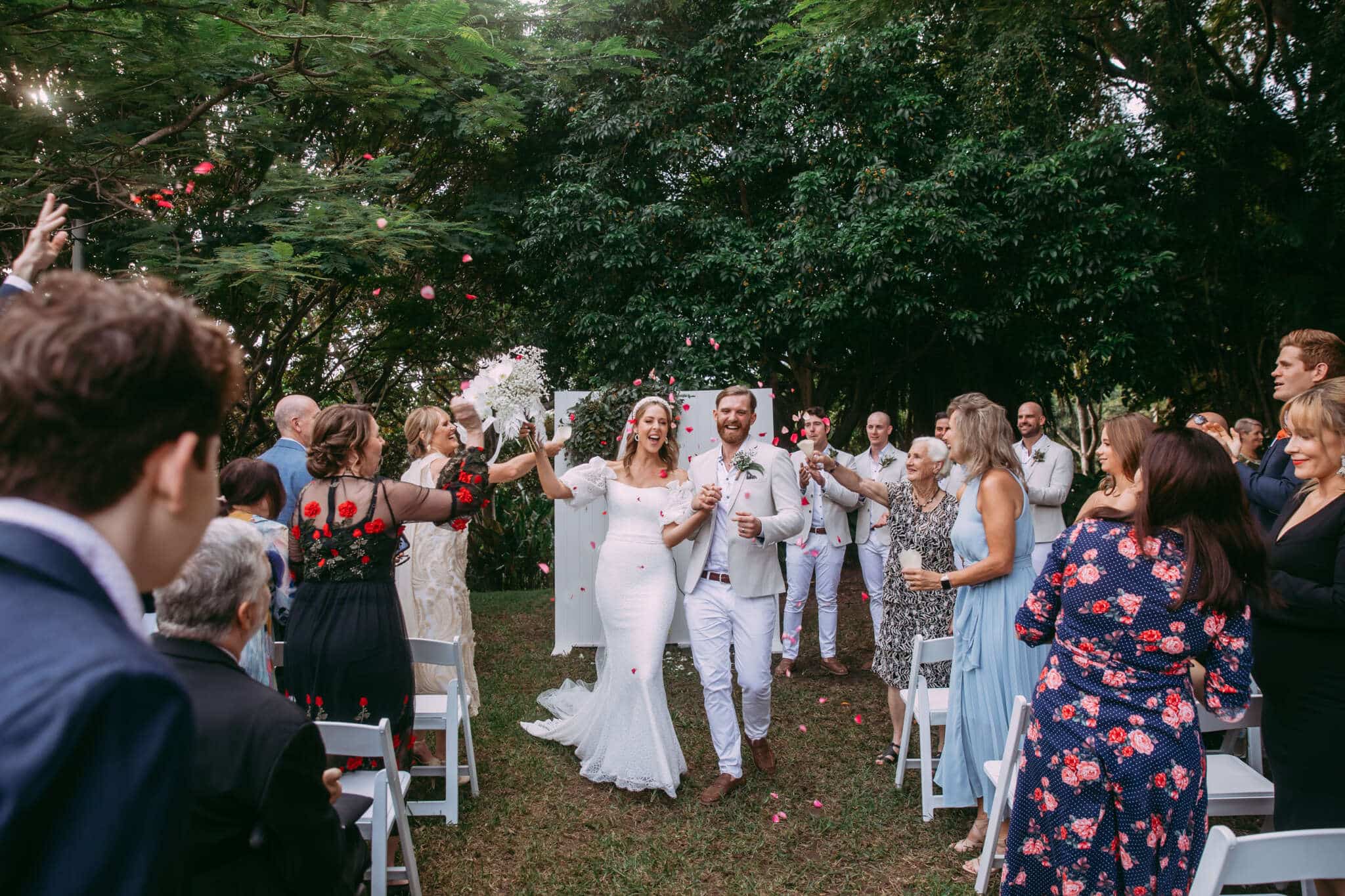 Reception
When it came to their wedding reception, Kylie and Jeremy only had one venue in mind:
"As Coorparoo locals, we had many lovely meals at Factory51. The staff and service was always wonderful and the food was to die for. When we were planning our reception, we only looked at one venue as we knew nothing would compare to Factory51. We really loved the wedding venue as the aesthetic and vibe was exactly what we were looking for!"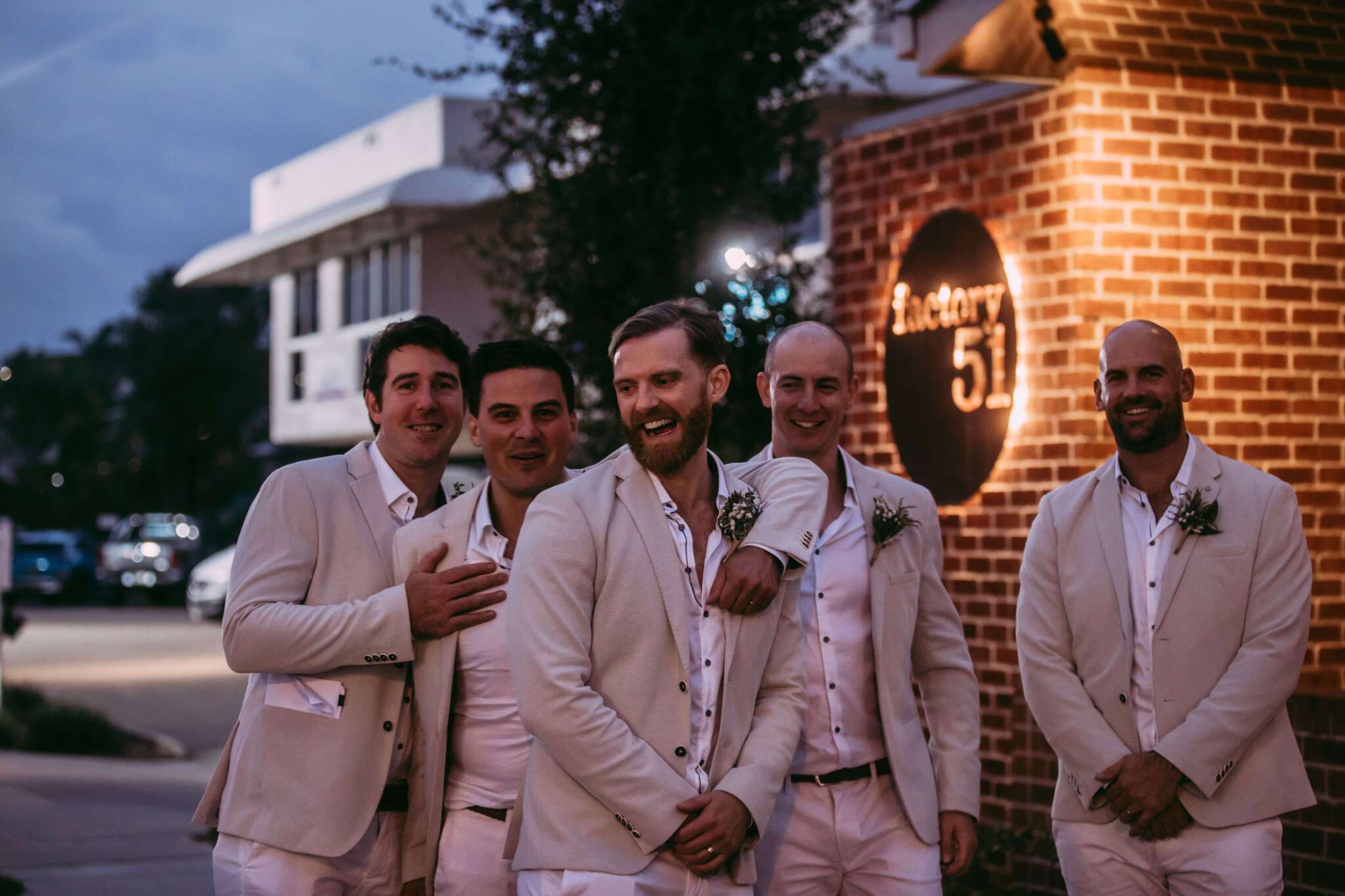 Jeremy and Kylie had long timber trestle tables adorned with greenery, and a floral arrangement made for the bridal table. The styling was kept minimal to reflect the beauty of the space and maintain a relaxed ambience. Kylie organised candles, frames, place cards, and a seating chart, which added the finishing touches to the styling.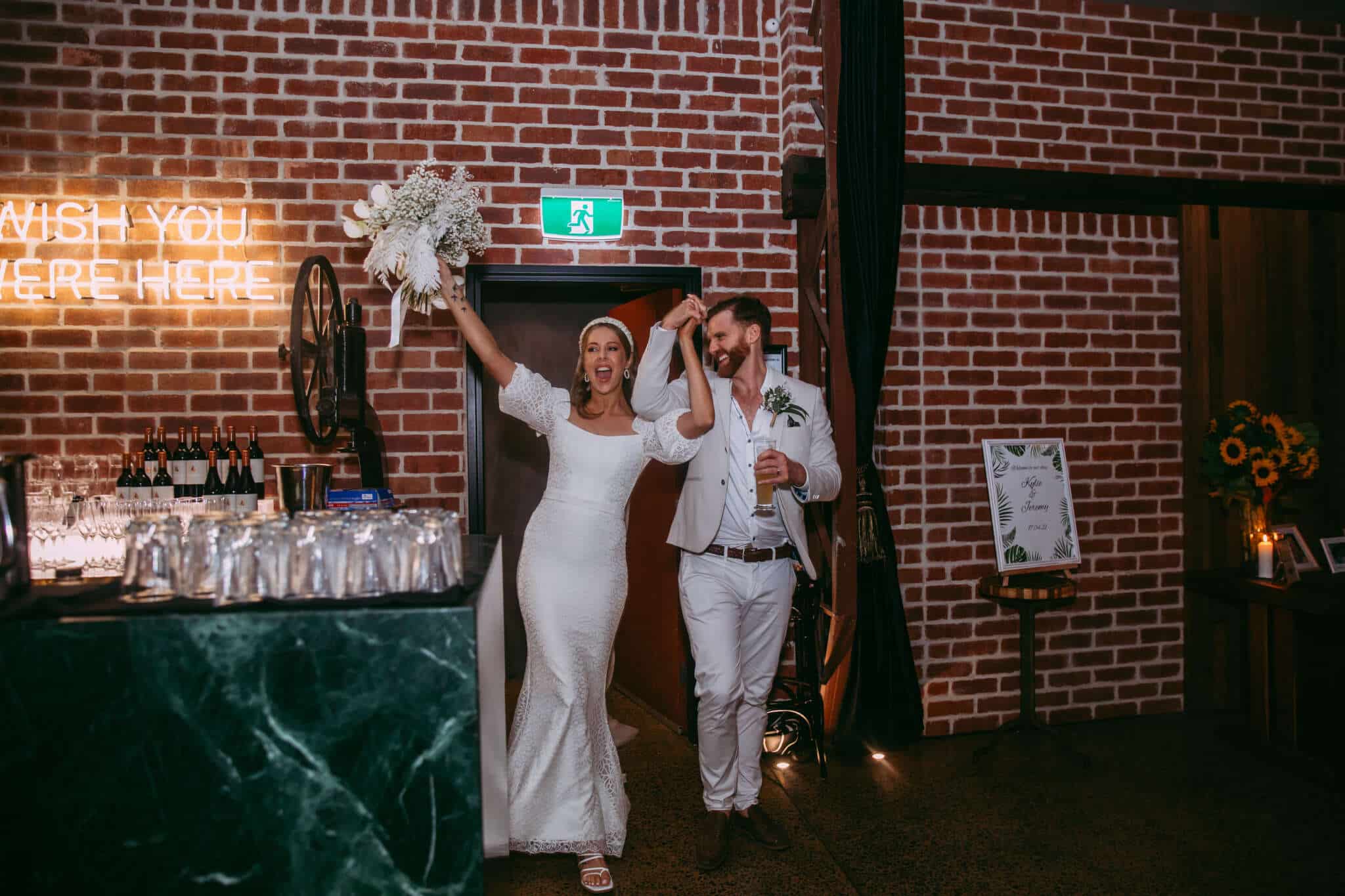 Menu
Factory51 provided an extensive menu to cover all aspects of Jeremy and Kylie's wedding. To start, guests were treated to a selection of canapes – including those infamous arancini balls – alongside an antipasto grazing table. Being fans of share plates, the bride and groom chose the signature Italian-inspired Shared Feasting Menu which saw a combination of dishes placed down the centre of tables.
"Nothing was of trouble and they were very accommodating for guests with dietary requirements. Everyone still mentions how delicious the food was that day!"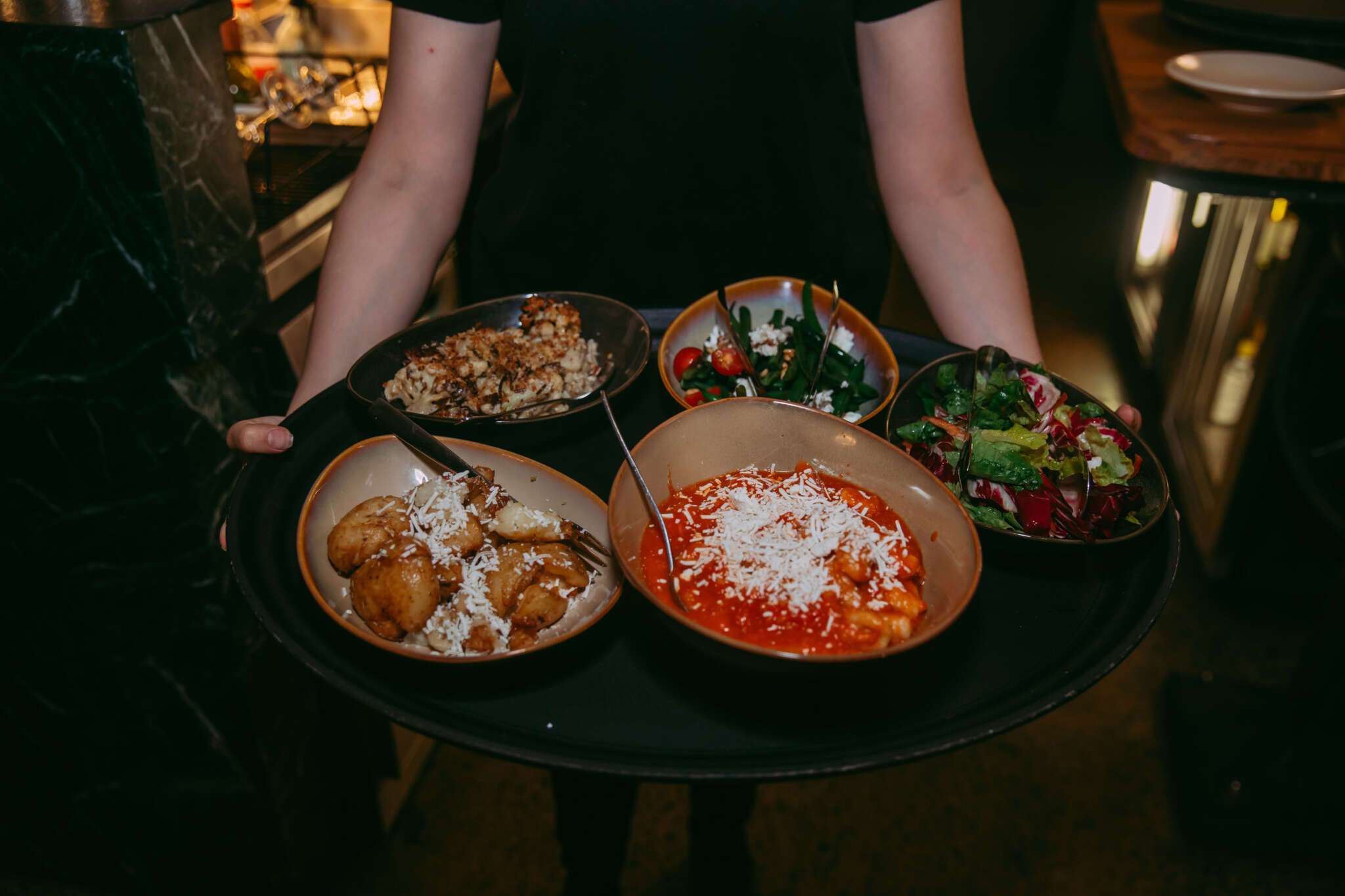 Their wedding cake was crafted by The Baking Angel, who came recommended from friends. The base was a chocolate mud, and the top tier was Jeremy's favourite red velvet. It had a naked finish with just the perfect amount of greenery trailing down.
Factory51's Chandelier Beverage Package was served alongside their menu, complete with wine, beer, and cider.
"The boys had their favourite Stone and Wood, and as red wine lovers, we were over the moon with the wonderful wine selection to choose from".
Jeremy and Kylie were keen to keep guests partying, so they arranged for pizzas to be brought out around 10pm. What a couple!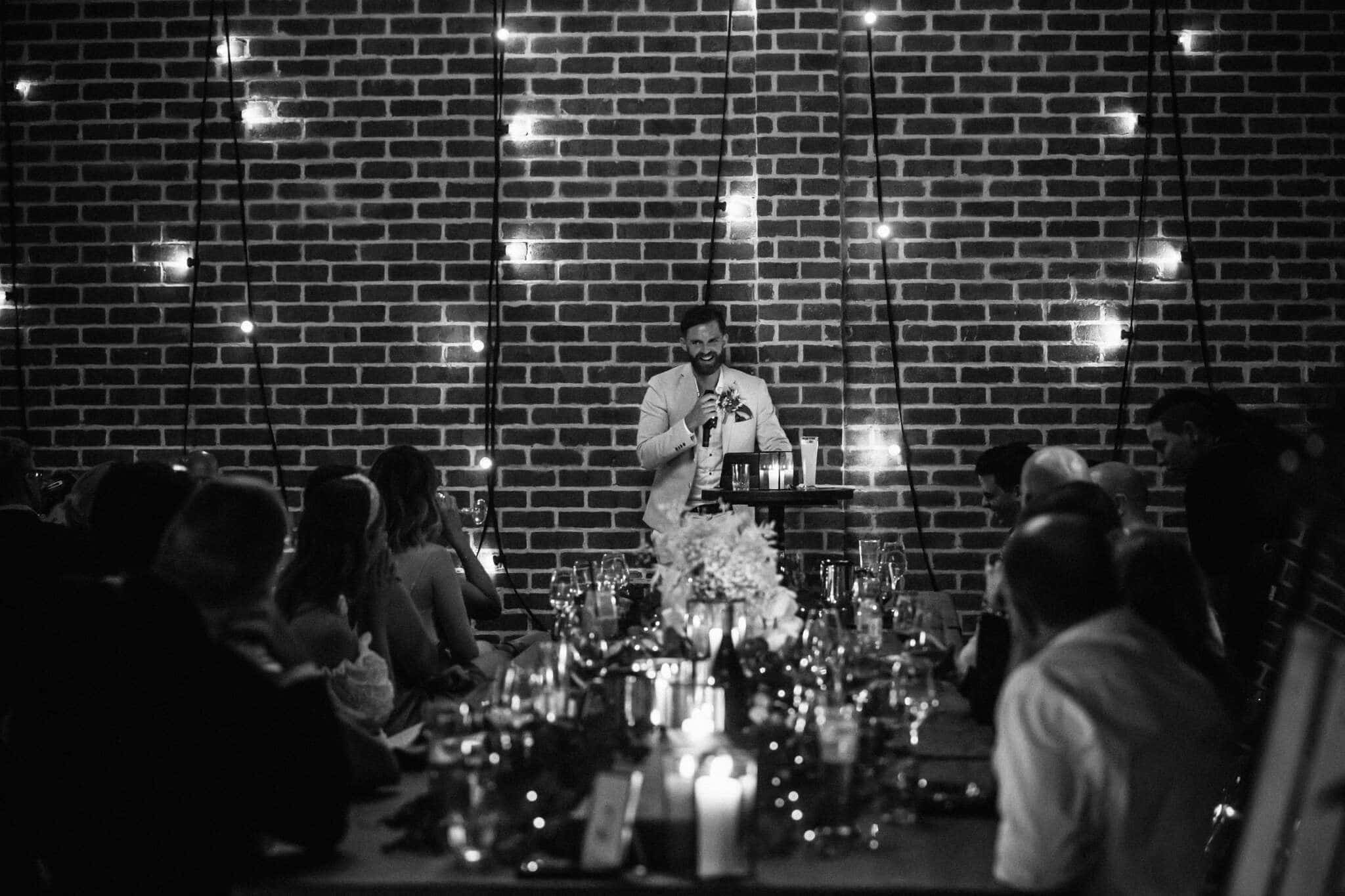 Entertainment
"The best moment on our wedding day was a surprise video that Kylie's friends and family made including her 2-year-old niece setting up a dance-off to her favourite song."
A DJ from G&M Event Group kept celebrations going with a playlist curated by the bride and groom.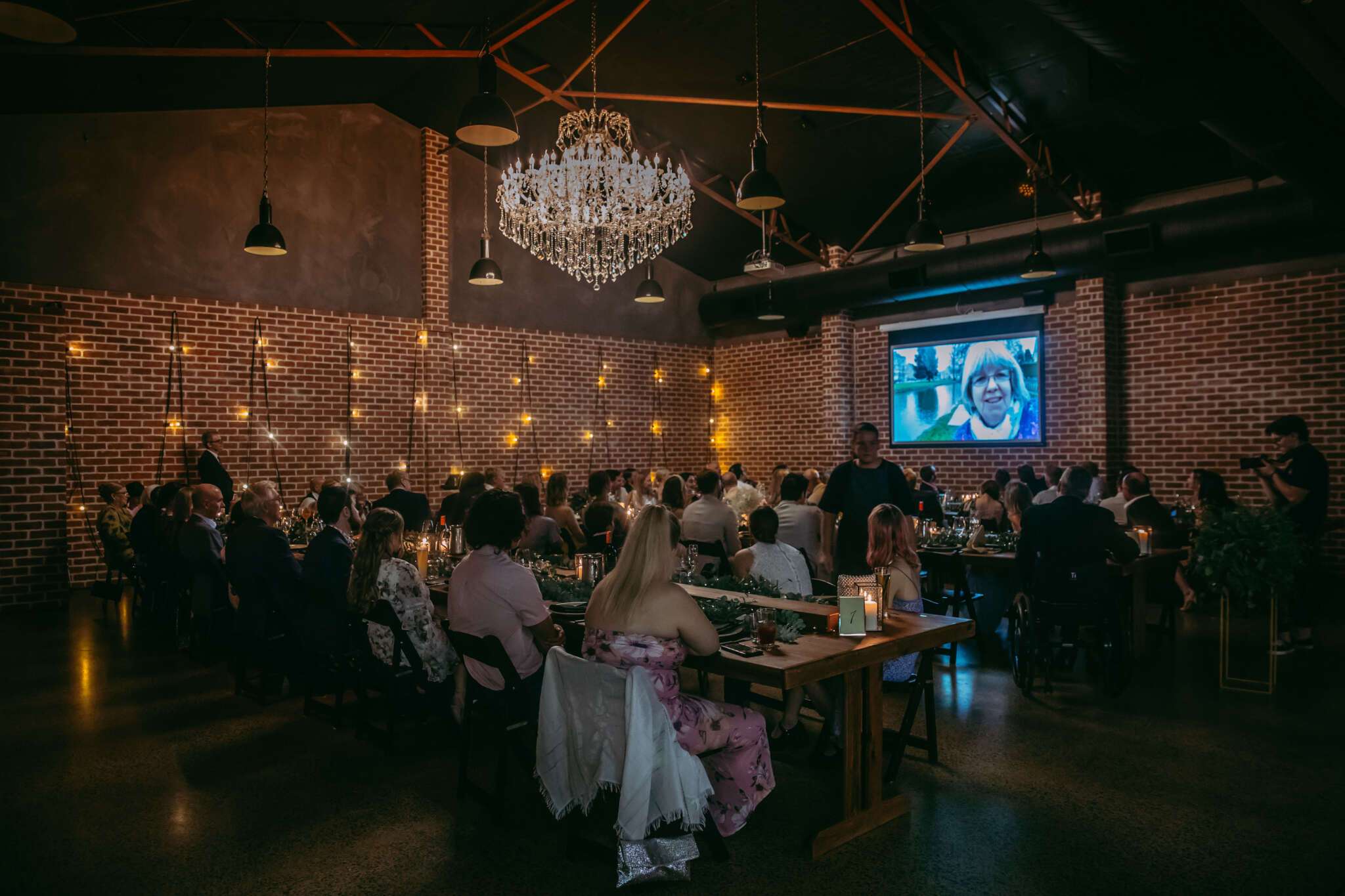 Jeremy and Kylie's wedding was captured by Crisly of Oakstone Photography. Having seen her work on Instagram, they met with her prior to the wedding and immediately hit it off.
"Crisly was so lovely and warm and made us want her to be part of our day! On the wedding day she was absolutely everywhere and so patient with what chaos can occur. When we received the photos we were absolutely blown away. Crisly captured all the most amazing moments from start to finish. We both feel awkward being in front of a camera and didn't want anything too posed, but Crisly made everything look so natural and organic for us. We couldn't recommend her enough!"

Pandemic
As with many couples, Covid-19 did have an impact on their wedding day:
 "The hardest part of our wedding was that Kylie's family were unable to attend. Her family is from the Isle Of Wight in the UK so it was very bittersweet only having one side of the family there. Our videographer was great though, and set up a live feed of the ceremony so that people back home were able to view it. It was a hard decision to keep the day scheduled for April, but with international travel being so far in the future, Kylie's family didn't want us to have to postpone again. We will hold a party in the UK when we get to finally travel again."
And what a party that will be! We hope it is someday soon for you, Kylie and Jeremy x
If you'd like to host your wedding at Factory51, please feel free to contact us. We'd be delighted to show you around our Brisbane wedding venue and discuss details for your big day!
Images: Oakstone Photography