AN INTIMATE AND FUN AFFAIR
Rebecca arrived home after a long day at work to be greeted by Tom at the door. Armed with a beautiful bouquet, her favourite dinner and champagne, he surprised her with a heart-filled proposal in their living room on a Tuesday night. The newly-engaged Tom and Rebecca started to plan a celebration with 140 of their closest family and friends, however they didn't expect a global pandemic to disrupt their dream and alter their plans.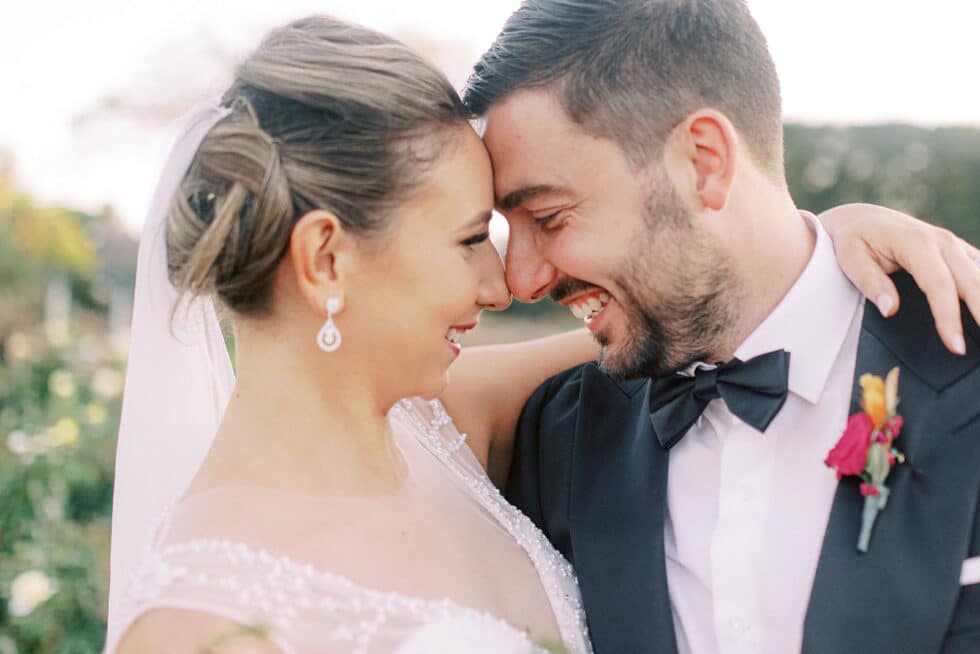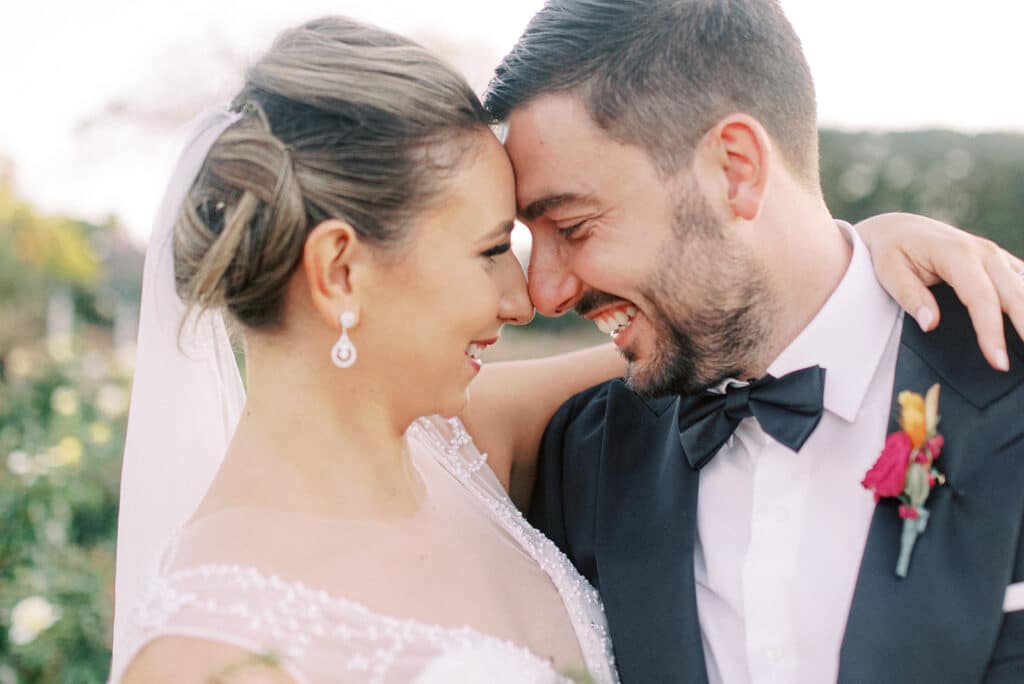 Ceremony
Their wedding ceremony was held at the beautiful All Hallows School Chapel, which they shared with 100 guests. Rebecca and her mother both attended All Hallows, so it was very special for Tom and Rebecca to choose this location for their ceremony. Their nuptials were live streamed so interstate guests could still feel part of the celebrations.
Rebecca was accompanied by two of her close friends, Claire and Jamie, and Tom's sister Natalie. Tom had the support of his brother Simon, and two of his mates, James and Jake.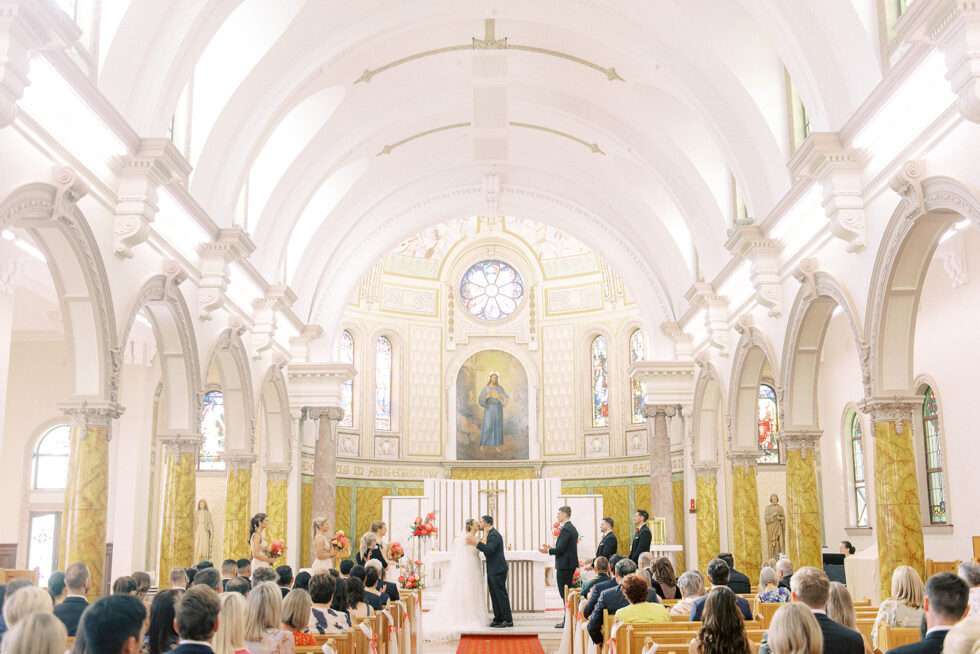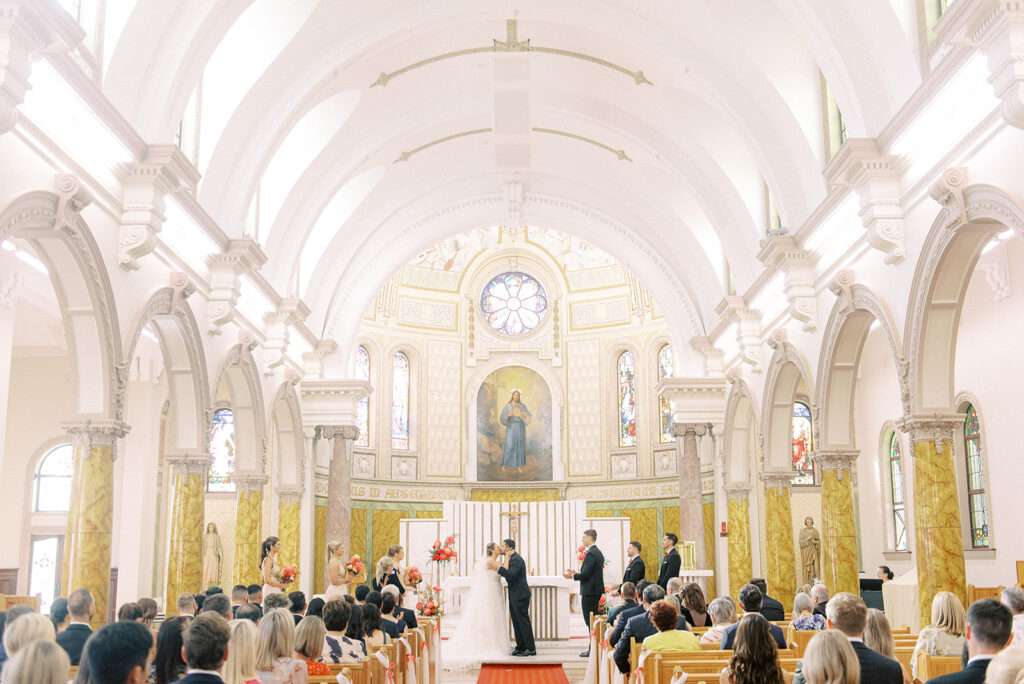 Rebecca's gown was custom made by Diana Toscano from Toscano Bridal.  Diana happens to be Rebecca's second cousin making this a very special collaboration indeed!
"Diana created an absolute masterpiece with a beaded lace bodice and the most amazing feathered bottom of the dress. It had so much movement and sparkle!"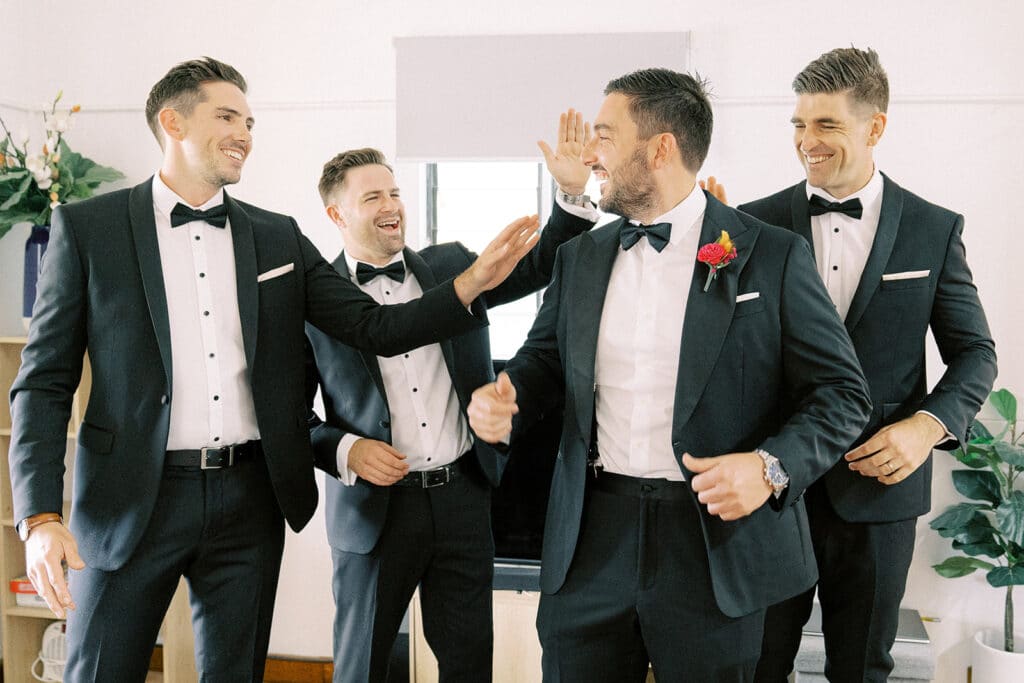 Reception Venue
When Tom and Rebecca had to make the decision to downsize from a 140-guest wedding, they wanted a reception space that would be beautiful yet intimate enough for 24 people. They felt the exposed brick and crystal chandelier at Factory51 would exude warmth and give them stunning highlights to work with.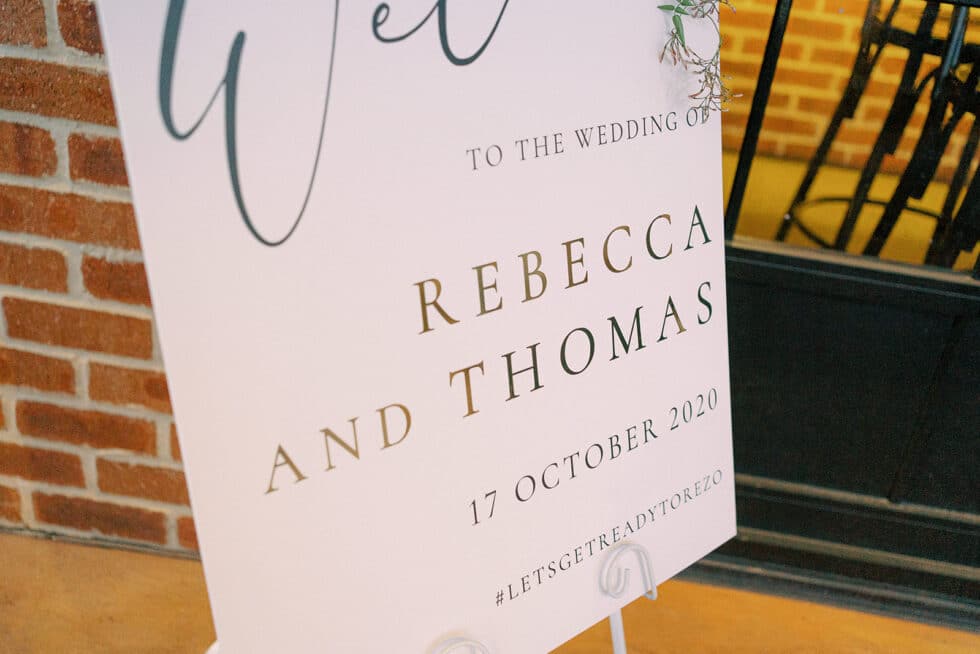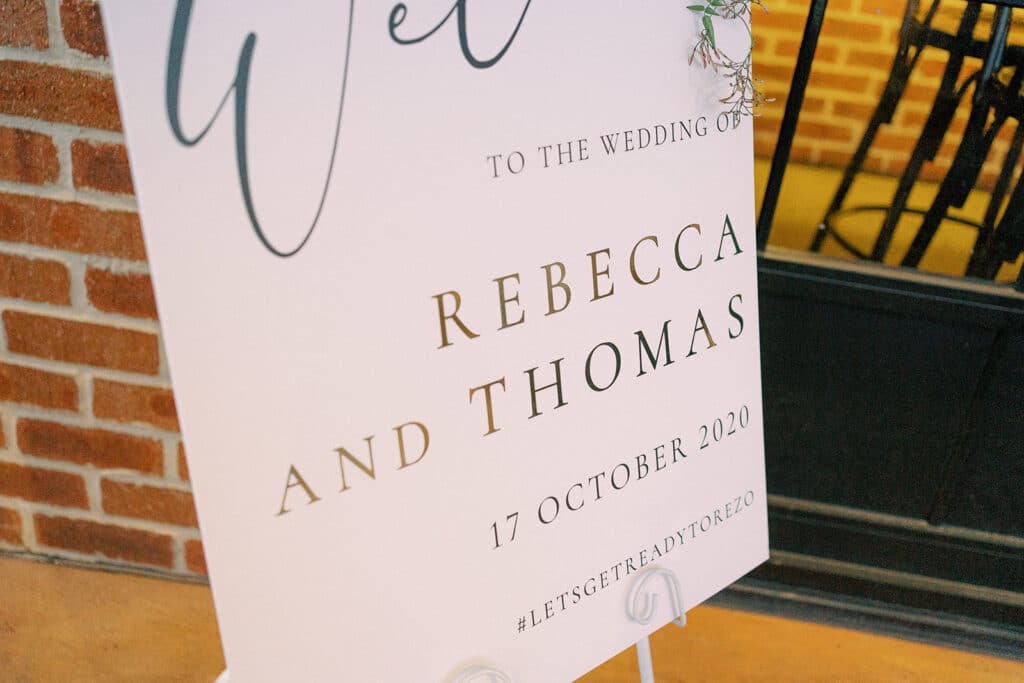 "Our main focus for styling was bringing fun, glamour, and COLOUR! Rebecca's Mum dyed napkins to match the florals (pink, orange, and yellow), which were styled alongside gold placemats and acrylic coaster place cards."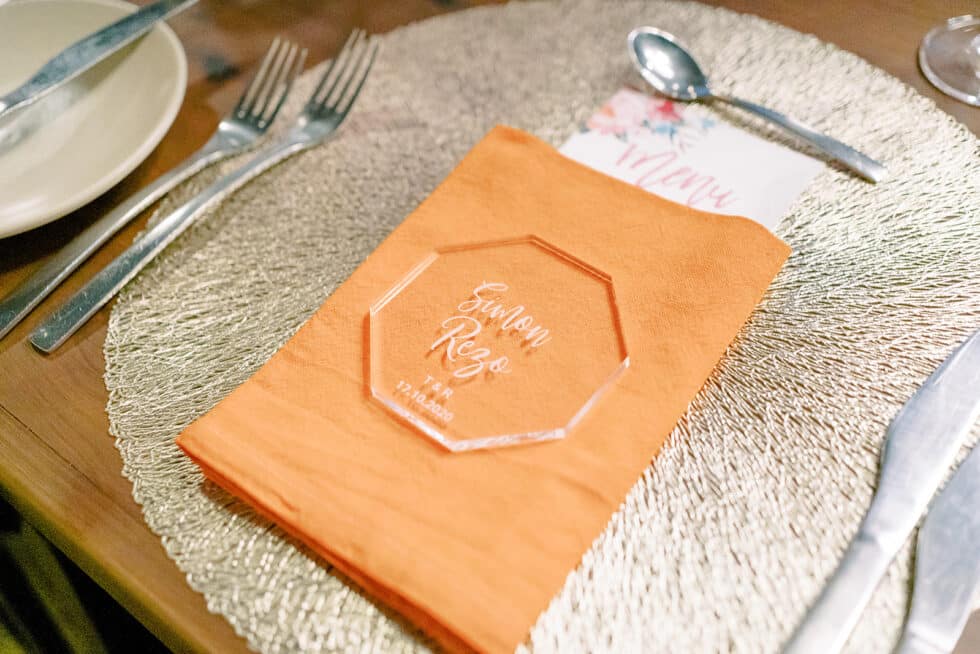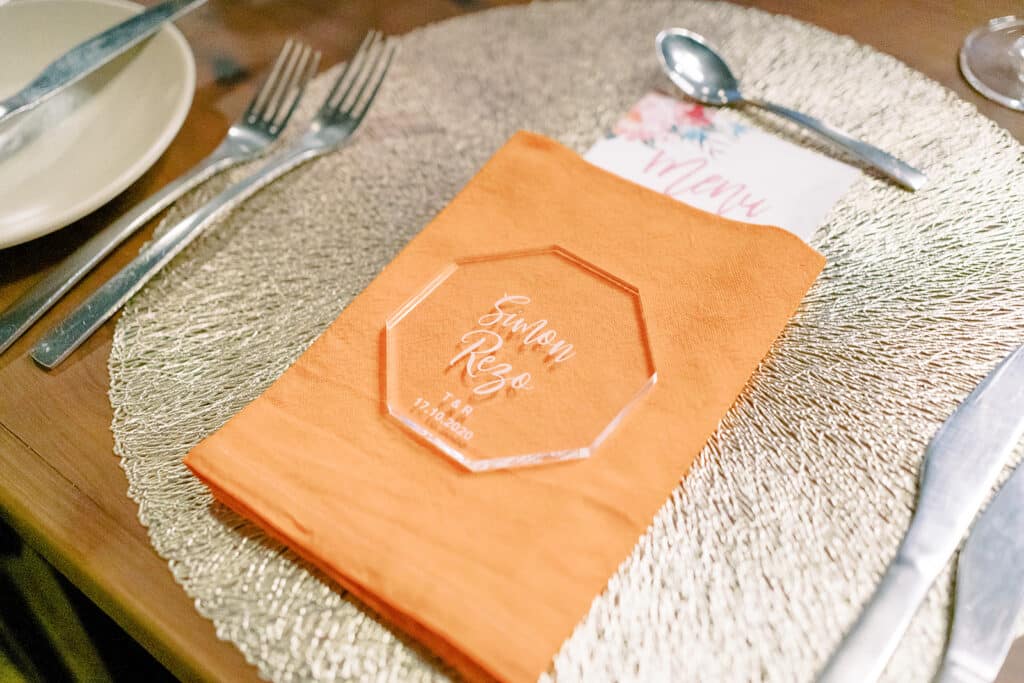 Florals
Rebecca has a soft spot for peonies and was thrilled when Kate Dawes Floral Designs was able to source the most amazing coral charm peonies for the floral arrangements.
"Kate Dawes did a phenomenal job on our florals! We wanted to create a little garden down the tables, which she was able to achieve through a mixture of greenery, floral arrangements, and small clusters of vases."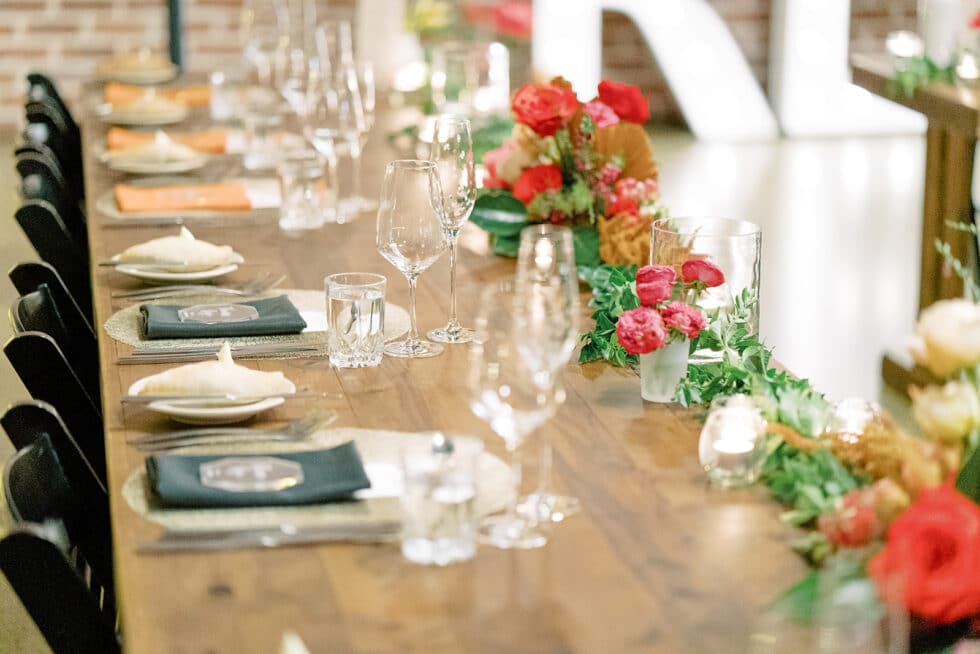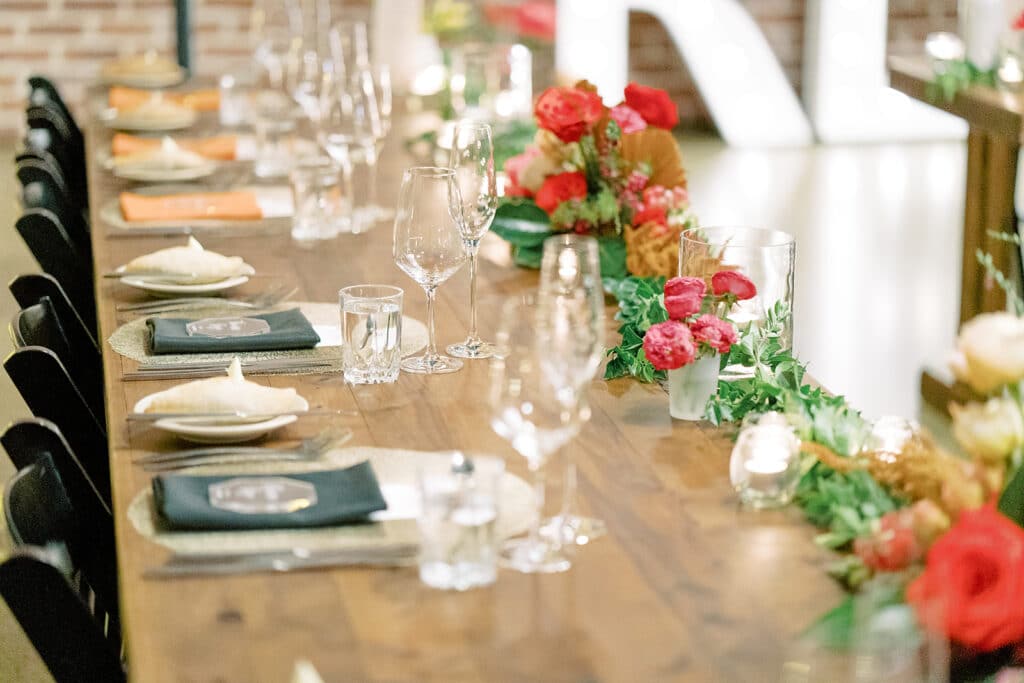 Menu
Guests arrived at Factory51 and were welcomed down the private laneway into The Workshop function room. Drinks were served alongside three canapes including crowd-favourite confit duck spring roll with garlic shoot, hoisin, vermicelli, and plum sauce.
The MC invited guests to be seated and the announcement of Tom and Rebecca's arrival was met with applause. Antipasti was served on timber rises set down the middle of long tables, with house-baked bread rolls and whipped butter.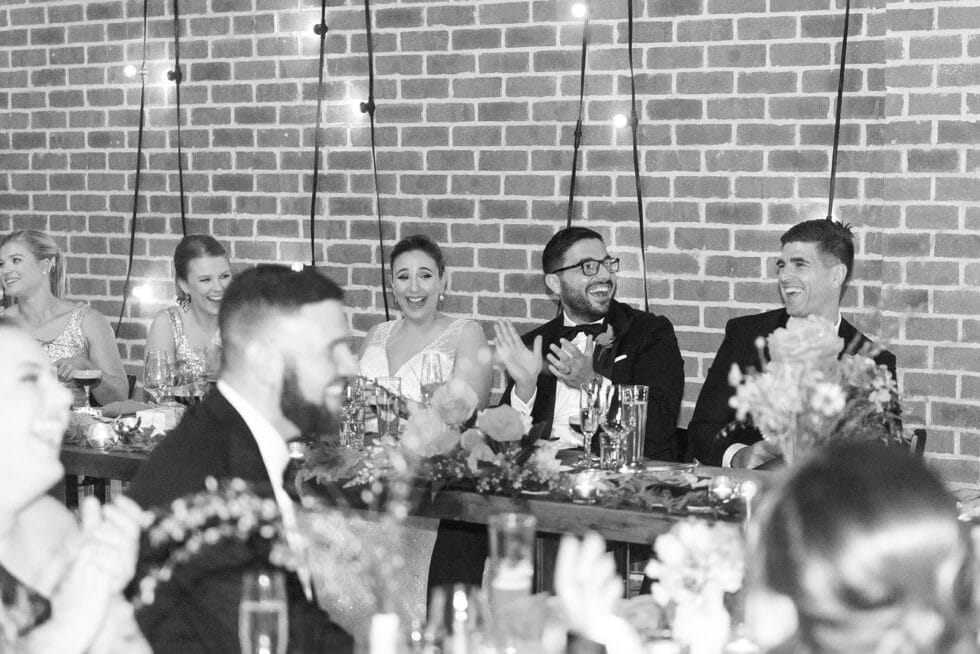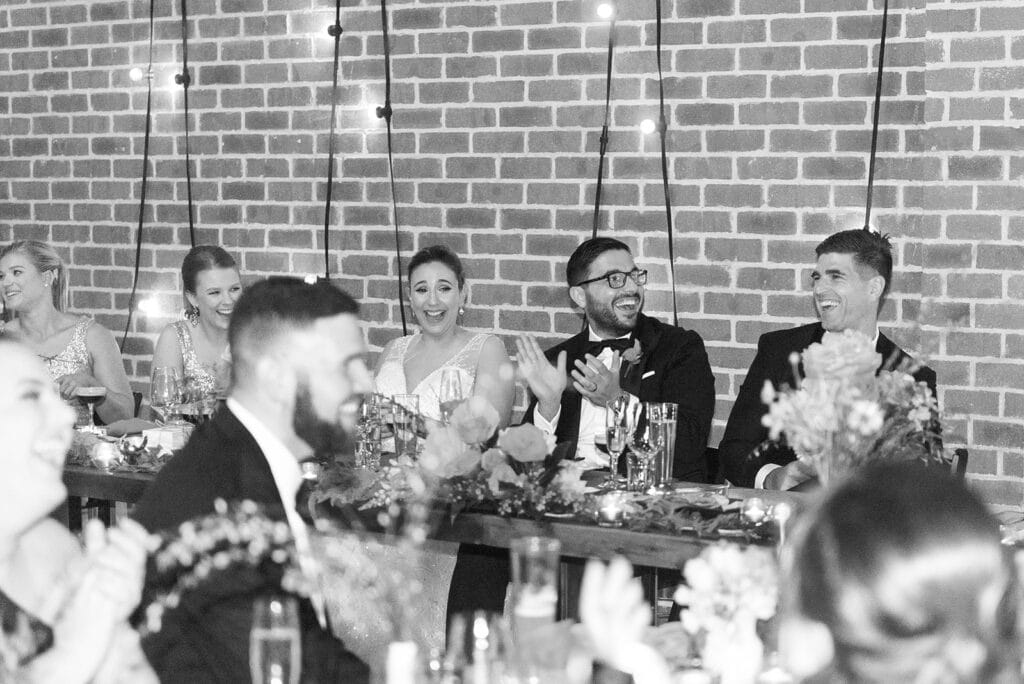 Two pasta entrées were lovingly prepared in house by chefs including a potato gnocchi with truffled cream, portobello mushrooms, pecorino romano, and pangrattato; and a ricotta and spinach cannelloni with ground beef and tomato ragu, finished with a basil pesto.
Mains were an alternate drop of crispy roast pork belly with caramelised cauliflower and garlic puree, poached apple, cress, and pedro ximenez reduction; and slow roasted lamb shoulder with creamy white bean puree, fried eggplant caponata, micro herbs and fig pan jus.
"The food was delicious, we had so many people making comments about how good it was."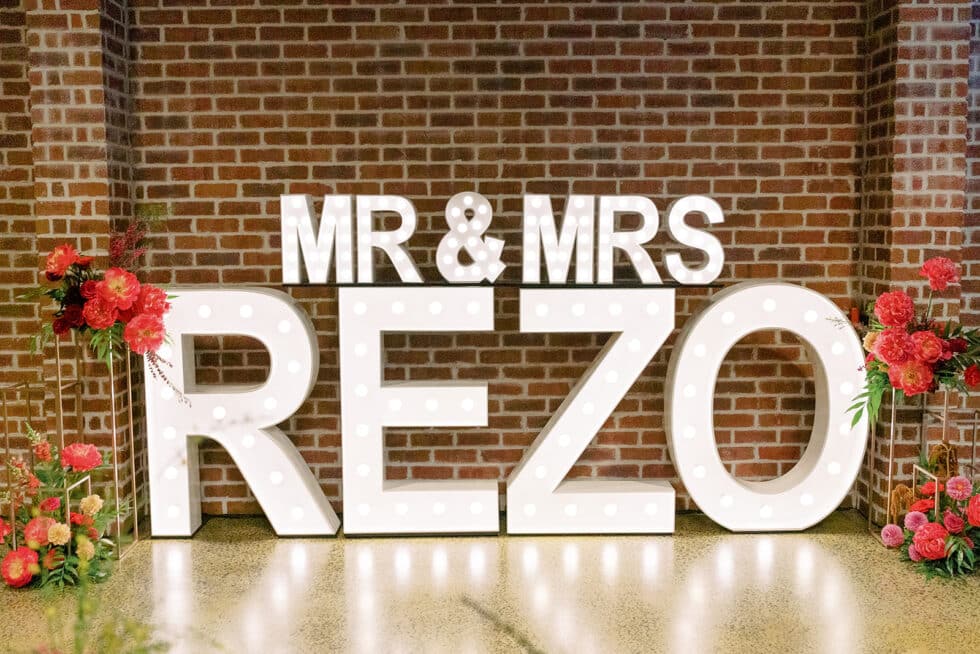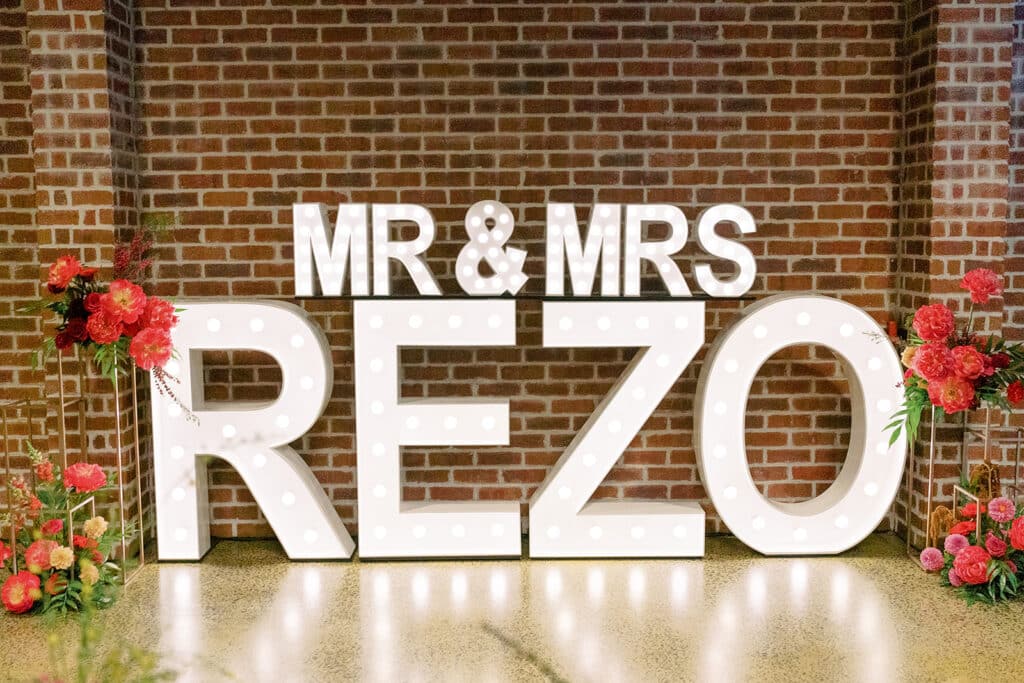 Petite Crumb created a two-tier classic white buttercream cake with a hint of gold, finished with beautiful blooms from Kate Dawes Flower Design. The cake had two delicious flavours: Red Velvet, and Lindt dark chocolate and raspberry with nutella buttercream. The cake was cut and served individually with house-made vanilla ice-cream.
Beverages
Factory51 were pleased to work with Tom and Rebecca to tailor a beverage list for their reception. The sparkling selected was Redbank Emily Brut Cuvee Nv from King Valley, VIC. Wines included Bay of Stones Sauvignon Blanc (Barossa, SA), Chain of Fires Pinot Noir (Great Southern, WA), and Cumulus Block 50 Cabernet Sauvignon (Central Ranges, AUS). Basic spirits were made available to guests after mains were served, and the bridal party were treated to Espresso Martinis.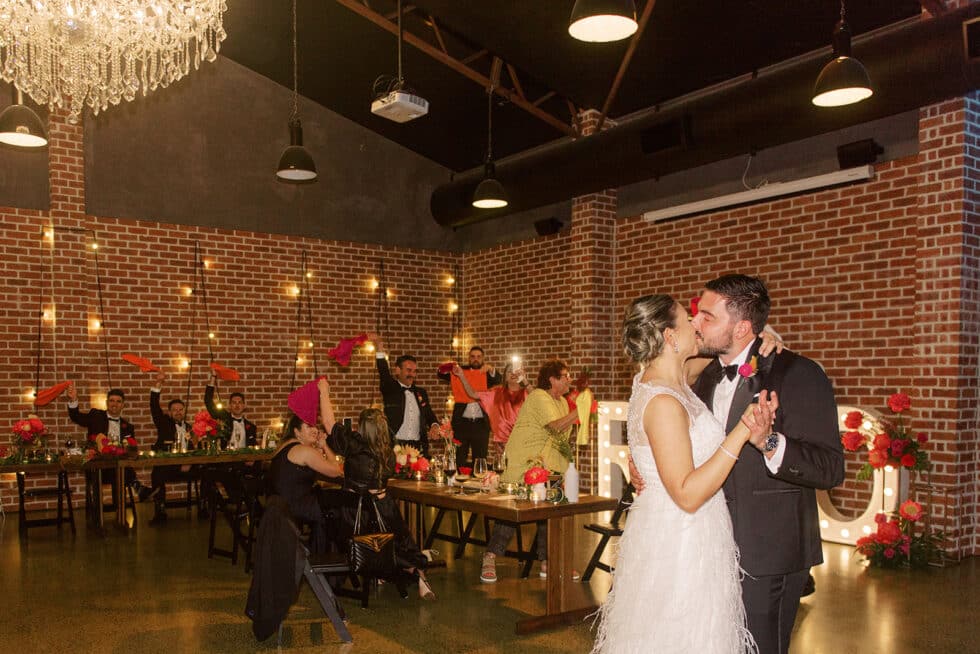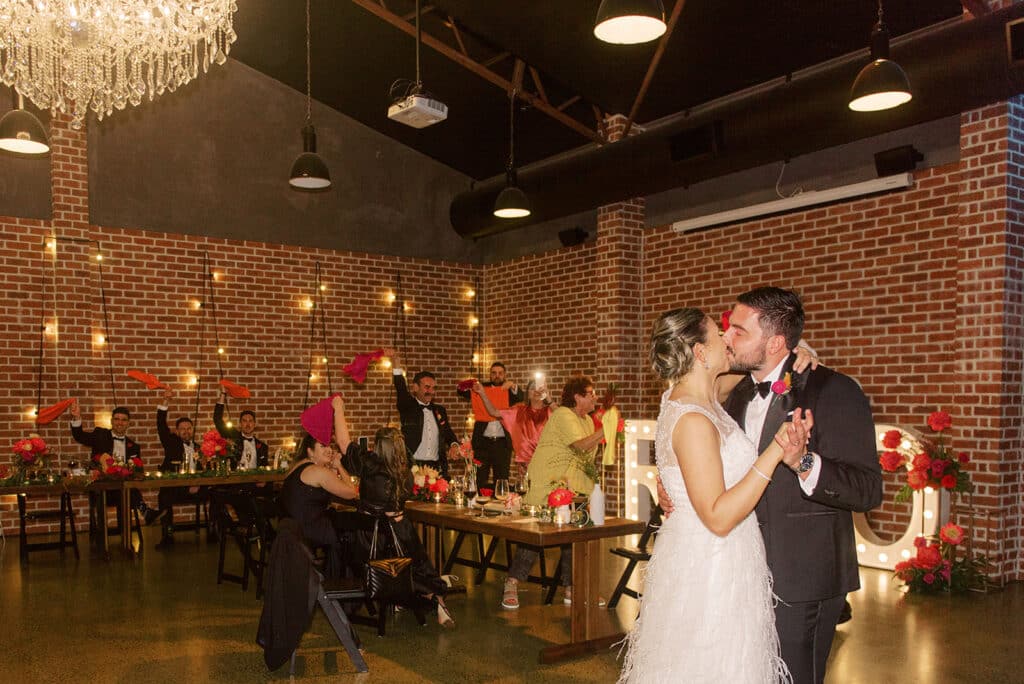 Music
Prior to Covid-19, a 5-piece band was booked through Baker Boys Band to get the 140+ guests up and dancing. However, after making the decision to proceed with a more intimate reception, Baker Boys Band assisted Tom and Rebecca to adjust their booking to solo performer Leo.
"We were very fortunate that the day before our wedding, dancing was reinstated for up to 20 people so everyone was out on the dancefloor!"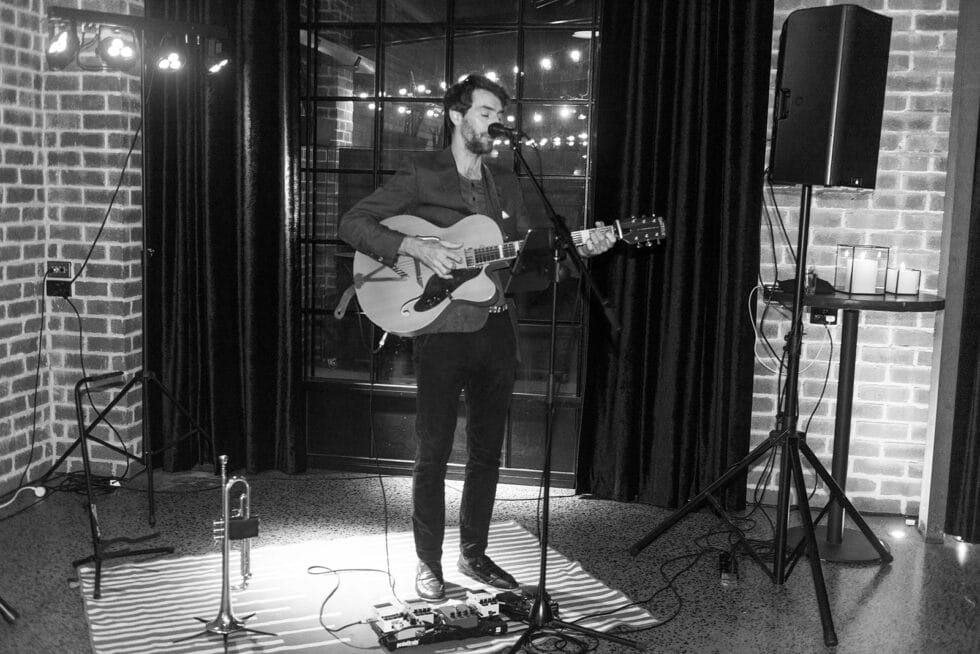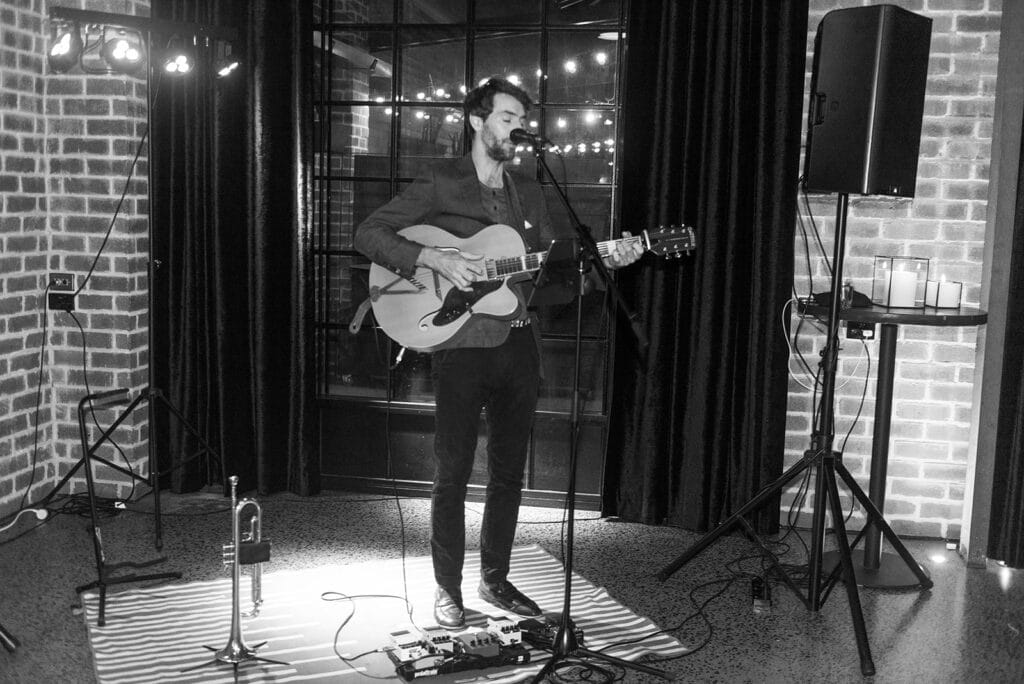 The day was captured by photographer Lauren Olivia. Tom and Rebecca first met Lauren at Rebecca's brother's wedding in 2019. They found her relaxed and thought the photos were amazing, so secured her ahead of their own big day.
"Lauren delivered everything we asked for. The day after the wedding, we received the preview photos and cried as they were so beautiful!"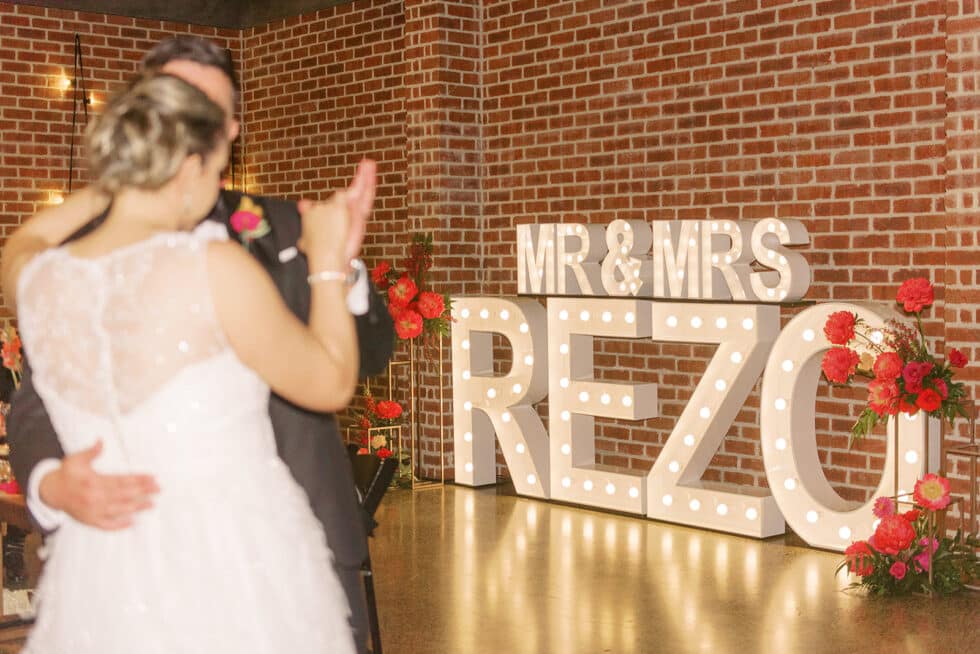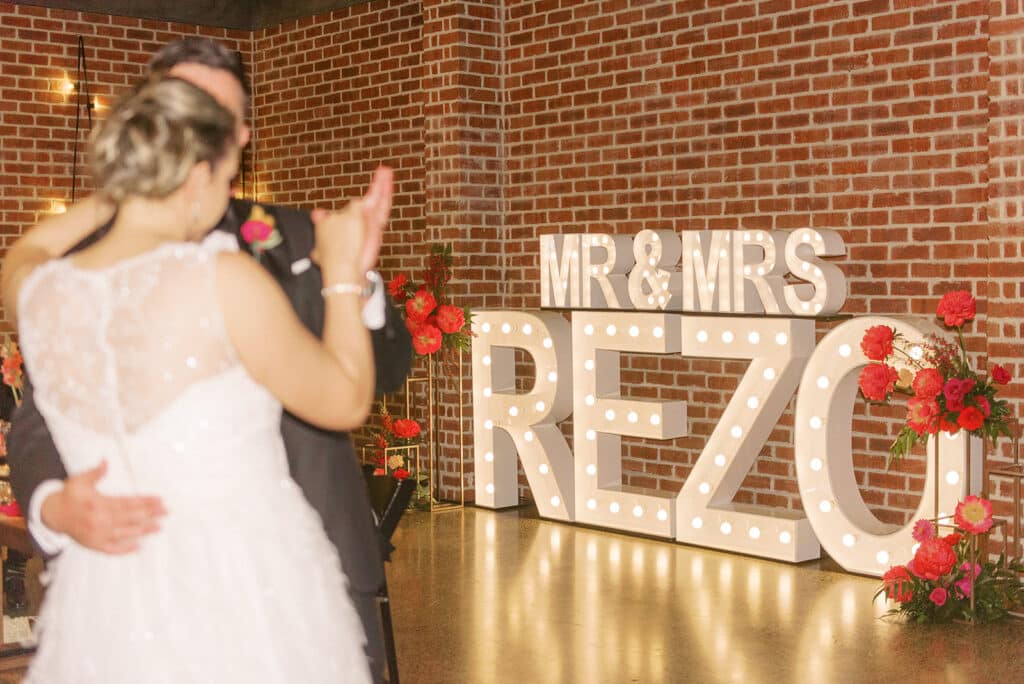 Tom and Rebecca had intentions of holder another bigger party this year, but felt like they had already celebrated their wedding day so well. We feel privileged to play a part in your special day, and hope you have incredible memories for years to come!
If you'd like to hold your wedding at Factory51, be sure to contact us.