WEDDING GUEST BOOK ALTERNATIVES
There are few tangible items that may live beyond the wedding day – perhaps a preserved bouquet, wedding dress to pass down to future generations, or a photo album with memories captured in time. The classic guest book is traditionally among this sentimental collection. A staple inclusion at weddings, the purpose of the guest book is to be a keepsake of well-wishes and advice from guests in attendance. Often it is relegated to the back of a wardrobe soon after the wedding, never to be opened again. This has led some couples to ask if a guest book is even needed, or if there is indeed a better way to keep record. Enter a myriad of alternative ideas to the classic guest book:
Shake it like a Polaroid Picture
Our obsession with selfies has led us back to the polaroid camera. This little retro number has been brought back to life over the years, and is a fun way to capture your guests on film instantly. Set up a Polaroid station with camera/s, a traditional wedding guest book (or any book with blank pages), some double-sided or cute washi tape, and a pen. Guests can snap it, shake it, stick it, and sign it.
2. Get in the Booth
Along similar lines to the polaroid guest book, comes the wedding photo booth. It has the added bonus of a tripod set up or private booth, often with backdrop and fun props, and usually gives you multiple copies of the photos. Stick one in the guest book along with a message, and take one home for your fridge. Booth Chic Brisbane explains why hiring a photo booth is a great idea:
it's the ultimate ice-breaker and ignites the fun
it sets the vibe and gives guests something to do
every age group can be involved
it creates treasured memories and a meaningful keepsake
print and digital memories last a lifetime

3. Leave your message At the Beep.
Recently entering the wedding scene is At the Beep. This clever little ToneMatic Phone acts as an audio guest book. Guests simply pick up the handset, leave their message of congratulations to the bride and groom, and hang up. The couple receive each message as a personal voicemail in a video (mp4) format which is then customisable with a photo and shareable to socials. The ordering process is super simple too. Just check your date, choose which colour retro phone, and book it in. At the Beep will ship the phone to you, ready to plug in and turn on. After your wedding, send it back (return label included) and access your gallery of messages. Voicemail's never been so fun!
4. Collector's Edition
Close to our hearts is the wine cork guest book. It'll take a little preparatory work, but if you've got a cork collection ready to go then this is a convenient way to display it. Find a frame, make friends with a glue gun, and secure your wine corks to a backing board. It'll look right at home in our rustic Italian wedding venue! We're sure other hobby collections could also work, just make sure they're writable.

5. It's all Fun and Games
For the playful couple, Jenga blocks or puzzle pieces make an entertaining alternative to the traditional wedding guest book. Set up a station with blank blocks or puzzle pieces, and a few pens (we recommend Sharpie Fineliners for long-lasting and best results). Guests can write their names and a brief message (note: space is limited), and then either stack up the tower or add to the puzzle. We love this idea as a practical solution to revisiting messages time and time again. Picture pulling out Jenga to play with your kids, or framing the puzzle to hang in your home. It'll no doubt bring back the memories and can be shared with generations to come.
6. Leave your Print
Fingerprint or Thumbprint "guest books" may no longer be novel, but they still make an appearance at weddings as a creative alternative. They are typically a large printed canvas or framed card stock, set up on an easel or laid flat on a table. Guests press their thumb into an ink pad and then gently onto the artwork, letting their print dry before writing their name over top. There are multiple illustrations to choose from, with the most common including a classic line drawing of a tree (perfect for those who love a twist on the family tree), a wreath, a peacock with splayed tail feathers, or a bunch of balloons. If you're the crafty type, then check out wedding stationers and online stores like Etsy to purchase.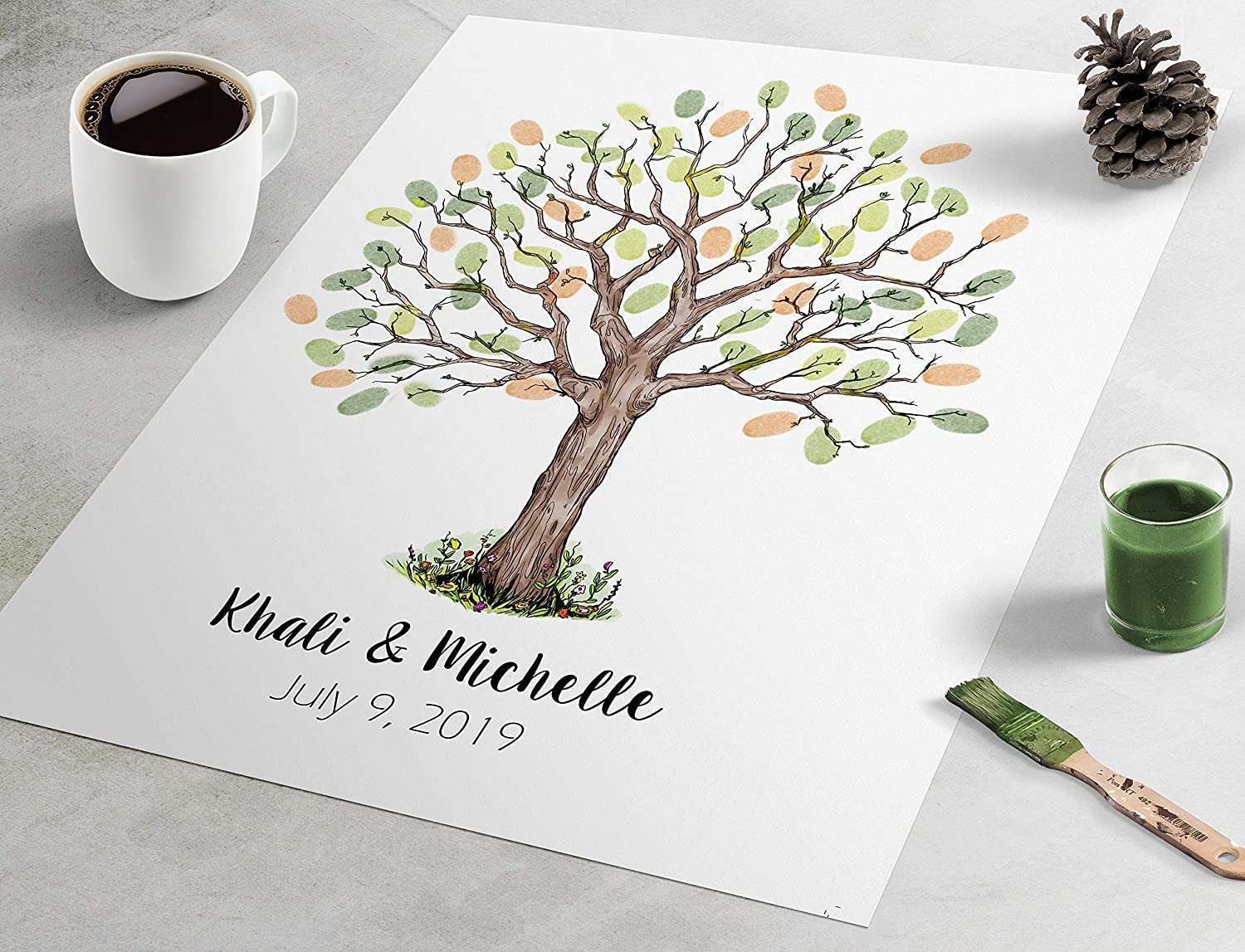 7. Coffee Table Book
For couples who don't want their guest book displayed or hanging in their home, comes the Coffee Table version. A subtle way to reminisce, brides and grooms either use a well-loved coffee table book, or purchase a new one together, that includes at least a few blank pages. The book choice itself is up to you! Whether it's travel, a shared hobby, or a photo book of your love story or engagement, choose one that is meaningful and likely to be flicked through regularly. Set it up at your wedding with a few bookmarks indicating the blank pages and a suitable pen (you won't want ink bleeding through the pages).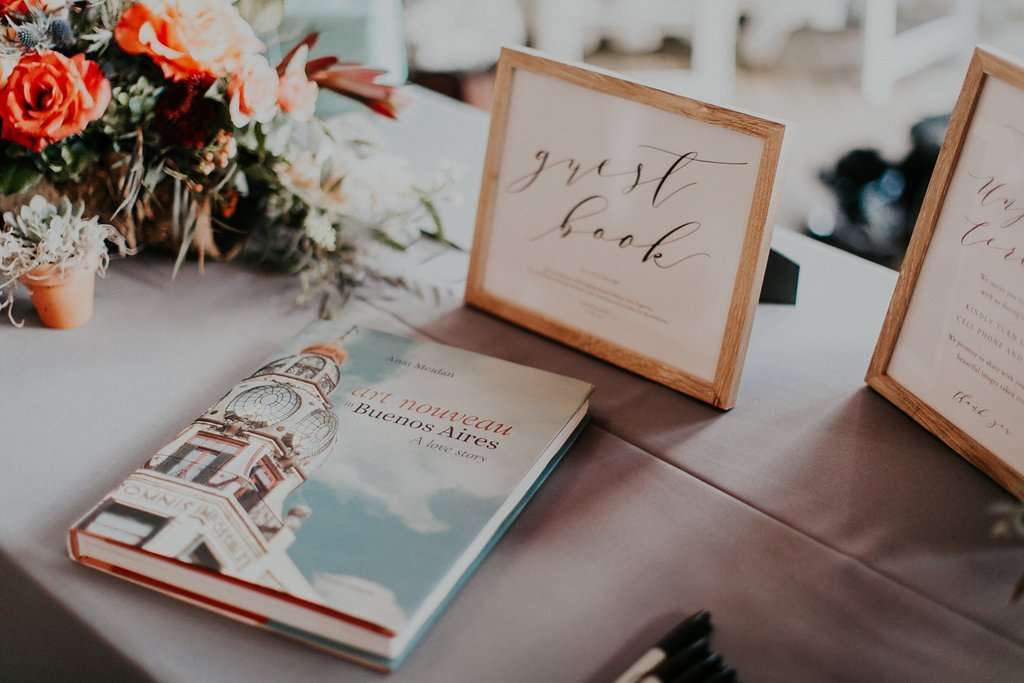 Make it Meaningful
There are plenty of other wedding guest book ideas from shadow drop boxes to surfboards. Language lovers may want to set up a typewriter for guests to type out special messages, or include a book of poetry to be signed by all. Those of faith may have guests highlight their favourite verses in a Bible. Musicophiles might enjoy hearing their wedding song on a record with a cover signed by their loved ones. If you know that you'll never look at a traditional guest book after the big day, then we encourage you to find something meaningful to the two of you.
We love seeing personal touches at wedding ceremonies and receptions. Chat with our team about ways to incorporate these into your special day.