WHY A THEMED WEDDING VENUE IS THE STRESS-FREE OPTION
Wedding planning can be overwhelming. Suddenly you're tasked with a mountain of decisions around venues, styling, menu, beverages, attire, invitations, music, transport, and more. Every meticulous decision takes time and energy, and frankly, you'd rather someone would just do it for you. Enter the themed wedding venue. A styled space that takes care of all the big-ticket items meaning less decisions for you. Themed venues, such as our very own Factory51, have already put in the hard yards to curate a cohesive look and feel for your wedding day. All you need to do is book a date (cheering!).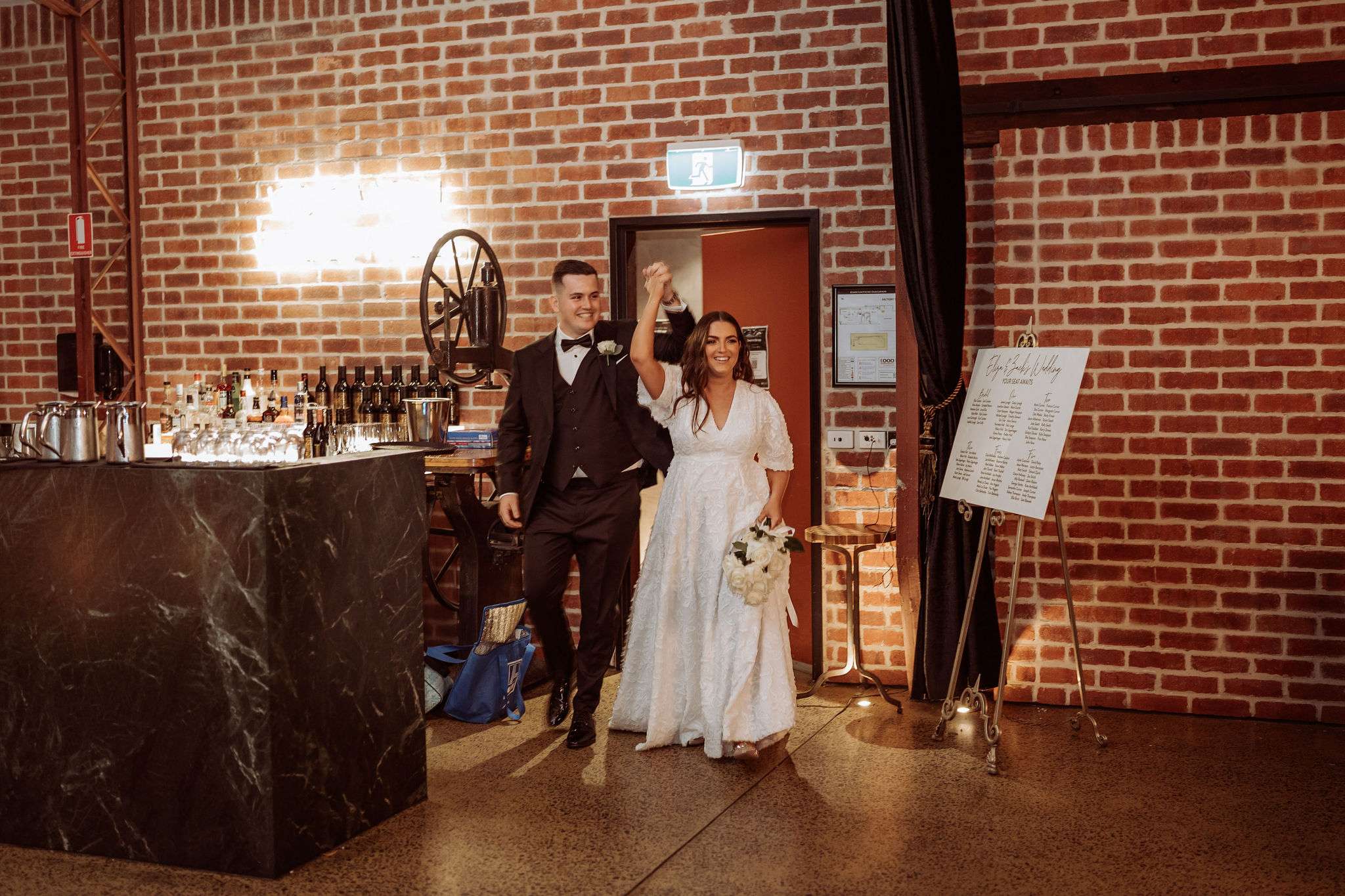 Themed Space

Rustic industrial meets chic elegance in our themed wedding venue located in Coorparoo, Brisbane. Whether you're exchanging vows or hosting your reception, guests are welcomed via a private laneway into our breathtaking space ready to house all the love and celebration.
The Workshop is our versatile setting with soaring brick walls and a pitched ceiling. Our signature crystal chandelier hangs gracefully from exposed steel beams, and festoon lighting makes for warmth and ambiance. Whether your theme is rustic, romantic, industrial, chic, or elegant, our converted warehouse is the perfect space.
Multiple layouts can accommodate smaller weddings through to larger celebrations, suitable for up 153 guests seated or 180 cocktail-style.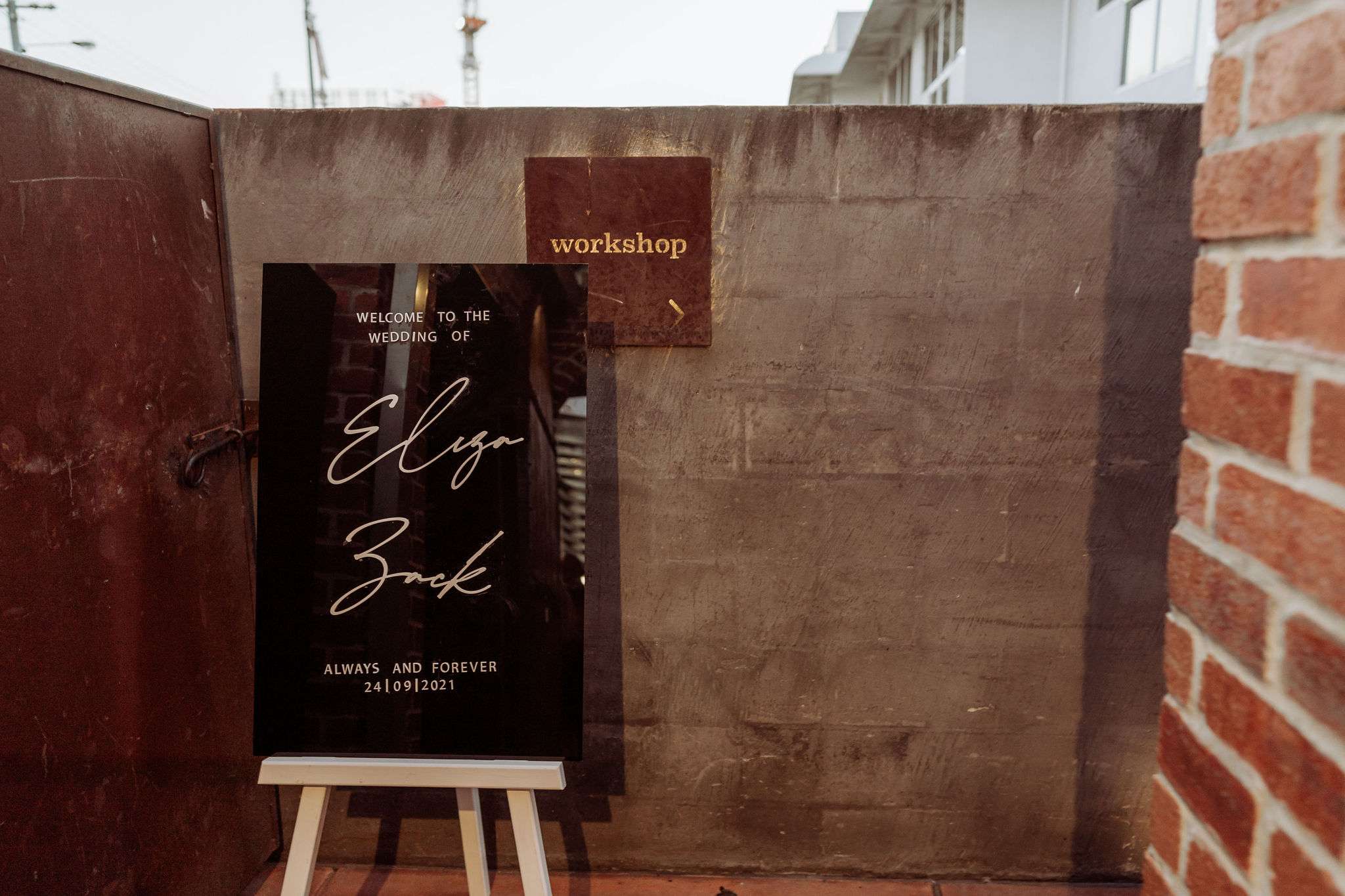 CEREMONY
Factory51 comfortably and conveniently hosts intimate ceremonies set up in the main dining hall. Black Americana chairs for your guests and a timber signing table are among the themed ceremony inclusions. Upon conclusion of your ceremony, guests are invited into the bar and terrace area for drinks and mingling whilst you have wedding photos taken. A floor to ceiling black velvet curtain is drawn whilst our staff transform the space for your reception.
RECEPTION
With no venue hire fees and an exclusive 5-hour room hire, Factory51 is an affordable themed wedding venue option in Brisbane. Guests will enjoy connecting over handmade timber tables set atop polished concrete floors. Black linen napkins and black Americana chairs ground the look, adding to the ambience. Tables are elegantly finished with Italian crystal stemware and silverware. A jade green marble bar, black velvet lounges, and secluded alfresco area with timber high bar tables and stools offer further spots for mingling.
Be sure to ask about our Mid-week wedding offers for celebrations taking place on a Tuesday – Thursday.

Themed Styling
With so much character and charm already instilled in our industrial chic space, all it takes is a hint of styling to infuse it with your own personal touch. If you would like an easy and stress-free option, Factory51 can provide in-house themed styling options for your special day. Options include:
Olive Branch or Silver Dollar Eucalyptus spread down the tables with fairy lights
Golden candelabras in 20cm and 40cm lengths with tapered white candle sticks
Assorted gold tealight votives with tealights
Alternatively, you are welcome to set up your own styling or bring in your preferred stylist from 10am on the day of your wedding. Remember, a themed wedding venue is there to simplify your wedding planning, so consider what will make the process the most enjoyable for you both.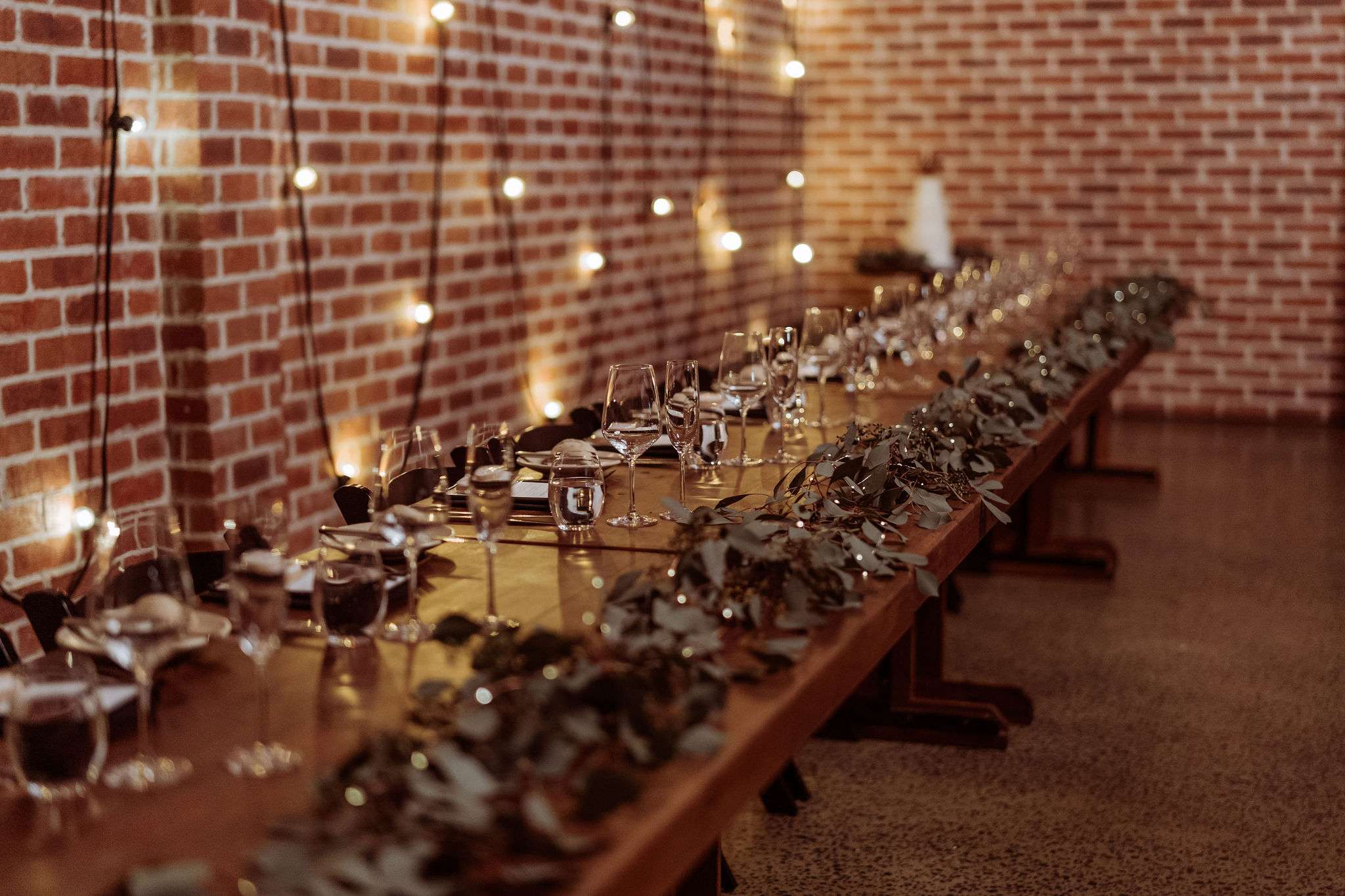 Themed Menu
Apart from the wedding look and feel, is the taste – how good is it when the menu reflects the theme of the day! Our Executive Chef, Bruce McKenna, has curated the perfect rustic wedding menu, sourcing only high quality, fresh produce to ensure the best culinary experience for all your guests. Our 2023 Wedding Package introduces a two-tier offering (Chandelier or Premium Package) for our alternate drop, shared feast, and cocktail packages.
ALTERNATE DROP 
Entrees are a delicious mix of warm and cold dishes including mediterranean favourites char-grilled squid, ricotta & spinach cannelloni, and sopressa salami plate. Mains are sure to accommodate every palate with several proteins on the menu, such as crispy roast pork belly, slow roasted lamb shoulder, roasted coral trout, and house potato gnocchi.
Both the Chandelier and Premium packages involve your wedding cake being cut and served on platters, with the Premium Package also including a choice of two desserts. If our infamous Factory51 tiramisu with bailey's anglaise doesn't satisfy your sweet tooth, then we're sure our caramel poached apples, vanilla bean panna cotta, crème brûlée, or cheese plate will.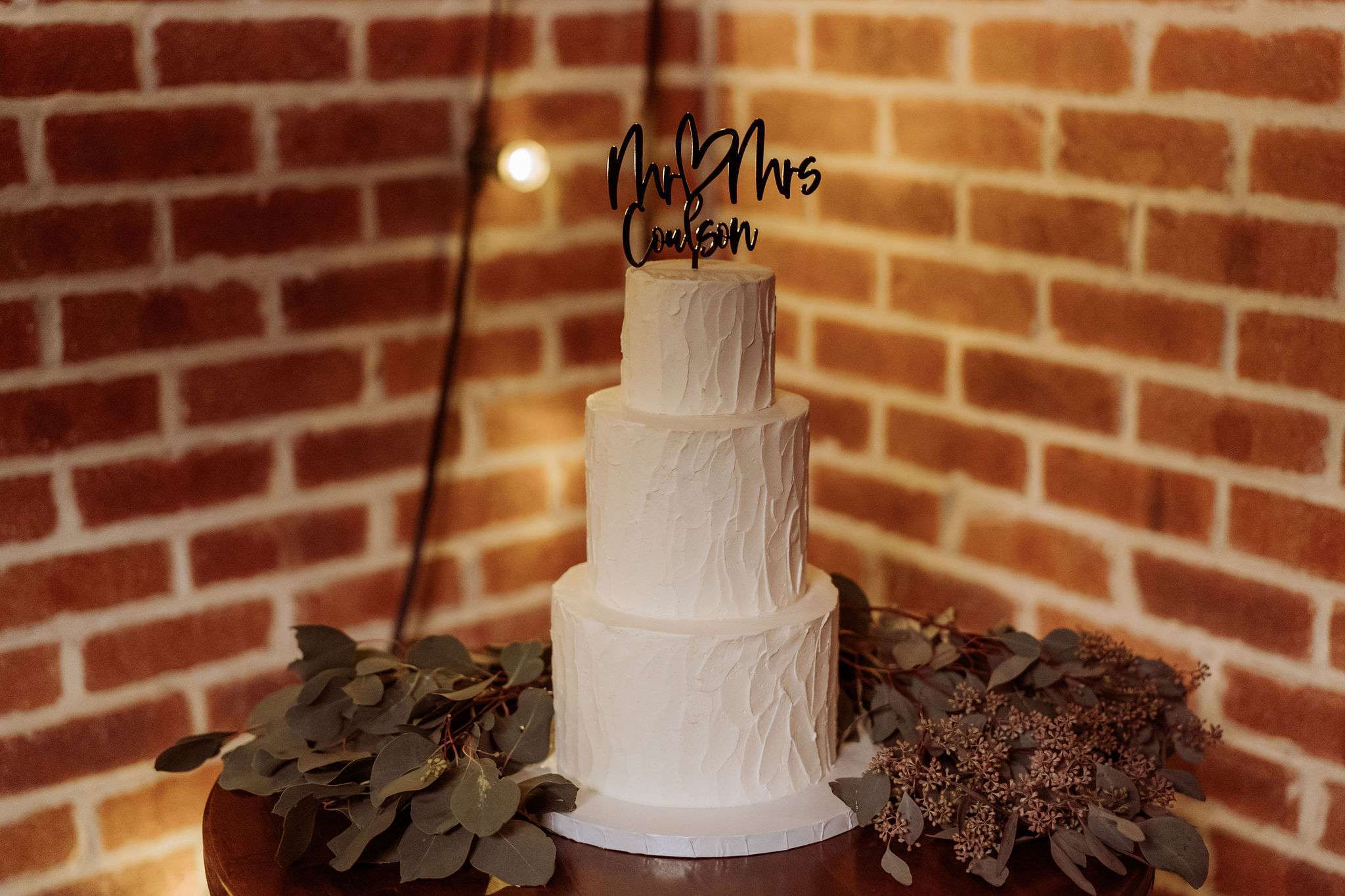 SHARE FEASTING
Our share feast packages are generously portioned and served on timber risers down the center of your tables. Share Feasting is the ultimate way to get your guests connecting (read more here) and adds to the theme of the day.
Our Chandelier Share Feast Package features:
Charcuterie, Antipasti & Woodfired Bread served on arrival
Set menu of 3 slow cooked mains and 5 side dishes
Wedding cake cut and served on platters
Our Platinum Share Feast Package features:
Cheese, Charcuterie, Antipasti & Woodfired Bread served on arrival
Set menu of 3 slow cooked mains and 5 side dishes
Dessert Canapés (2pp) served roaming style or on platters to tables
Wedding cake cut and served on platters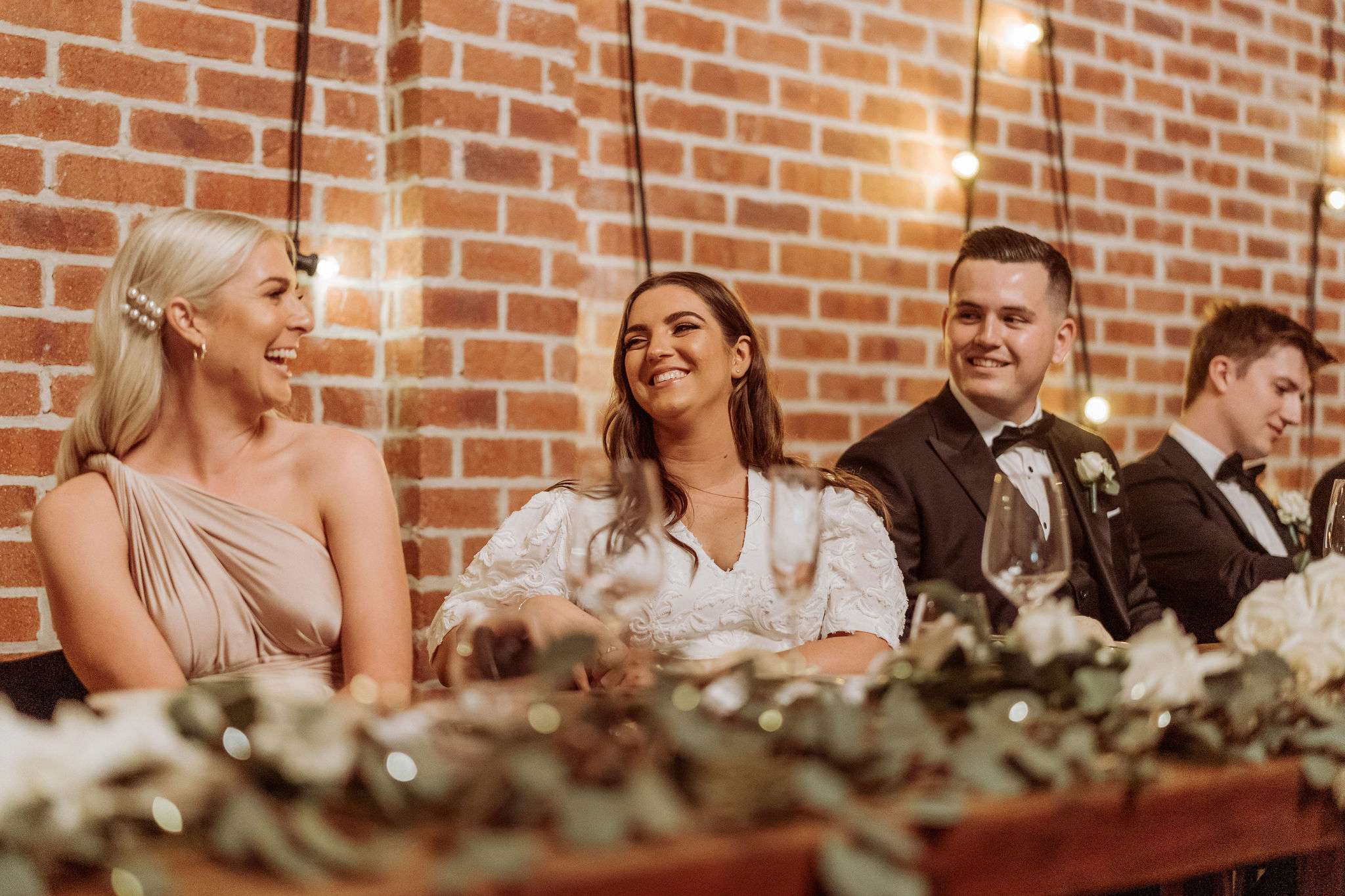 COCKTAIL STYLE
The Chandelier Canapé Package sees guests tucking into woodfired focaccia on arrival, a choice of seven canapés, one heartier fork dish, and finishing off the evening with a lovely piece of wedding cake. The Platinum Canapé Package has an additional two canapés (nine in total), as well as a selection of two dessert canapés. As for the canapé list? Factory51 offers nearly twenty warm and cold canapés to choose from, as well as a dozen pizza canapés (woodfired pizza squares). Just like our alternate drop and share feasting menus, our Italian theme is evident throughout the canapés on offer. Think prosciutto bruschetta, porcini mushroom arancini, calamari fritte, and Italian fried chicken wings to name a few.
Our fork dishes will help fill guests' bellies with hearty gnocchi, risotto, and orecchiette pasta options; slow roasted brisket; grilled and battered seafood choices; and of course, everyone's favourite meatballs with soft polenta. Dessert canapé options (for the Premium Package) include mini ricotta and vanilla cannoli. Need we say more? Our 2023 Wedding Package details further sweet treats.
ADDITIONS
Factory51 offers a range of additional menu items to customise your wedding and fully embrace your theme. Choose from an antipasti board, grazing table, cheese board, or late night wood fired pizza (a crowd favourite).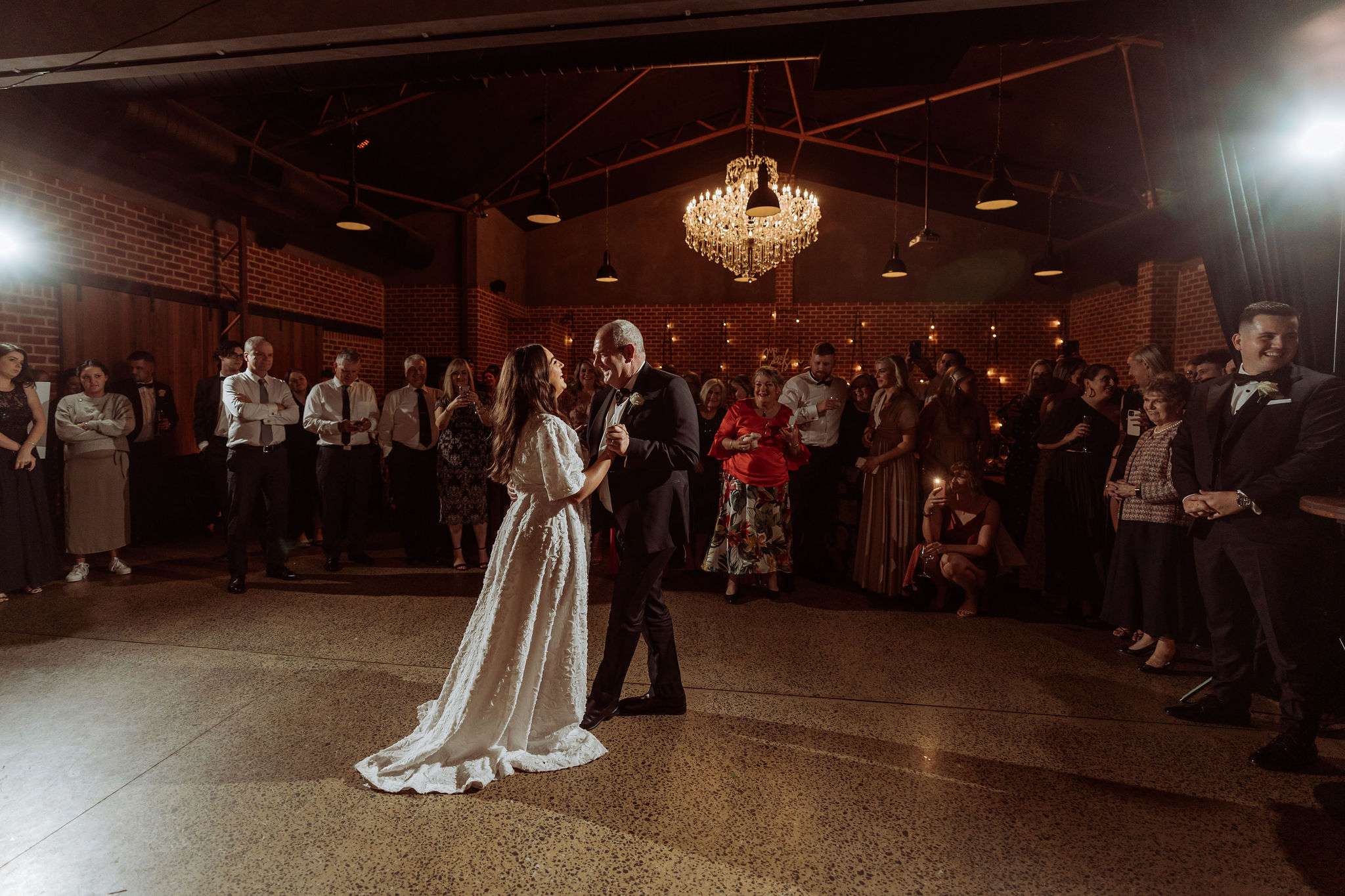 Themed Beverages
We believe good food should pair with a good drop, and so our beverage list has been carefully curated. Your private bar serves local craft beers on tap and premium boutique wines. Our All-Inclusive package prices include a 5-hour beverage package, or you may choose to opt for a mix and match bar tab instead. Cocktail jugs and basic spirits are optional beverage additions to make your beverage menu more exciting. Or, why not add a Blood Orange and Bitters or Pink Grapefruit and Lavender Spritz on arrival? This is a nice touch and complements the theme of the night.

Like the idea of a Themed Wedding Venue?
The best way to experience our rustic chic space is to see it in person. We invite you to come in for a tour with our friendly Event Manager who would be pleased to show you around.
Images: Todd Hunter McGaw | Cover Image supplied by Factory51