WEDDING PHOTOGRAPHY & FILM FOR THE WILDLY IN LOVE
We chat with Mitch and Chels, the couple behind the lens at Mitch Birchall Studios. They're all about capturing the belly laughs, the holding back tears, and the "I can't believe we're married" moments. We spoke with them just days after they received some pretty big accolades…
Firstly, congrats on ABIA's QLD Wedding Videographer of the Year! What an incredible honour! How did you come to work in wedding photography and film?
Thanks so much – it was such a privilege and we're so thankful to our couples! [Mitch] came to work in the industry quite coincidentally actually. I worked a myriad of jobs after finishing school, and even tried my hand at uni studying secondary PE. I started working at Apple and was promoted to a "Creative Pro". During this role, they asked me to film an event and create a hype reel – and I loved it! I came home and told Chels and convinced her we should buy a camera. That was over 6 years ago now, and as they say, the rest is history.
We love hearing the weird and wonderful ways that people land in their dream careers! What are some of your favourite parts of the wedding day to photograph/film?
I think my favourite part of the wedding day has to be when the groom sees his bride for the first time. This is the moment I remember most vividly from our own wedding day, and I feel like I'm reliving it every time. In addition to that, I think it's got to be the location shoot. The shoot is probably the most understated, but it's the only time throughout the entire day that it'll be just the two of you, and you'll have the chance to soak up what you've just done. I am definitely a softie and I think that is why I am so passionate about this industry.
It definitely comes through in your work, and is a great characteristic to have in this industry. Do you have a favourite wedding memory to share with us?
We've had so many incredible weddings over the last six years with many amazing travel opportunities too – from Hawaii to the Philippines, Vanuatu to Thailand (to name a few) – so it's near impossible to pick just one! We did have a funny moment at a wedding recently though, where one of the flower girls chased the other down the aisle throwing petals at her. Their giggles had the whole wedding crying with laughter by the time they reached the end of the aisle.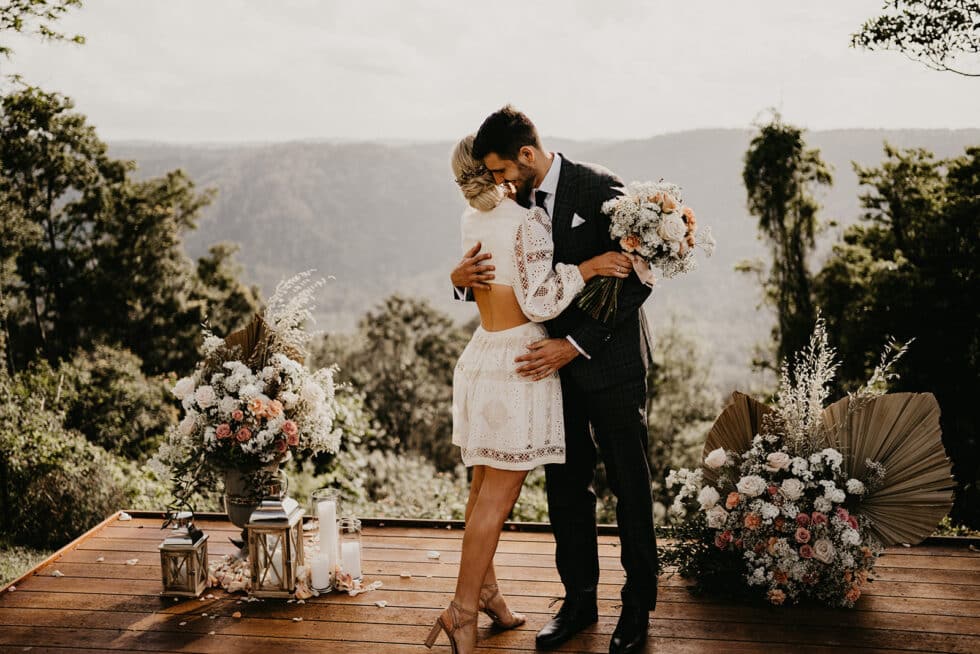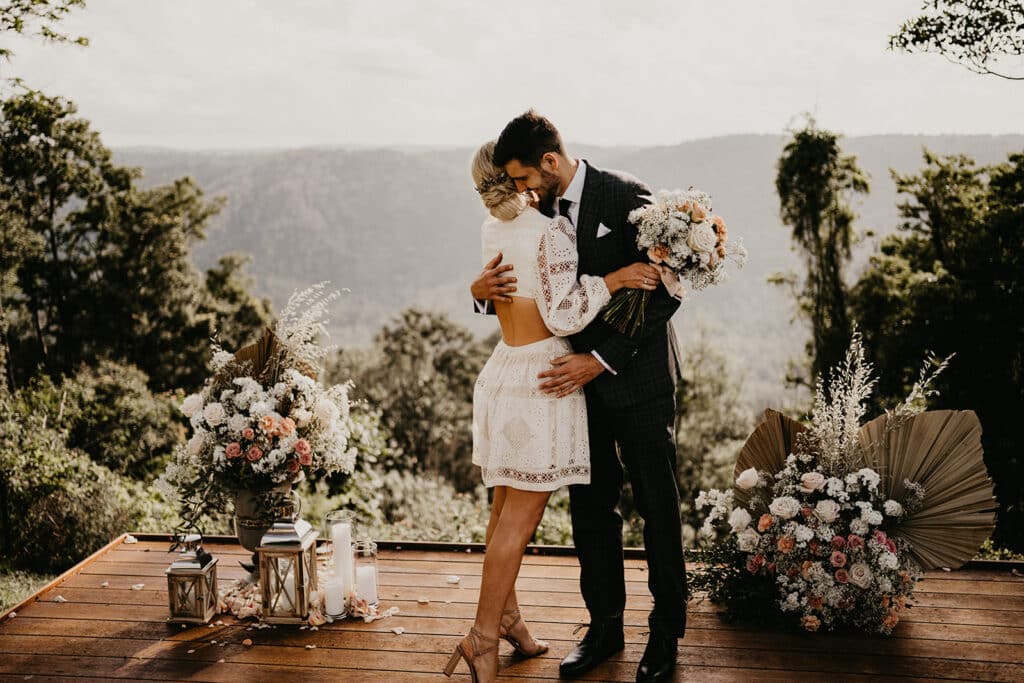 Aww… that would have been the sweetest! Kids do the most unexpected things. Speaking of family, what's your number one trick to herding relatives for group photos?
This is a great question but in all honesty, there's no hard and fast rule. We personally like to bake in half an hour after the ceremony to allow people to greet and congratulate the couple. We can then fly through family photos because everyone has had a chance to say hello.
Great tip! What do you think couples should look for in a wedding photographer/videographer?
I think the biggest thing to look for is passion, plain and simple. Do they love what they do? We think it is so important to have a call/meet with your photographer/videographer before you book, so you can actually get to know the heart behind the business. Also check out reviews. I mean if you're anything like Chels you look at reviews for everythinggg [laughs], but I think it is so important to see what other couples are saying – Facebook, Google, and ABIA are invaluable tools for this.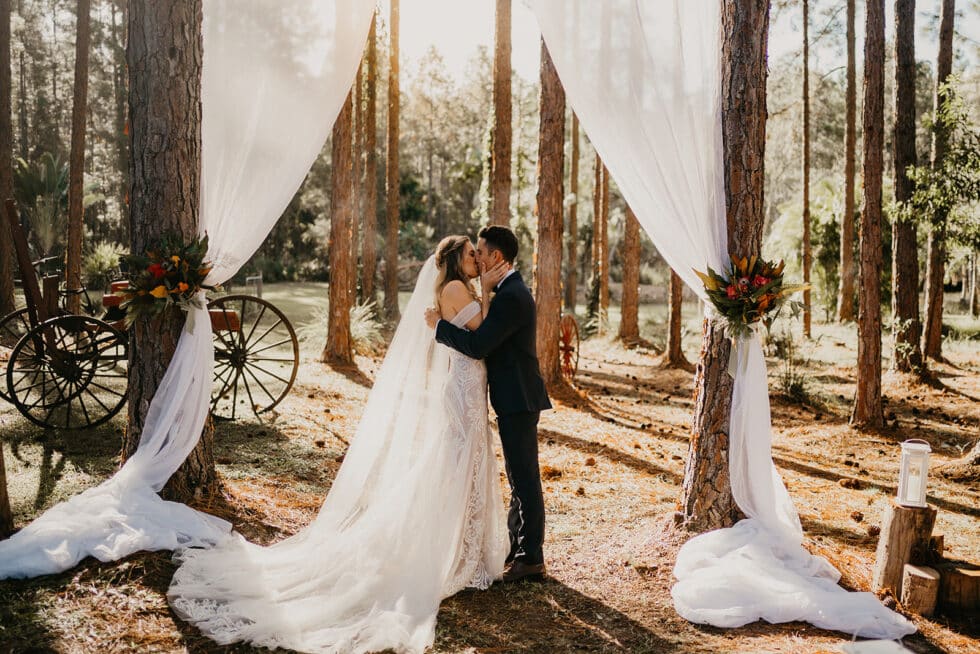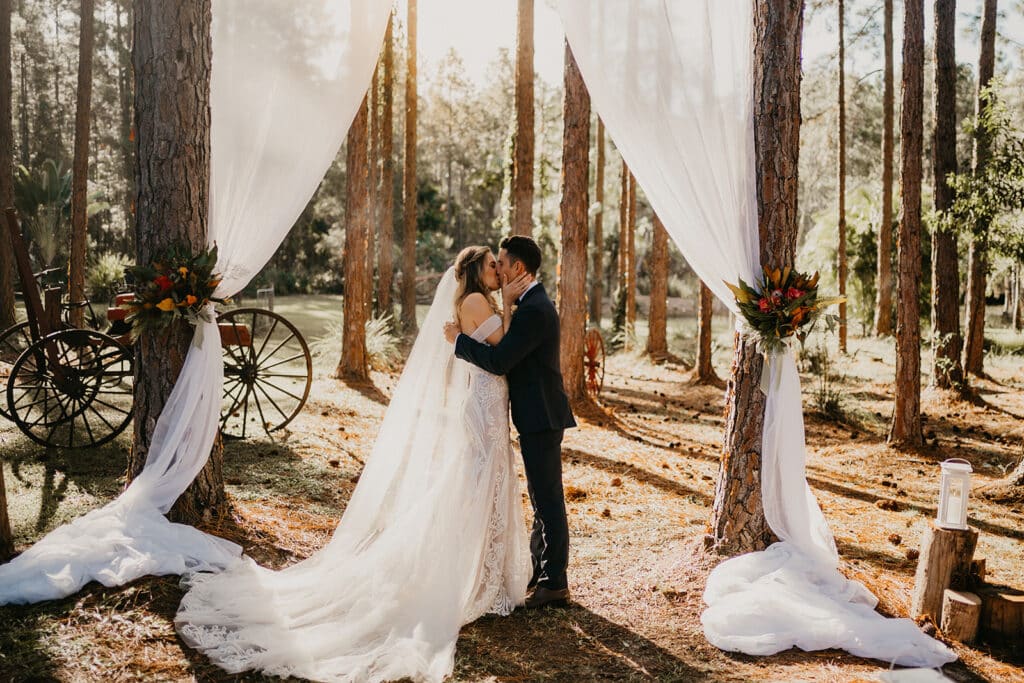 And what about the style of wedding photography/videography? There's a few different ones out there…
There are so many different styles out there and you have to find something that suits you. For us, and with film, we typically see two styles – the first is a more fun/party style film, the second a more slow, elegant, timeless, cinematic approach. We love to incorporate both for our films… to have the elegant romantic side of things and then switch it up to incorporate the fun, dancing, and laughs, so that all elements of the day are captured.
Wedding videography has often taken a backseat to wedding photography. What value do you think film adds?
With us and our business it's completely equal. I think in the next couple of years we will find a shift in the industry towards wedding film. They've really only been a thing for the last 10 or so years, but now people are starting to understand the true value of a film. Photos are essential – you need them to have something to hang on the wall and to be able to provide a thank you card – but there's something about film that lets you relive the day and tell the story in a way that your photo simply can't. There's so much emotion in hearing your vows being spoken and seeing tears fall down faces, laughs being had over Dad jokes in the speeches.
We're obviously biased but this is what one of our gorgeous brides said:
"After a lot of uhmming and ahhing on whether or not we were going to get a videographer, we came across Mitch Birchall Studios and decided to bite the bullet. I honestly CANNOT believe it even crossed our mind for a second to not get a videographer. He has created the most magical memorabilia for us of our day and documented it just perfectly suited to us, after watching it (…repeatedly) we would be so lost without this."
We couldn't agree more! So many memories to relive and also moments captured that may have been missed during the day. What else makes the investment for couples worth it?
I think this is a two-parter. The first one is that photography and film are all that will be left of the day, so it's really important to have something that you treasure and will bring back all the memories and emotions. The second part may not be as obvious, but your photographer and videographer are with you the entire day so you really want to invest in a team that you can trust and feel confident with.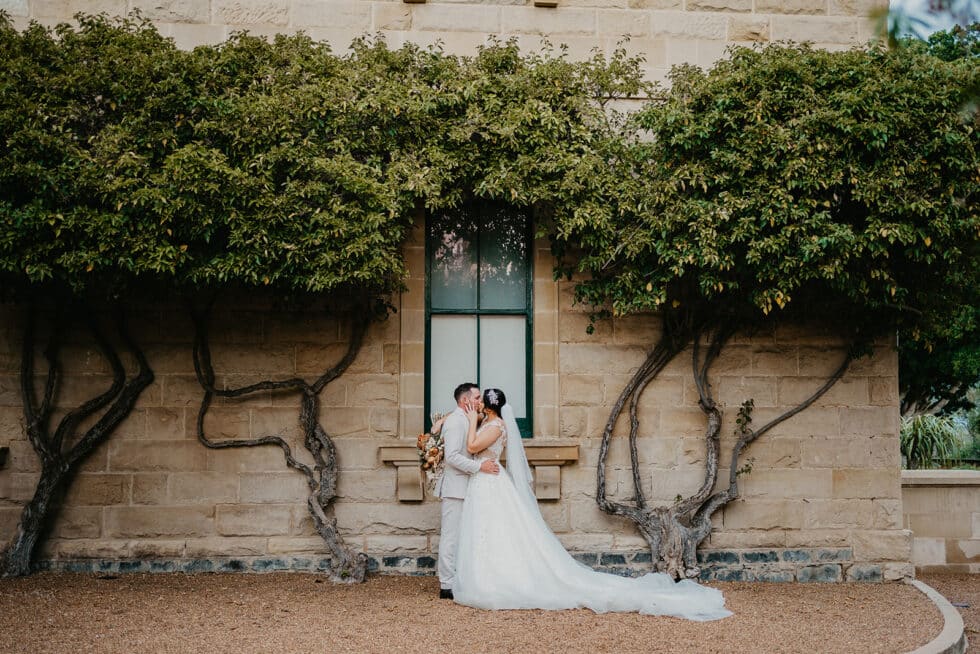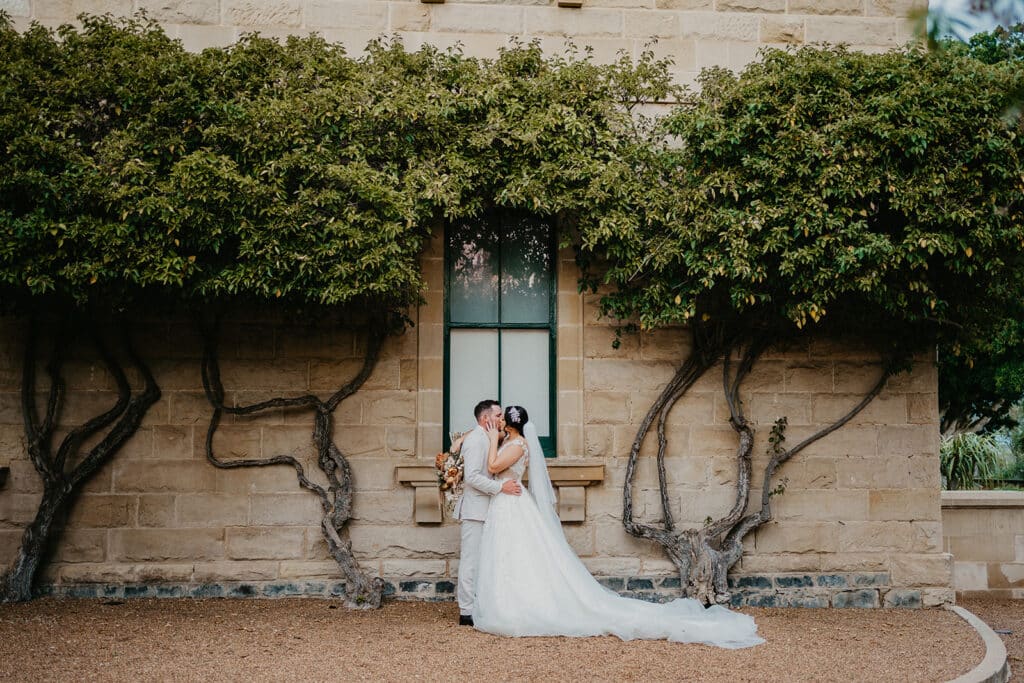 It certainly pays to invest in vendors that you feel comfortable with! How familiar should a photo/videographer be with the wedding venue?
I think a good videographer and photographer could be dropped into another country and would be inspired to create beautiful work, so I don't think it's essential to have worked at a specific venue before. Saying that, it's helpful to hear from couples if there are specific locations or features they love, such as Factory51's exposed brick, or laneway entrance, or giant crystal chandelier.
Time for one last question! If you could photograph/film anyone's wedding, at any time or place in history, whose would it be, and why?
Such a fun question and you'll probably laugh at me for this one, but we would have loved to have shot Justin and Hayley Bieber's wedding – I think those two have such an incredible mix of romance and fun. They are the kind of weddings that we love, couples that aren't afraid to feel all the feels and have a good boogie too.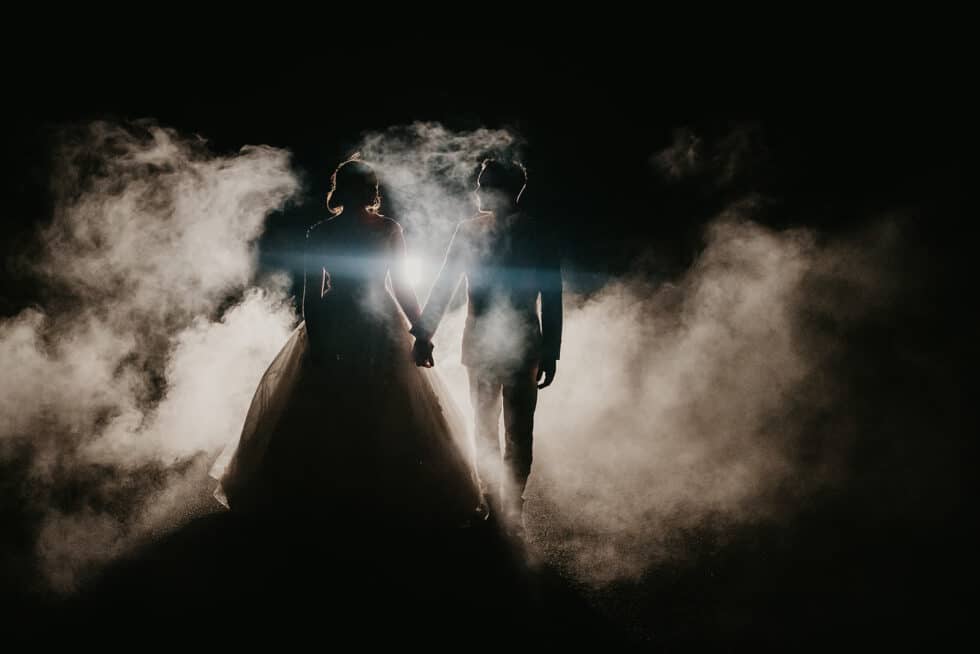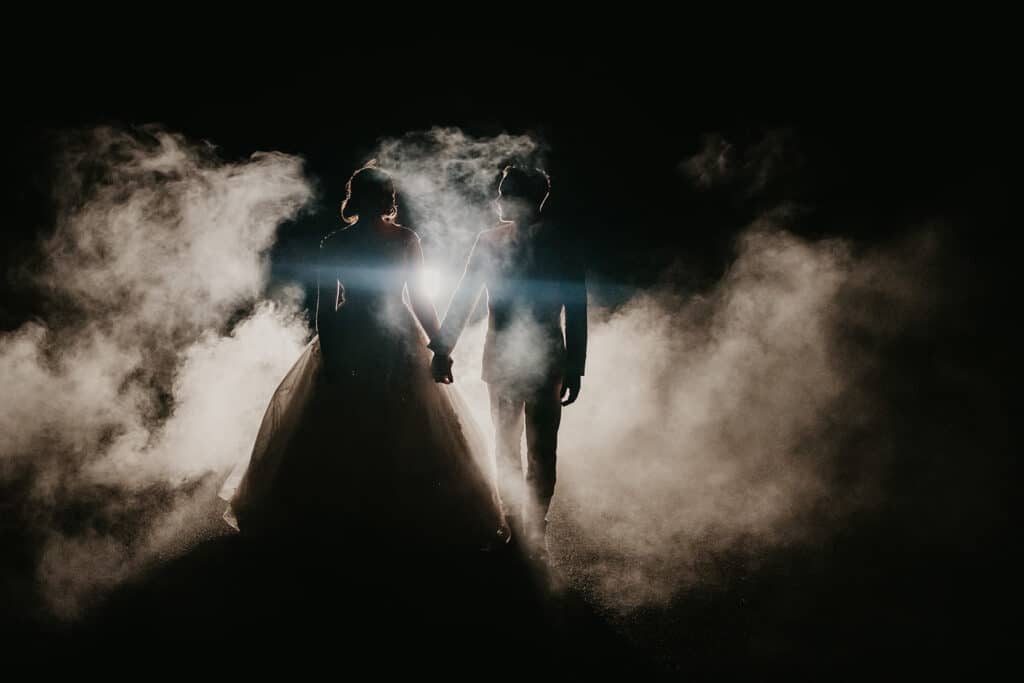 No laughter here – we love the Biebs! Thanks so much for chatting with us Mitch & Chels. We're looking forward to seeing you capture more couples who are wildly in love, hopeless romantics, kissing in the rain types!
If you'd love to partner with Mitch Birchall Studios and Factory51, be sure to check out their website and contact us for a tour of our rustic industrial wedding venue.