HOST AN ART EXHIBITION OR PHOTO GALLERY
When it comes to organising an art exhibition, curation is the key to success. Curating an art exhibition is no easy task – it requires careful planning, research, and attention to detail. From selecting the artworks to be showcased to designing the space, curating an art exhibition is a complex process that can take months to complete. If you're an artist looking to hold a gallery exhibition, then this article is for you. Here, we will discuss the necessary steps to put on a successful art exhibition.
Have a Clear Vision
First and foremost, it's important to have a clear vision for the exhibition. Art curators must have an understanding of the artist, the theme, and the overall message that the exhibition is trying to convey. This understanding will help determine the type of artworks that will be included in the show, as well as the layout of the space.
Choose the Exhibition Venue
You'll need to decide on the type of gallery you want to display your works in. It could be a traditional gallery, a pop–up gallery, or even a virtual gallery. Each has its own advantages and disadvantages.
Pop–up art exhibits are becoming increasingly popular amongst art enthusiasts. Pop–up art exhibits are temporary, often spontaneous, art installations in spaces that are typically free to the public. They offer a variety of benefits for both the artists and the public, including the unique opportunity to experience art in a non–traditional setting, without the cost of a traditional gallery or museum. They also help raise awareness of art and culture in the local community, bringing people together, as they create a shared experience that can be enjoyed by all.
Factory51's The Workshop is the perfect venue to host an art exhibit or display photographic works. Arriving at the venue, guests will enter through our archway and down a private laneway to our stunning space. There, they'll find festoon lights glowing against rustic brick walls and bespoke steel framed windows. A stunning Maria Theresa chandelier softly illuminates the room creating a wow factor for the event. The Workshop features a private marble bar, black velvet lounges, and secluded alfresco area perfect for mingling.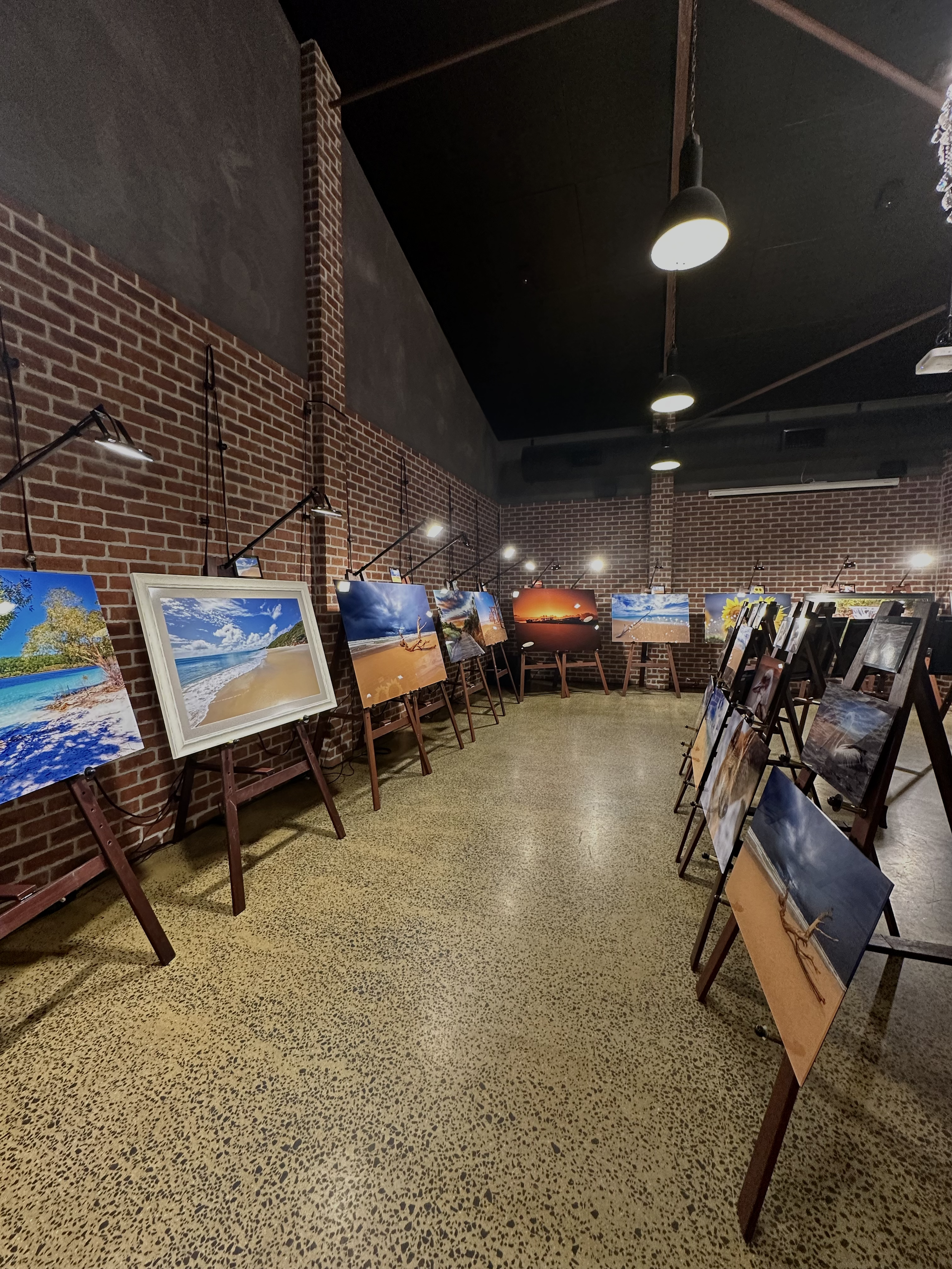 Design the Exhibition Space
Once the vision is established and venue secured, curators must begin the process of selecting the artworks. This process can be time–consuming and requires curators to thoroughly review each piece to ensure that it fits the theme and aesthetic of the exhibition. It's also important to consider how the artworks will interact with one another and how they will be displayed in the space.
Once the artworks have been selected, curators must then focus on designing the space. This includes creating a layout that is aesthetically pleasing, while also highlighting each piece in the best possible way. Taking into account the size and shape of the space, as well as the placement of each artwork, is essential to creating a visually appealing exhibition.
Market your Art Exhibit
As an artist, having a successful art exhibit is essential to getting your work seen and appreciated. But how do you ensure that your art exhibit is a success? The answer lies in effective marketing and promotion. You need to decide who your target audience is, what type of promotion will be most effective, and what budget you have to work with. Once you have your plan in place, you can begin to create materials and devise a strategy.
One great way to get the word out about your art exhibit is through social media. Use your existing accounts to engage with your followers and create new ones to reach a broader audience. You can post images of your artwork, provide information about the exhibit, and invite people to attend. You can also host giveaways to attract attention and create a buzz about the event.
Offline marketing is also important for getting the word out. Post flyers and distribute postcards in your local area. You can also reach out to local newspapers and magazines to see if they will cover your art exhibit. Utilising word of mouth can also be effective; ask your friends and family to spread the word. The key to promoting a successful art exhibit is to be consistent and creative. It's also important to make sure your marketing materials are professional and eye–catching. You should also create a website for the exhibit, which will provide potential attendees with all the information they need.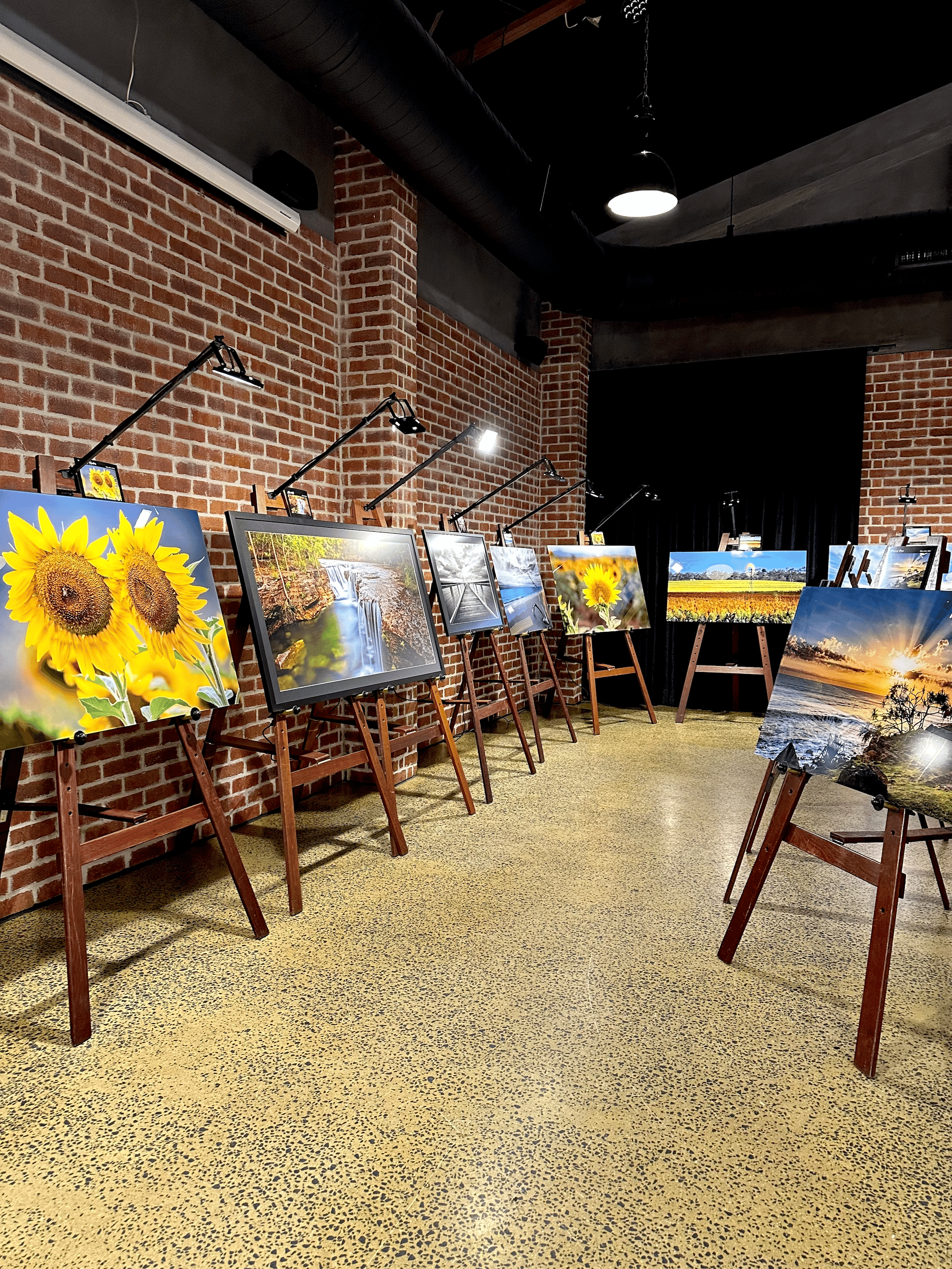 Install the Artwork
Finally, the artworks must be properly installed. This process involves ensuring that the artworks are secured and that the space is properly lit. Additionally, any accompanying text or signage should be placed in an appropriate location to ensure that viewers can easily read and understand the information.
Audio visual equipment is an essential component of any art exhibit, and having the right setup is key to creating a memorable event. Depending on the size of the event and the art being displayed, you may need projectors, audio systems, microphones, speakers, and amplifiers. Once you've determined the type of audio visual equipment you need, it's important to find the right company to provide the equipment. Finally, consider the type of atmosphere you're trying to create. Are you looking for a more intimate atmosphere, or do you want to create a larger, more expansive feel? Make sure your audio visual equipment is tailored to fit the type of atmosphere you're looking for.
On the Exhibition Day
Finally, it's important to make sure the day of the exhibition runs smoothly. Have someone organize the setup and make sure that the artwork is displayed properly. You should also have someone to greet visitors and answer any questions they may have.
Serving food and drink at an art exhibit is an important part of making the event successful. It can help to create a memorable and enjoyable experience for the attendees. With thoughtful planning, it is possible to provide a variety of food and beverage options that appeal to the tastes of your guests and complement the art on display.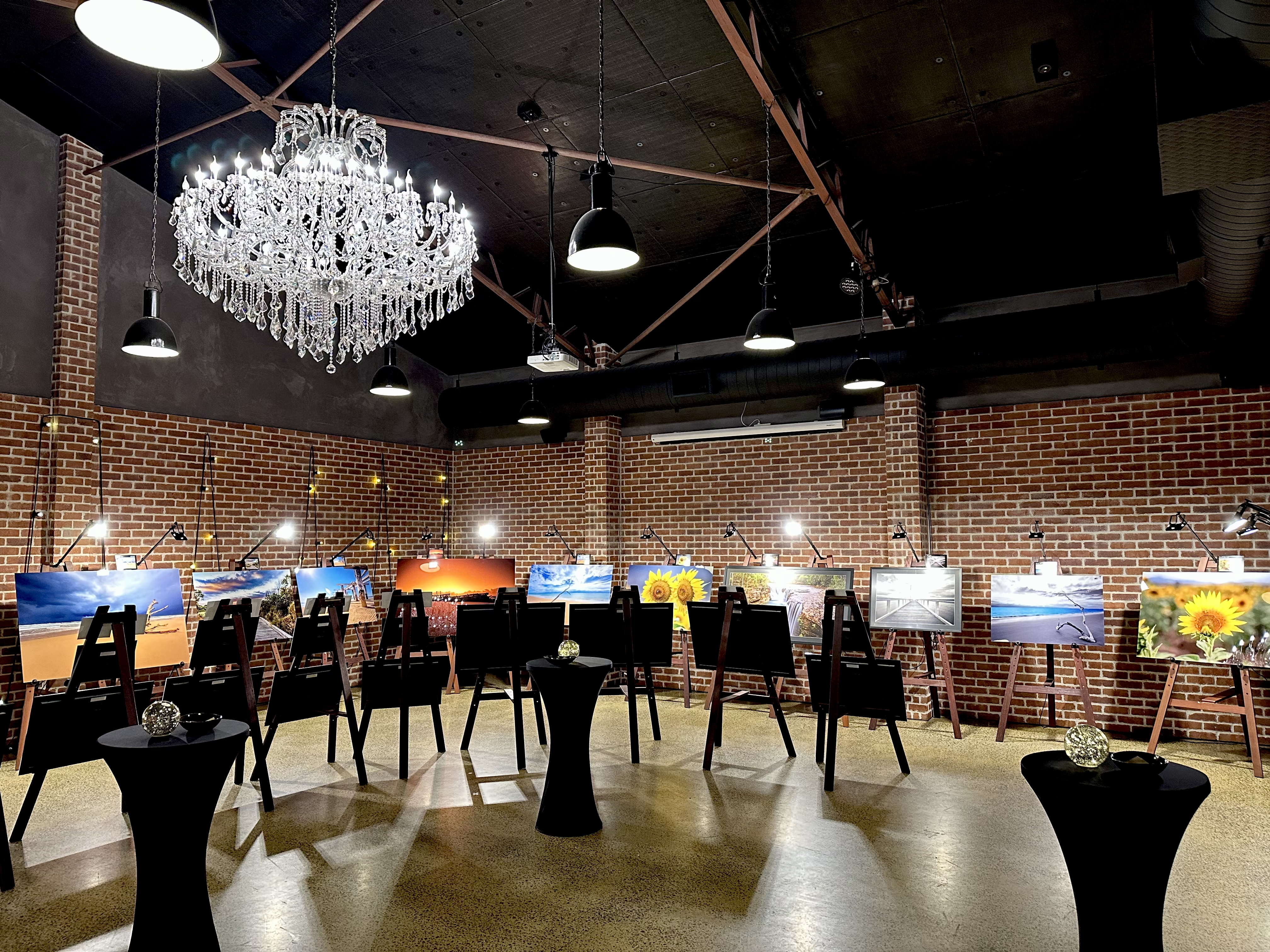 Host an Art Exhibit
If you'd like to host an art exhibit or curate a gallery of works at Factory51, please give us a call. We'd love to show you around our space and discuss your event!
Images from a recent exhibit by Deb Myles – Visual Addiction Photography