THE LAUNCH OF OUR 2023 EVENT PACKAGES
We're excited to announce the launch our 2023 event packages! From cocktail dishes to alternate drop menus and our infamous signature shared feasts, there's something to suit every function and event. The Workshop is Factory51's industrial chic function space catering for small to large private and corporate events. Our state-of-the-art audio-visual capabilities service intimate meetings through to dance-worthy parties. Your event space comes with a dedicated alfresco area, private marble bar, and laneway entrance. If you need to plan an event in 2023, we've got you covered!
2023 Event Package Inclusions
That's right – our 2023 event packages are all-inclusive, without any additional venue hire fees!
Up to 5-hours Exclusive Venue Hire
Floor plan and run sheet guidance from our Functions Manager
On-site Functions Coordinator and staffing
Hand-made timber tables with black Americana chairs
Black velvet ottoman lounges
Timber high bar tables and stools
Stunning 2-metre diameter crystal chandelier
Festoon lighting draped along the back wall
Italian crystal stemware and silverware
Private use of stunning large marble bar
Wireless microphone with surround sound system
Use of data projector and screen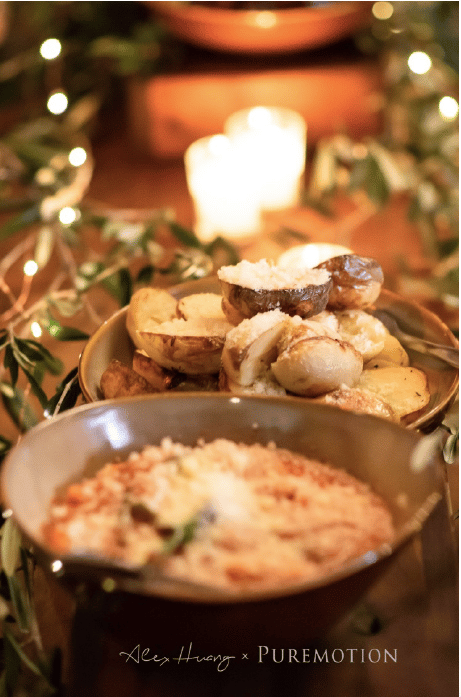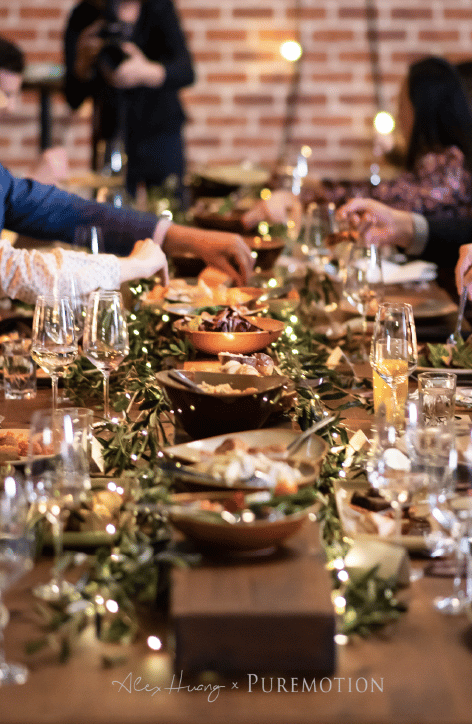 Shared Feasts
Shared feasts are the ultimate way to break bread. Our dishes are served share style down the centre of long tables on timber risers. This allows for communal dining in the best of ways, as you pass dishes to one another and enjoy an array of handcrafted Italian fare. Think of it as the modern-day buffet, with a much more intimate feel!
ITALIAN SHARE FEAST
TO START
Antipasti Plate: sopressa salami, salsa rossa, balsamic onions, smoked scamorza cheese roast eggplant, olives
Garlic & Herb Focaccia
THE FEAST
Gnocchi w/ Pork Belly & Tomato Ragu
Baked Cannelloni, stuffed with spinach & ricotta, rich tomato sugo
Pork & Veal Meatballs, Napoli
Woodfired Pizza 'slipper', w beef sausage, salami and smoked bacon, oregano
Rocket, pear & pecorino salad, salsa verde
TUSCAN STYLE SHARE FEAST
TO START
THE FEAST
Tender valley crispy roast pork belly & house apple sauce (gf, df)
12-Hour wet roast beef brisket, gremolata (gf, df)
Ground beef & tomato ragu, house potato gnocchi, parmesan
Truffled cauliflower gratin, provolone cheese, pangrattato
Roast chat potato, confit garlic, pecorino romano, rosemary (gf, df)
Romaine lettuce, radicchio, cherry tomatoes, olives, pickled shallot, basil & oregano
vinaigrette (gf)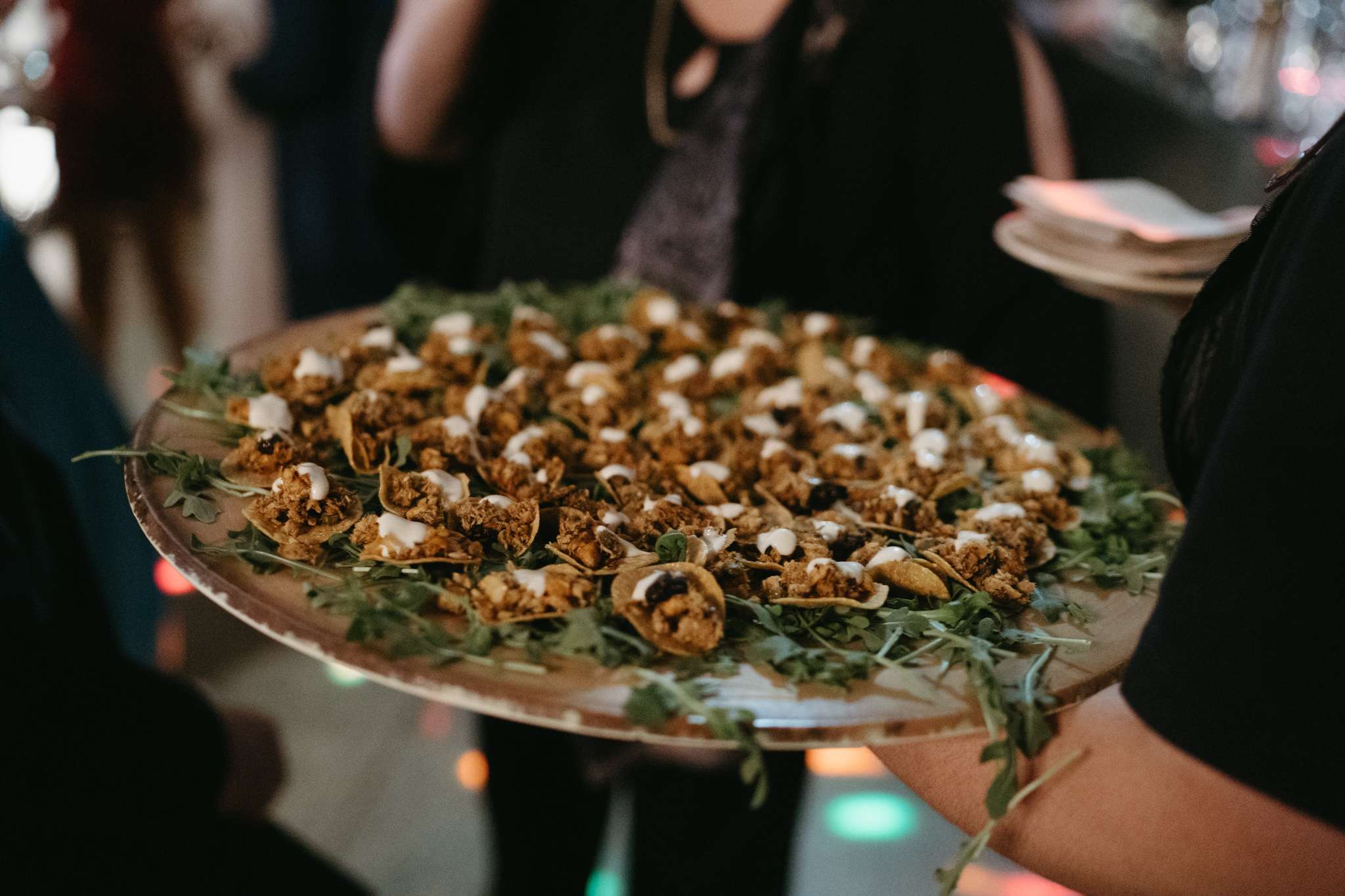 Cocktail Packages
Guests will be greeted by woodfired focaccia on arrival, followed by your choice of cold and warm canapes. There's grazing tables and fork dishes options, and you can even add on a cheeky late night woodfired pizza or sweet house made ice-cream (scroll down for additional items).
LIGHT CANAPE PACKAGE | For a light feed or short event
Woodfired focaccia on arrival
Your choice of 5 canapes
STANDARD CANAPE PACKAGE | Recommended
Woodfired focaccia on arrival
Your choice of 7 canapes
GRAZING TABLE PACKAGE | For those who want a grazing table (min 50pax)
Variety of meats, cheeses, fruit, pickles, breads & house lavosh served on a grazing table
Your choice of 3 canapes
FULL CANAPE PACKAGE | For a hungry crowd
Woodfired focaccia on arrival
Your choice of 8 canapes
Selection of one gnocchi fork dish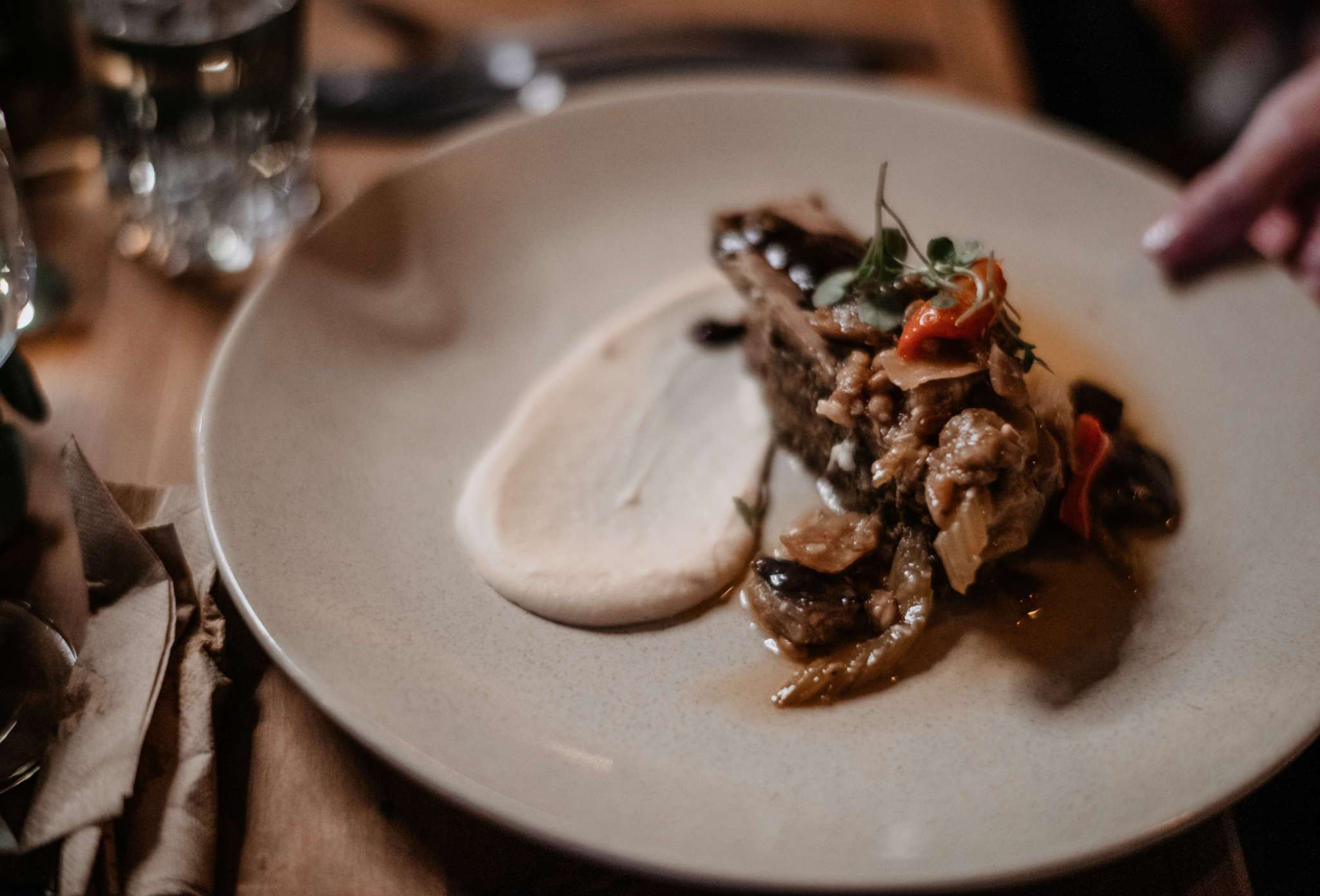 Alternate Drop Menu
Our handcrafted menus deliver delicious meals made with fresh, local ingredients by our team of talented chefs. Alternate drop menus are a classic choice for sit-down functions and events. Our professional and friendly staff serve entrees, mains, and desserts alternate drop, with your selection of appetiser served to every guest. 
TWO COURSE ALTERNATE DROP
Choose two entrees and two mains; or two mains and two desserts.
THREE COURSE ALTERNATE DROP
Choose one appetiser, two entrees, and two mains; or two entrees, two mains, and two desserts.
FOUR COURSE ALTERNATE DROP
Choose one appetiser, two entrees, two mains, and two desserts.
For the Kids
We are a family-friendly venue in Brisbane, so definitely offer children's meals for those aged 2-12 years old. Keep their little bellies full with our cheesy garlic bread, crumbed chicken, and chips. They'll be licking their lips for sure!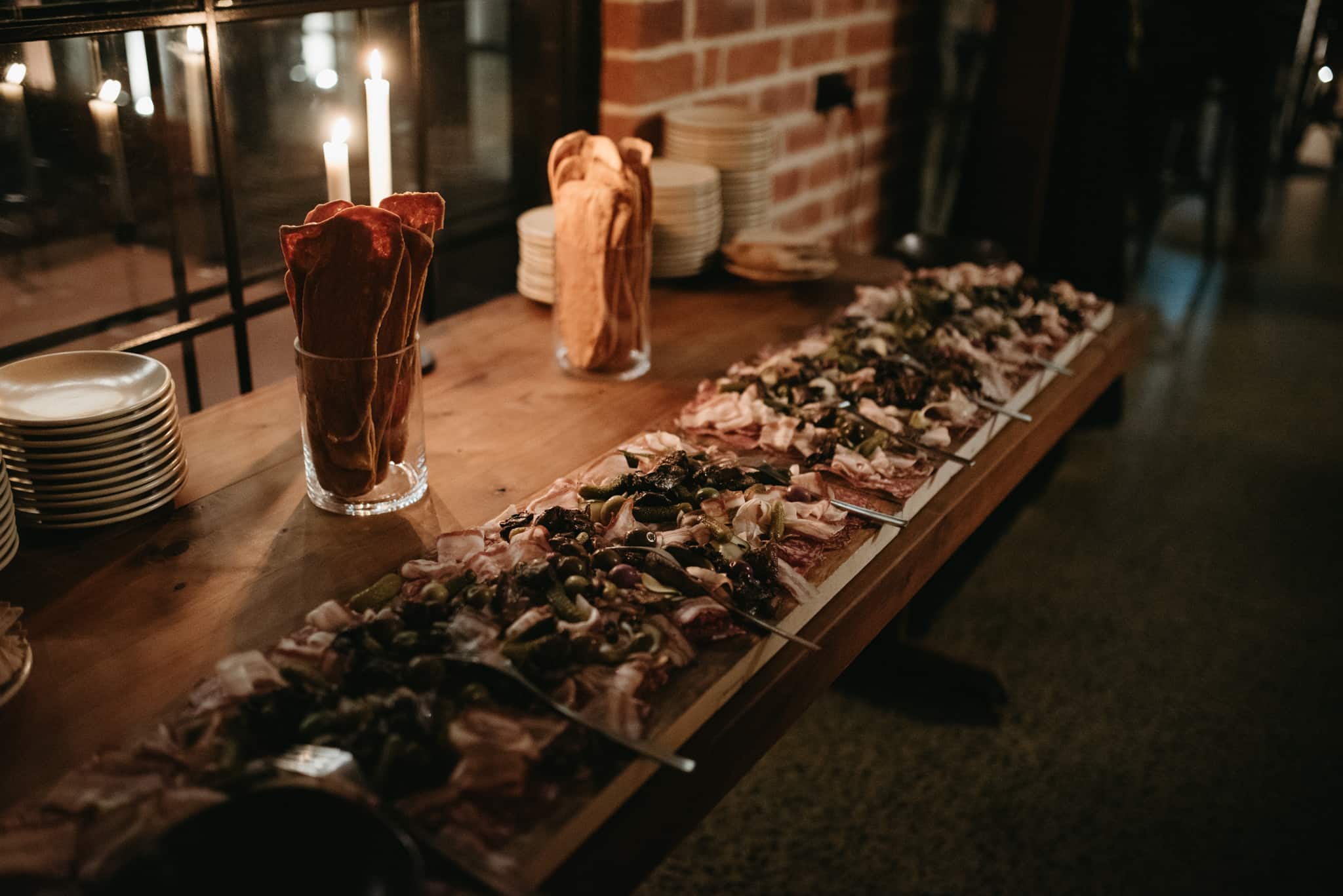 Additional Items
Who doesn't love options? We've designed some optional extras to offer you a greater variety to suit your 2023 event:
Canapes on Arrival two tray served to guests
Antipasti Board with the option to add a Selection of Cheeses
Grazing Table with a variety of meats, cheeses, fruit, pickles, breads & house lavosh
Gnocchi Fork Dishes with three options to choose from
House Made Ice-cream with your choice of flavour
Tea and Coffee Station (minimum 15 cups)
Late Night Wood Fired Pizza (available 9-10pm)
Styling
Our Brisbane venue already features warm rustic brick walls, festoon lights, polished concrete floors, and a giant crystal chandelier hanging overhead. If you're after a little something extra, let us take care of that for you! We offer Greenery Styling – your choice of Olive Branch or Silver Dollar Eucalyptus spread down the tables with fairy lights. Simple and stunning!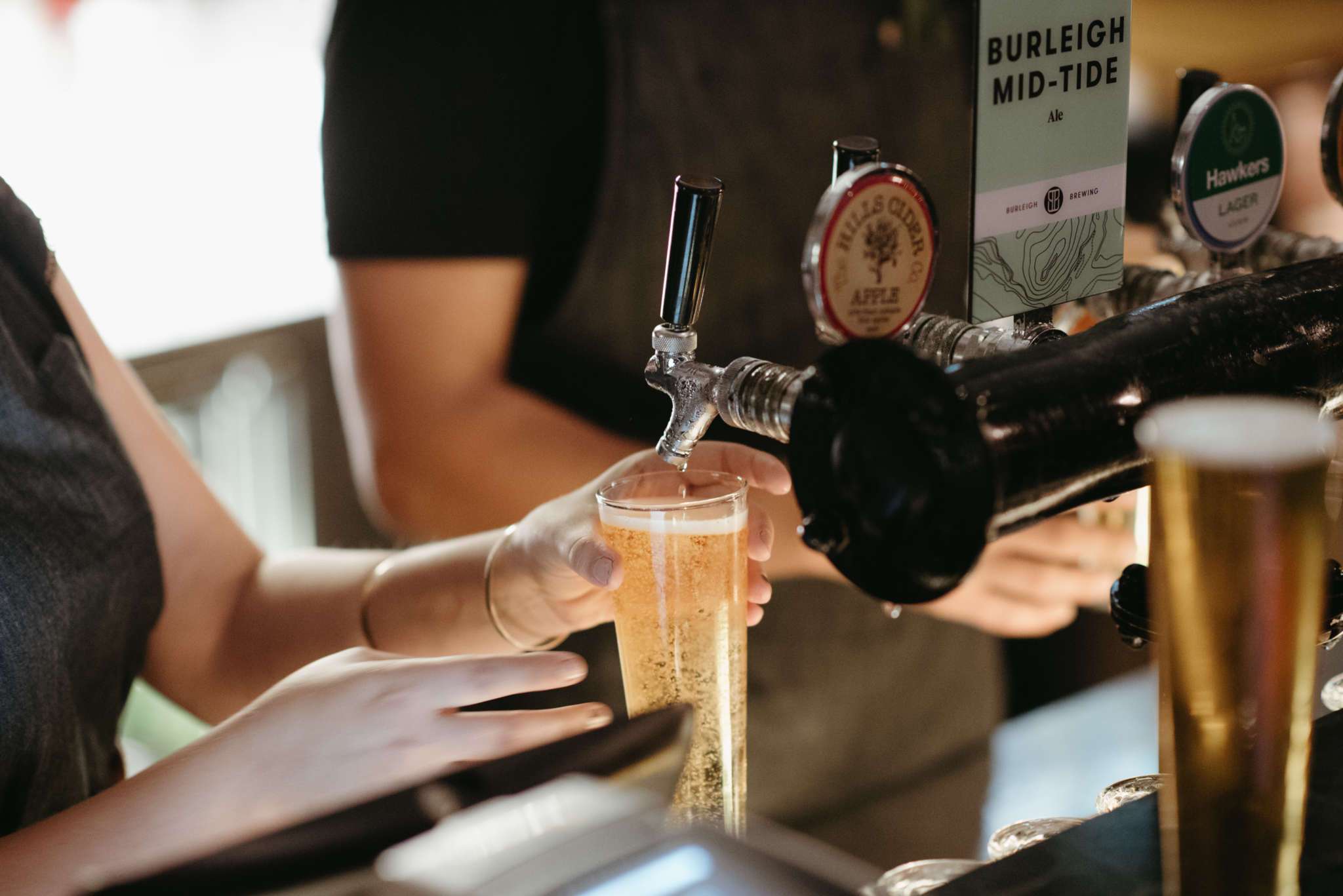 Beverage Package or Bar Tab
Our private bar serves local craft beers on tap and premium boutique wines. Choose from a beverage package to allow your guests unlimited beverages throughout your reception, or opt for a bar tab instead.
Chandelier Beverage Package Wines
Ate Sparkling Brut | VIC
Ate Sauvignon Blanc | VIC
Ate Pinot Grigio | VIC
Ate Rosé | VIC
Ate Shiraz | VIC
Ate Cabernet Sauvignon | Multi Regional Australia
Bespoke Beverage Package Wines
First Creek Sparking Cuvee | NSW
Hesketh Sauvignon Blanc | Limestone Coast, SA
Hesketh Pinot Grigio | Limestone Coast, SA
Hesketh Rosé | Limestone Coast, SA
Hesketh Pinot Noir | Limestone Coast, SA
Hesketh Shiraz | Limestone Coast, SA
Tap Beers
Holgate Norton Lager| Woodend, VIC
Stone & Wood Pacific Ale | Byron Bay, NSW
Brewdog Pale Ale |Brisbane, QLD
Aether Brewing Mexican Larger | QLD
Non-Alcoholic Beverages
Variety of soft-drink & juice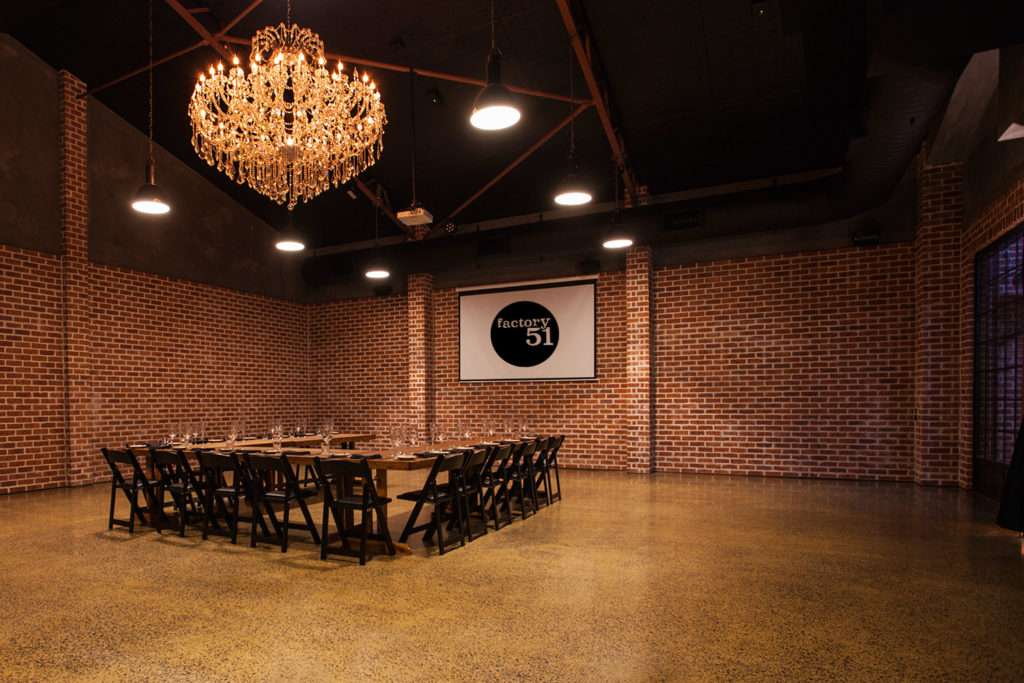 What events do you need to book in 2023?
Start the year out well by getting your calendar of 2023 events locked in! We host the following:
Private Event
Birthday Celebration
Engagement Party
Fundraising Event
Seminar
Small – Medium Conference
Workshop
EOFY Celebration
Product Launch
Networking Event
Board Meeting or Shareholder Meeting
Strategy Session
Christmas Party
Contact us today to book in your functions for the coming year. We'd love to take you on a tour of our unique event venue and discuss which of our 2023 event packages is right for you!