Brisbane Wedding & Reception Planning Checklist
Take the stress out of starting the planning process Factory 51's wedding-planning start – guide.
Boooooom! Its finally happened, your finger is now crowned with a dazzling ring, your full of butterflies and totally in love. What's next? With so many details and thoughts running through your mind, planning a wedding can seam overwhelming and daunting. Rest assure, giving yourself enough time to plan, starting month by month with a comprehensive wedding checklist and timeline can de-stress the project and help you enjoy this once in a lifetime opportunity.
photo: Factory 51 Wedding Venue Brisbane
Make a budget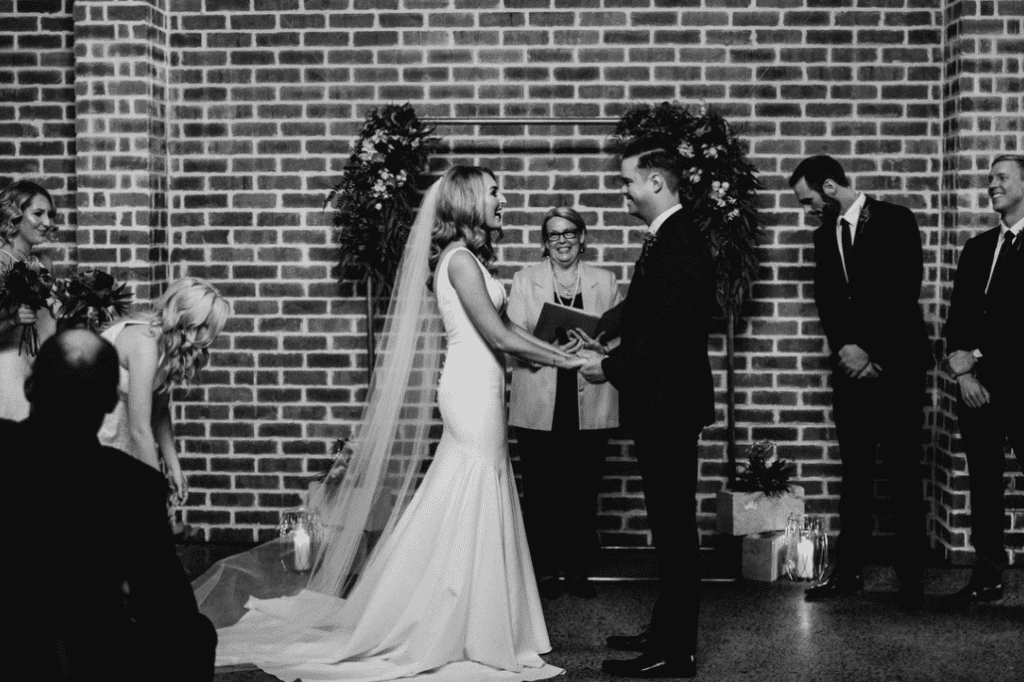 Crunching the numbers is best place to start as it's the least fun and it will determine what you can include for the big day. You'll have to have those tricky conversations regarding whose paying for what and determine what's important and a must have for both of you. Not sure on what your budget should be? Do as much market research as you can and start spread sheeting multiple quotes for everything you need for your day.
Make a guest list
Inviting everyone would be amazing. However your choice of venue, their capacity and pricing, plus your total wedding budget will put a cap on invites. Before you reduce your numbers or look at smaller, more cost effective venues, keep up the communication with each other and both sets of parents (if applicable) A popular solution is if all three parties pay a third each. After all the cutting, negotiating and cutting some more, you will reach your numbers. Be in early contact with guest you may believe won't be able to make it to give you more realistic numbers (if they date can't be changed to accommodate them)
Hire a wedding planner
If your super organized then a wedding planner might take the fun out of the experience, however they would still save you time and expose you to more options. If you a super relaxed then you'll find it easy to choose a photographer and dress, then you may leave it up to the venue to organize the rest. If you have big expectations for the day to run perfectly and your time poor than a wedding planner is the perfect solution. Even your budget is modest, a wedding planner will ensure you stick to it.
Decide on theme and style
Now it's the time to crack open a bottle of red wine and discuss the theme of your wedding with your partner. The theme and atmosphere of your wedding needs to be mutual. Discuss your favorite themes, what you liked or didn't like from previous weddings that you attended and your dream wedding ideas. Start with your venue style and location as this effects many other decisions.
photo: Factory 51 Wedding Venue Brisbane
Select the venue
Now the engagement has been locked in, its time for the BIG decisions. Where to host your ceremony and reception. Couples choose venue locations and styles that suit their personalities and dreams. Other considerations are whether you expect your guests to travel to a destination wedding or if you plan on keeping it local. Choosing a themed venue like Factory 51, allows you to have your ceremony and reception in the one spot, is easy an cost effective for guests to attend and saves on a multitude of styling and theming decisions. This also removes the need of a wedding planner. Make sure you visit as many venues as you can so that you are both ultimately happy with your decision in terms of theme, location and budget.
Select the caterer
Does your venue do catering. If so that is a real bonus as if it's a well established venue, like Factory 51, they will have this down to a fine art. If you need a caterer, explore the venues suggestions, then explore your options. Even food trucks can make a casual wedding – one to remember. Don't be afraid to be creative with your menu. The latest wedding trend is shared feasting menus
photo: Factory 51 Wedding Venue Brisbane
Ideas Time
Get in some comfy clothes, boil the kettle and start your pinterest board.
Its time for you to do lots of research for colours, mood and theming. Take note of your current style and interior design to keep the reception personal.
Hire your vendors
Once you have locked in all of your key vendors, then you can be on cruise control. The most important decision to make after you venue and ceremony venue/celebrant are the photographer, band, DJ, and videographer. These people will make your night memorable and unforgettable. Do your research – online & through friends. Plus ask the venue for their favorites.
photo: Factory 51 Wedding Venue Brisbane
Wedding dress shopping & Brides Maid's Dresses
For the Wedding Dress, You may have always known exactly what you want or you have always saved the decision until now. You have no time to waste. Hit the Brisbane CBD and James Street and thoroughly research online. Bring the girls so that you can start to make a plan for their dresses. If you have already locked in the colours and themed for the wedding, then the dress experts will help you in the right direction. Maybe even a girls trip to Melbourne might give you the inspiration you need.
Should the grooms suit me rented or purchased?
The groom does walk out first! Its best to ensure that the first impression of the groom (& groomsman) sets the right tone and style for the wedding. When choosing between a tux or a suit, its best to consider the formality of the wedding, the grooms culture and his thoughts. If the groom has always craved a good suit, then purchasing one is the right move – budget permitting. The suit has to be flattering, and allow him to carve up the dance floor. The best men can either match the groom or just match each other.
photo: Factory 51 Wedding Venue Brisbane
Start Invitations & launch the save the dates – online or card
The wedding invitation and save the date is the first point of contact about your big day. It needs to set the theme and tone of the wedding. Stick to your budget, but research your options. Plenty of websites can assist with both online and postal invites.
Gifts or Wishing Wel
Its personal choice. If you have everthing you need, then a wishing well is perfect. Just make sure to hire or buy a sturdy well that matches your theme. For gifts, a registry is the best way to make sure all of your gifts will be used. Involve your partner in the selection as these items will be with you for a lifetime.
Meet with potential florists or practice your greenery skills.
Depending on your theme, you may wish to hire a florist or try your hand at greenery and seasonal flowers. Ask friends on their opinions, visit the flower market, meet with florists and pinterest your favourite floral theme. Make sure you find a florist that understands your budget and wishes.
Transport
The stretch limo is the tradition transport for the bridal party. It is 2019 and there are so many more good options. Renting a flash car, Uber x, party bus, stretch hummer, bicyle took took and a luxury boat for those lucky enough to get married on the river.
Go Time
Now that should be enough to get started. As you get deep into planning, all of the other small questions will come to the surface, but you'll be ready to answer them. Good luck.