BENEFITS AND TIPS FOR INTEGRATING CSR INTO CORPORATE EVENTS
Corporate Social Responsibility (CSR) activities have become increasingly popular in recent years as businesses aim to give back to their communities and promote a positive image. One effective way to integrate CSR activities into corporate events is to organise events that benefit local charities or community organisations. Here, we explore the benefits of incorporating CSR activities into corporate events and provide tips for successful implementation.
Benefits of Incorporating CSR Activities into Corporate Events
Enhance Company Image
By engaging in CSR activities, companies can improve their image and reputation among employees, customers, and the wider community. CSR activities show that the company is committed to giving back and making a positive impact on society.
Increase Employee Engagement
CSR activities can help boost employee engagement by providing them with opportunities to give back and make a difference. Employees who are proud of their company's social responsibility efforts are more likely to be engaged and motivated in their work.
Strengthen Relationships
CSR activities can also help strengthen relationships with clients, partners, and vendors by demonstrating the company's commitment to social responsibility. Clients and partners are more likely to do business with a company that aligns with their values and priorities.
Create a Positive Workplace Culture
By incorporating CSR activities into corporate events, companies can create a positive workplace culture that values social responsibility and community involvement. This can help attract and retain top talent who share similar values and priorities.
Tips for Incorporating CSR Activities into Corporate Events
1. Choose a Relevant Cause
Choose a cause that aligns with your company's values and mission. For example, if your company is focused on environmental sustainability, consider organising an event that benefits a local environmental organisation.
2. Collaborate with Local Charities or Organisations
Partner with local charities or community organisations to ensure that your CSR activities have a meaningful impact. These organisations can provide guidance on the most effective ways to support their cause. Towards the end of this post, we've outlined how you can partner with the charity Drought Angels to help Aussie farmers doing it tough.
3. Make it Interactive and Fun
Incorporate interactive and fun activities into your CSR event to encourage employee engagement and participation. For example, organise a charity walk or run, a volunteer day, or a team-building challenge that benefits a local charity.
4. Promote the Event
Promote your CSR event through social media, email newsletters, and other channels to build excitement and encourage employee participation. Highlight the impact that the event will have on the community and encourage employees to get involved.
5. Follow Up and Evaluate
After the event, follow up with employees to thank them for their participation and highlight the impact that the event had on the community. Evaluate the success of the event and use feedback to improve future CSR activities.
If you're keen to successfully integrate CSR activities into your corporate events and make a positive impact on the community, read on… we've outlined one such way that Factory51 can work with businesses to give back: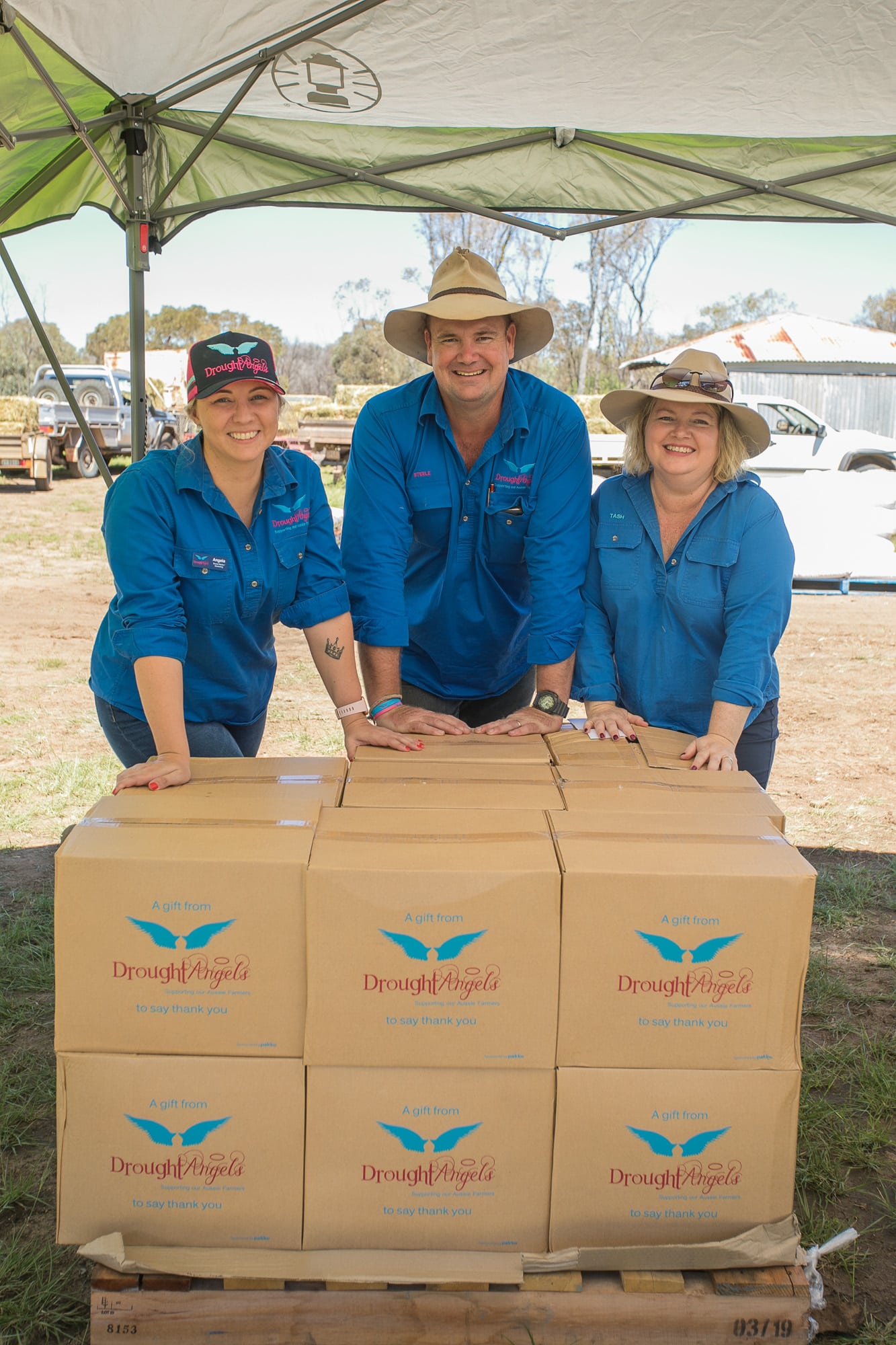 Supporting Drought Angels
Our Australian farming families endure so much hardship for the rest of the country to put food on our tables. Their farms are at the mercy of a multitude of natural disasters such as droughts, floods, bush fires, crop and herd diseases, unpredictable market demand, pricing fluctuations and labour shortages. All of these cause financial hardship and have a huge impact on their mental health and wellbeing.
Drought Angels is a charity that has been working hard since 2014 to provide personalised support to thousands of farming families across Australia:
The charity provides personalised direct financial support which enables farmers immediate access to all-important funds. This is a critical lifeblood for the entire local area as every dollar spent circulates 6-7 times within the community.
They personally deliver special hampers and care packs, which are packed with love and all items have been carefully selected to ensure they are meaningful and useful to help sustain a farming family.
They run special RDOs (Rural Day Off) events in the community to treat the farming families to a much needed and well deserved break, providing morning tea, lunch, dinner, dancing and entertainment for all ages. These events are much more than an opportunity just to socialise and relax. They serve to remind the community that they are valued and are not alone.

What is the Drought Angels 'Rainmakers' Team Building Program?
Delivered by Team Building with Purpose, Drought Angels 'Rainmakers' is an exciting hybrid between team building and corporate volunteering, built to mobilise your people for good and help the charity Drought Angels at the same time. It can be delivered either face-to-face at your office or a location of your choice (e.g. Factory51) over 3 hours, or online over 2 hours. They can also run hybrid sessions so if some of your team aren't able to be in the room, they can attend remotely and not miss out. This is more than just a team building activity! This experience is about building empathy, building connection and deepening relationships in your team, whilst learning all about the incredible difference the charity Drought Angels makes to struggling Aussie farmers.
What does the session cover?
To add to the fun, the group is split into smaller tables teams to add a little friendly competition with points for activities and special prizes on offer.
Competing in the 'Rainmakers' team quiz – we set the scene by finding out what people know about life in the country and where some of our Aussie slang came from.
Reflection Exercise – we invite people to share their stories of rural Australian experiences, celebrating the strength of connections and strong values in country communities.
Acknowledging pressures on farmers – we explore how floods, bushfires, mouse plagues and other natural disasters have impacted our farming communities and how this has a serious impact on the mental health of farming families.
Appreciating the work of Drought Angels – an overview of the charity including inspirational stories about the difference they're making to the lives of farmers and their families.
'Hamper Packs' team challenge – teams are given a specific scenario of a farming family and a tight budget. They shop together for appropriate long-life food items and build hampers that are sent out to struggling farmers. They're also asked to write a message of support and encouragement, which goes into the hamper, which is sent to the charity to give to a struggling farmer family.
Commitment to action – at the end of the session, the group will have the time to reflect on what they've learned and consider what personal actions they want to make a difference at work, at home and in the community.
CSR Activities at Factory51
If you're interested in the Drought Angels 'Rainmakers' Team Building with Purpose Program, or any other CSR activity at Factory51, we'd love to chat with you. Our Workshop Function room is the perfect space to host CSR and team building activities. Contact us today to check availability and to get onboard with giving back to the community!