HOW AVIDEAS TRANSFORM WEDDING STYLING EXPERIENCES
We chat with Greg – Owner, Director, and Head Ideas man of Avideas – a decorative lighting, design installation, and event hire company transforming the experience of wedding styling.
Thanks for chatting with us Greg! Tell us about how you came to work in the wedding industry…
We have helped out with family and friends' weddings since we were teenagers! We always had the willingness to jump in and lend a hand, and obviously there was some skill and aptitude to go along with that. Coming from a production background, where I worked on musicals and productions, I had a bigger picture view and knew the transformation experience that draping, lighting, and larger styled pieces could create.
At the time, people only really thought about table styling when it came to weddings. So, we saw an opportunity to establish Avideas and bring the magic through decorative lighting, draping, and styled furniture (I mean, do you really want to settle for the gross RSL hire chairs?). This led us to meet with some of the original wedding planners and stylists in Queensland who needed the brain and muscle power to execute ideas of theirs and their clients. They trusted us to deliver on the vision and create alongside them, which is always such an honour.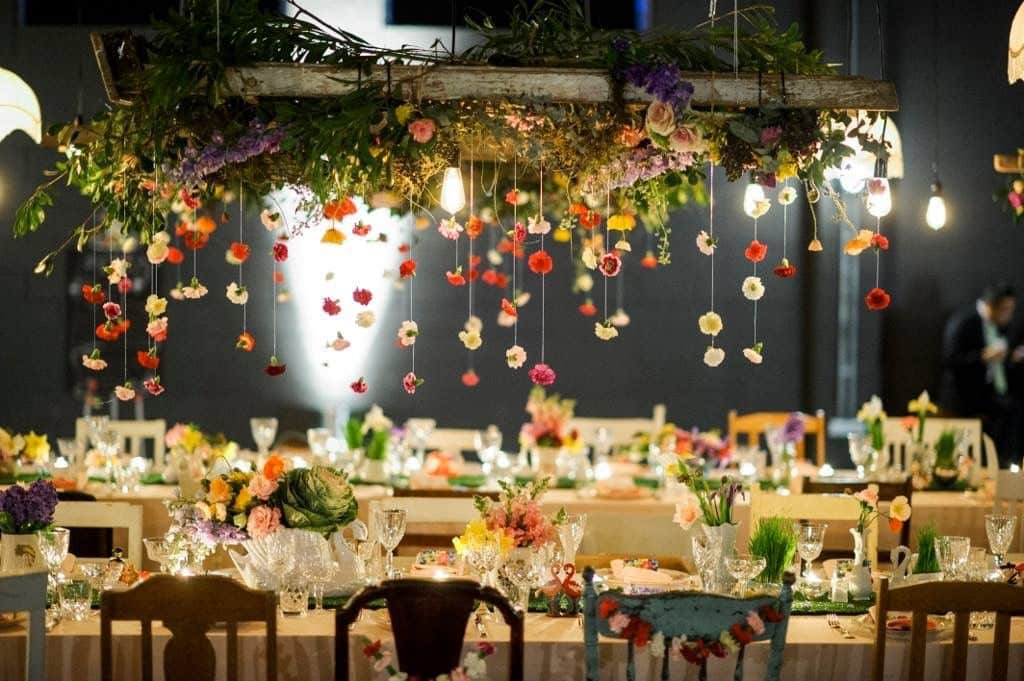 It's amazing that you've been able to witness the evolution in wedding styling. What impact do you think styling has on a wedding?
It has the power to transform and transport guests to another time and space. It is the atmosphere creator and has the ability to communicate the style and feel of the event, which is completely individual to each couple.
We love that a couple can express who they are through their wedding styling. Designs can be worked into many areas of a wedding, from ceremony arbours to long tablescapes to hanging installations. What's your favourite area to create?
Lighting is our ultimate party-trick! From trusty festoon and fairy lights to decorative cane shades to the fanciest of crystal chandeliers… whether the lights are flying solo or nestled amongst a floral installation, they are always such head turners and mood creators.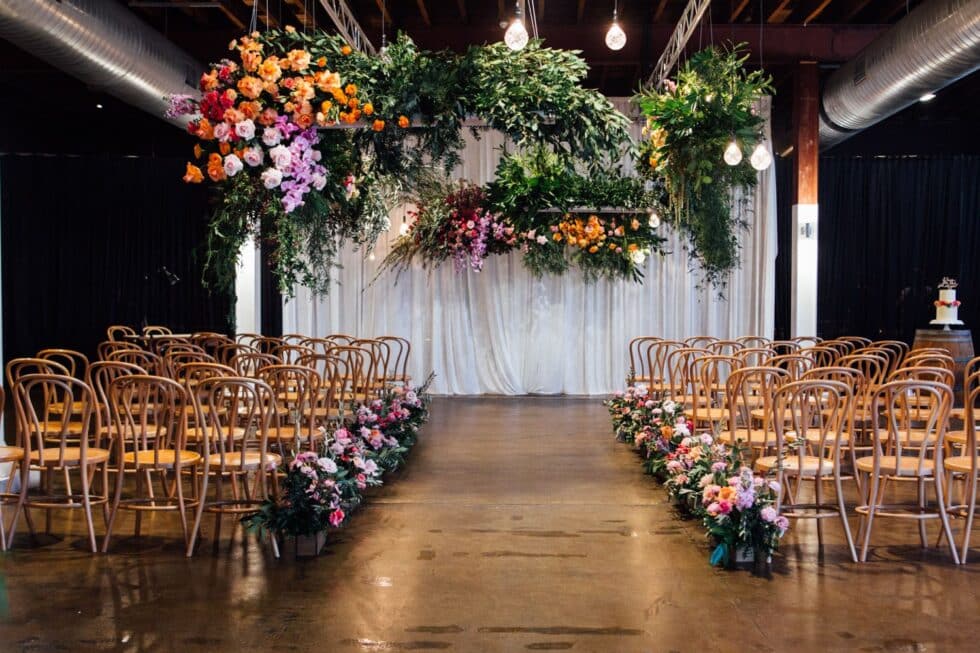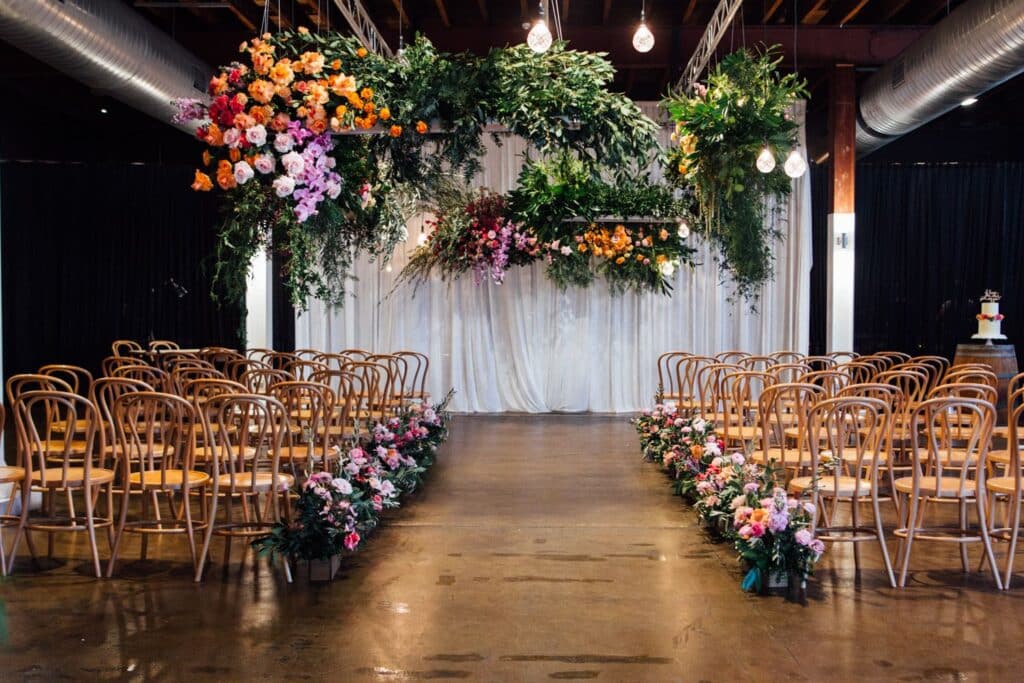 What designs are you seeing (and loving) at weddings lately?
Look, we are lovers of ceiling installations – looking up makes life all that much better! Ceiling installations are a little bit of magic, making the space feel more intimate or more grand. They are the explosion of creativity at the very heart of your event, and they also help tie together all the smaller details. The options are endless, and literally, the sky is your limit.
So, our couples are engaged, and now looking to start planning their wedding. What should they particularly look for in a wedding stylist? Are there any helpful questions that couples should ask?
Look for vendors who work in collaboration with others which gives you a great sense of their credibility, capacity, and consistency. Often recommendations from other vendors are gold as they are putting their reputation to a recommendation, so believe them! Social media also gives you a good insight into their work and consistency day in and day out.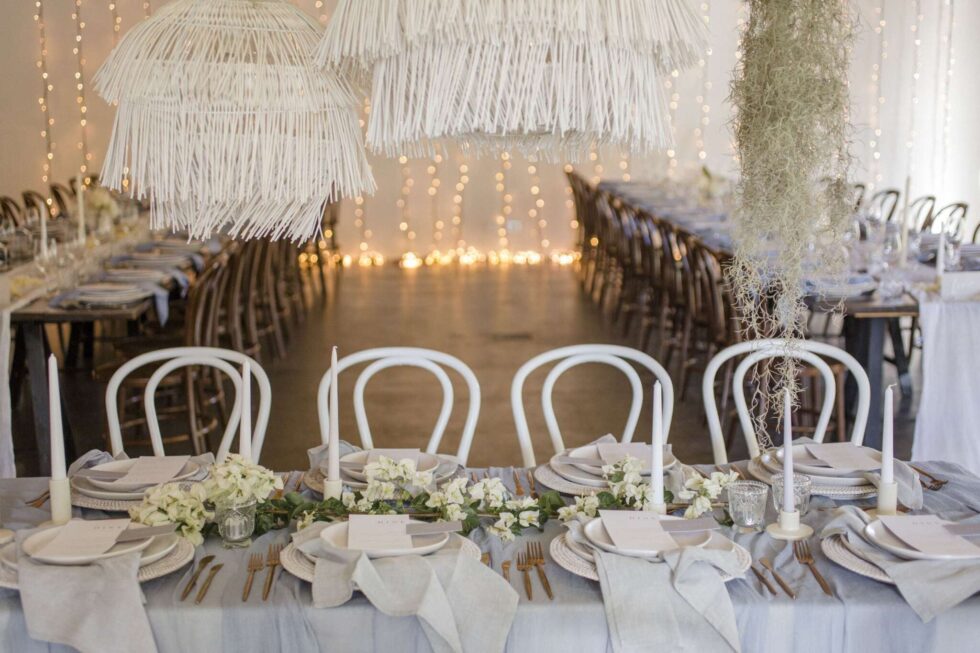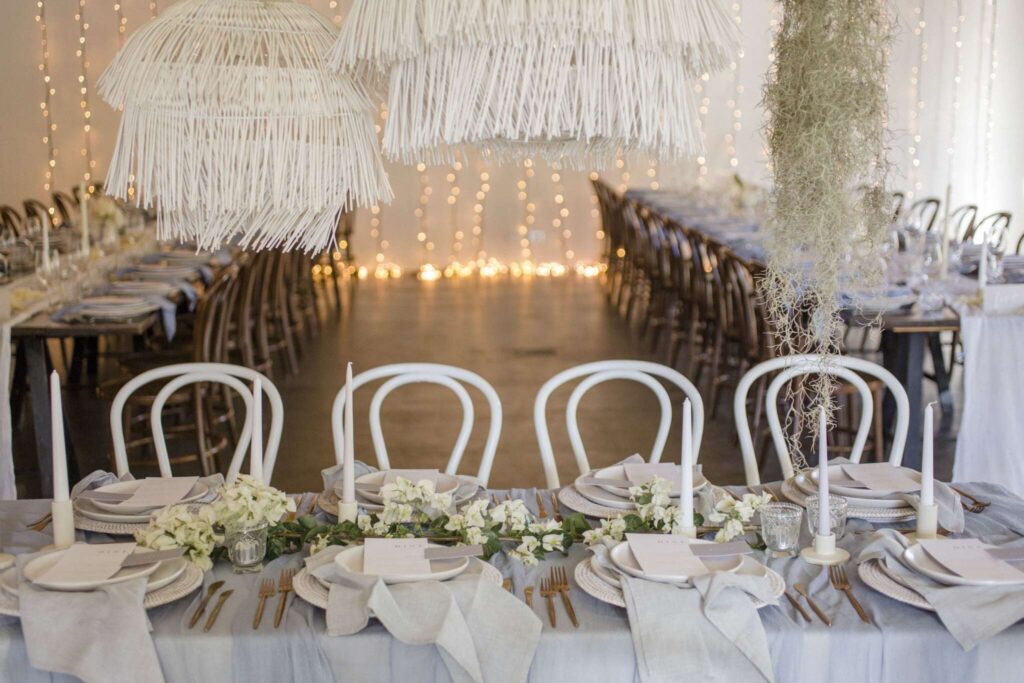 We absolutely agree! Collaborative vendors speak volumes and recommendations are invaluable. How familiar should a stylist/designer be with the wedding venue?
As a professional in the wedding industry, it is our responsibility to be familiar with venues and make suggestions that complement and enhance what the venue currently offers. We are asked daily "what can you do there?", so if we haven't been to a venue before, we would arrange a site visit, look at photographs, and even access building and engineering plans if required.
At Factory51 specifically, we have explored rigging of floral installations and pendant lighting to compliment the stunning chandelier, and built full fairy lit walls and festoon drop walls. We've used up lighting on the stunning exposed red brick, and created table pieces which our clients have loved.
We have the honour of working in many venues, so we need to ensure that no damage is done during installation, and also that we adhere to legal obligations when rigging things above guests' heads (yikes!). Our team hold rigging licenses, so risk assessment and calculations are applied to every installation we do. We are serious and take pride in our work and reputation.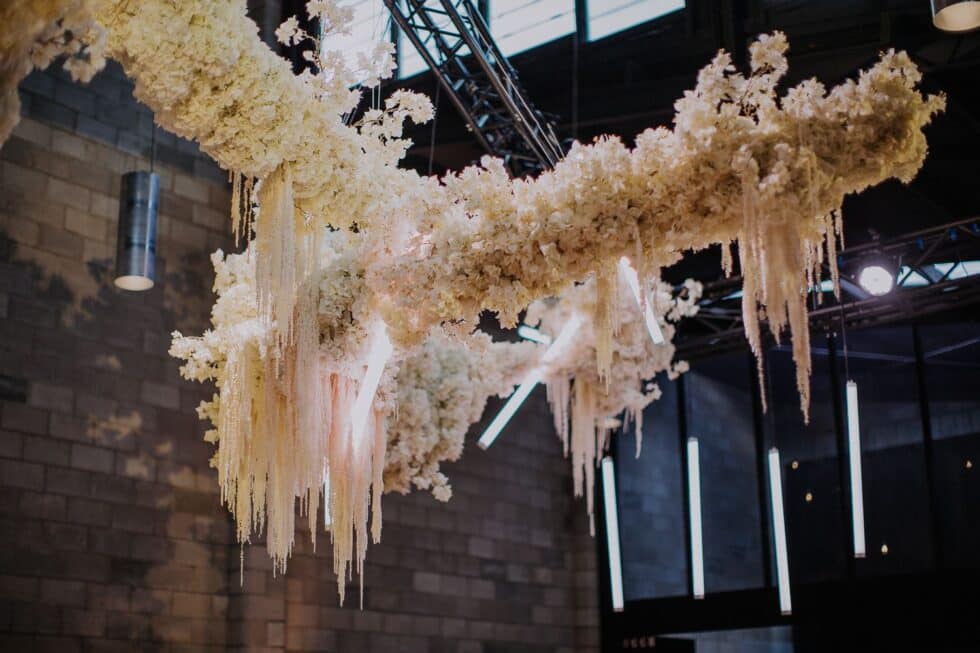 And that is why you leave it to the professionals! What are your top 3 tips for couples when it comes to styling their wedding?
Think about how you are using the space, what are your wow moments, what's your hero or style thread through the day.
Surround yourself with things you love!
Change the atmosphere with lights.
Ready for a dream question?
Go for it!
If you could design anyone's wedding, at any time or place in history, whose would it be and why?
Oooh this is a tricky one as we want to be involved in the creation of so many big, fun, and wonderful events! But we'd love to be a part of a Royal wedding (who doesn't right?!) Prince William and Kate's wedding was a dream, but we believe we could have applied some really cutting edge and creative elements – which aren't all that tricky – that would have made it even more WOW! We believe that Australia has some of the most creative, forward thinking, and leading style designers. Avideas has the capacity and capability to deliver truly memorable experiences, so why not share it with the entire world!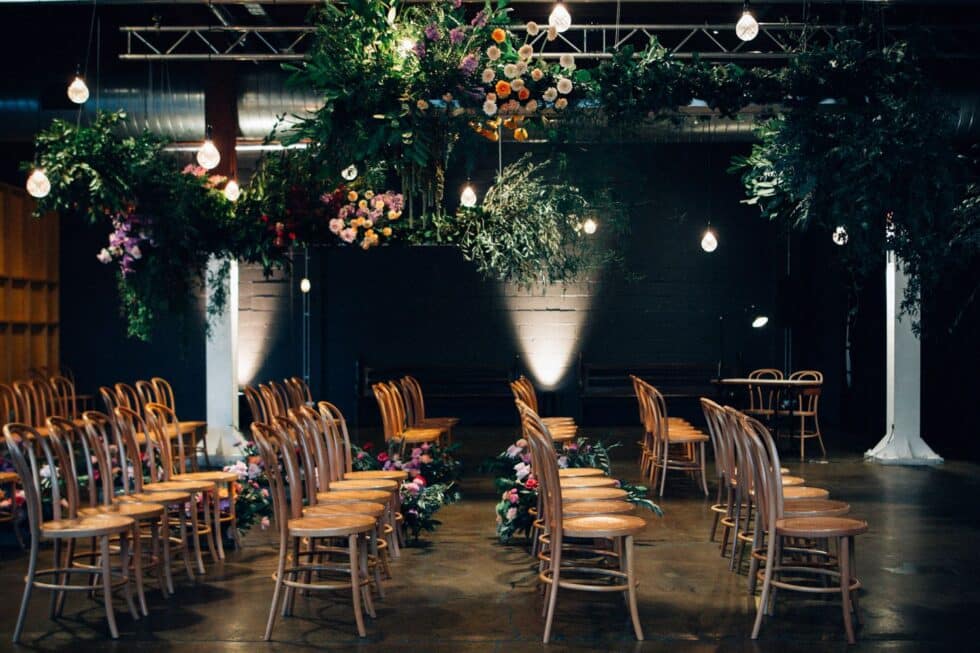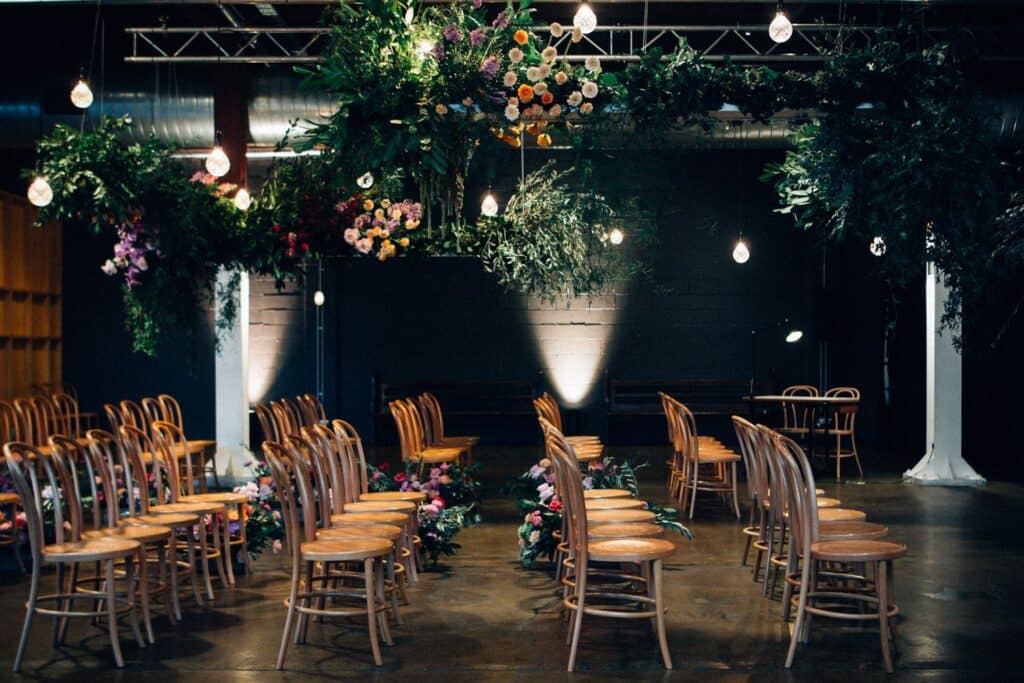 Our wedding industry professionals certainly are something special. Now for some exciting news… we hear there's a new addition to Avideas…
Yes! We have a new baby named The BOX/D Society. We are so so excited as it has been over 5 years in the making. We've been researching and planning and we've found that more people are actually entertaining and celebrating from their own homes or private residences. So, we decided to bring the styling to you!
The BOX/D Society offers premium tablescape hire and delivers it straight to your door! No stress, no hassle, and will definitely be the signature piece for your party. With plenty of styles to choose from, you know that you can find something that will match the style, vibe, and atmosphere you want to create. We've even taken the stress out of having to think of playlists and candle scent! Check out @theboxdsociety on all platforms.
That's an incredible idea, and so timely given everything that's unfolded in the past couple of years! If couples want to contact you, what's the best way?
Couples can reach us by website, email, or phone call. Our team will be happy to walk through any questions, discuss ideas, and get the conversation started. It's as simple as that!
Greg, thanks so much for chatting with us! Avideas have certainly been a large part in the evolution of styling and we adore seeing the designs that you continue to create for our beautiful couples.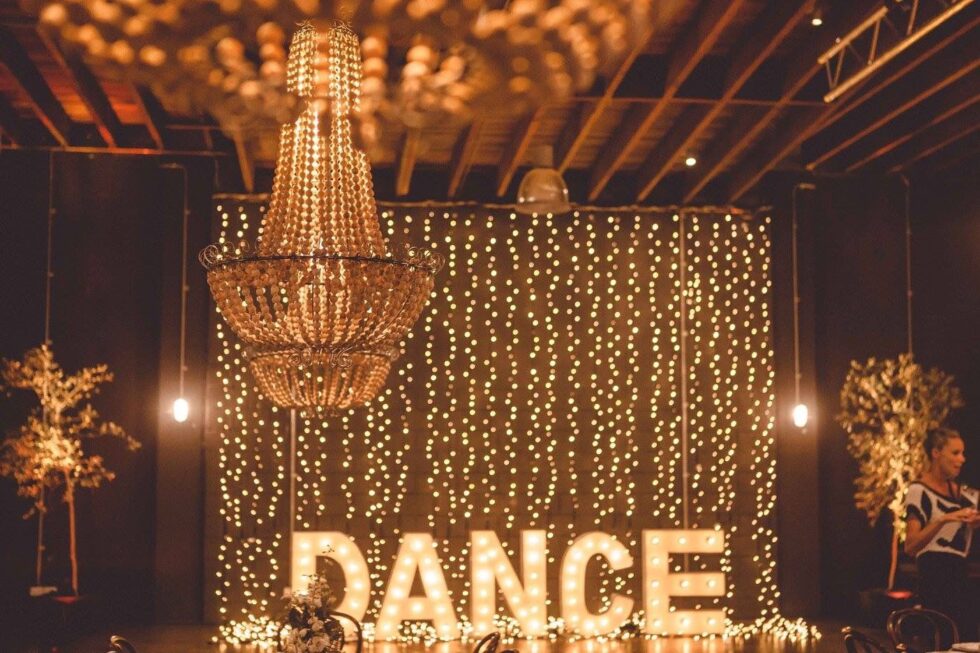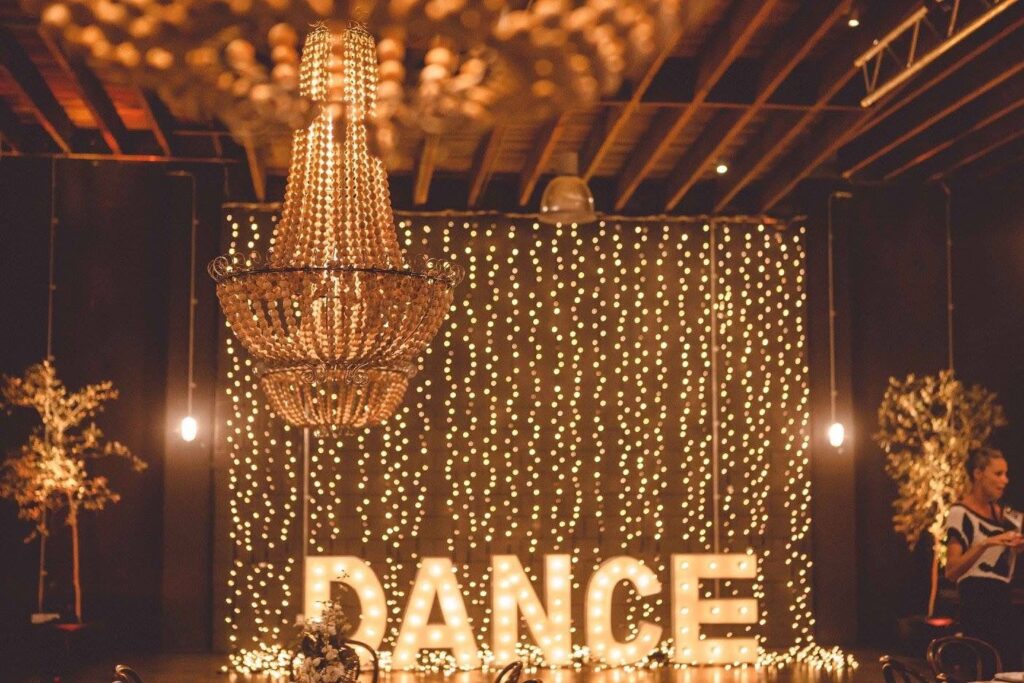 If you'd like Avideas and Factory51 to collaborate on your wedding, simply contact us and we'll make it happen!