YOUR ULTIMATE LAST-MINUTE WEDDING CHECKLIST
Forgetting something? We've put together a list of 51 things to remember for your wedding. Consider it your ultimate last-minute wedding day checklist. You're welcome.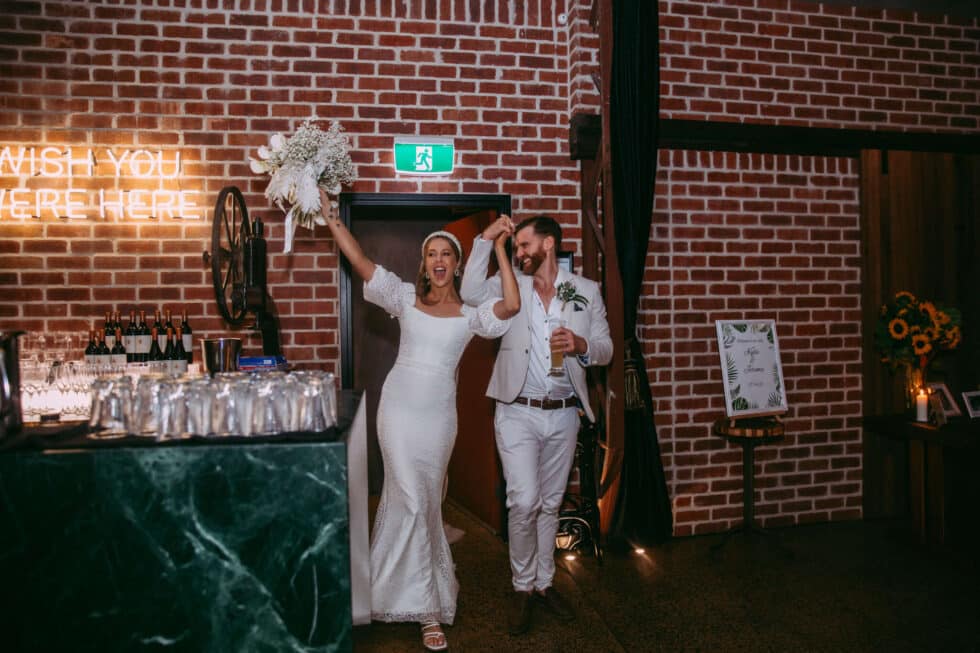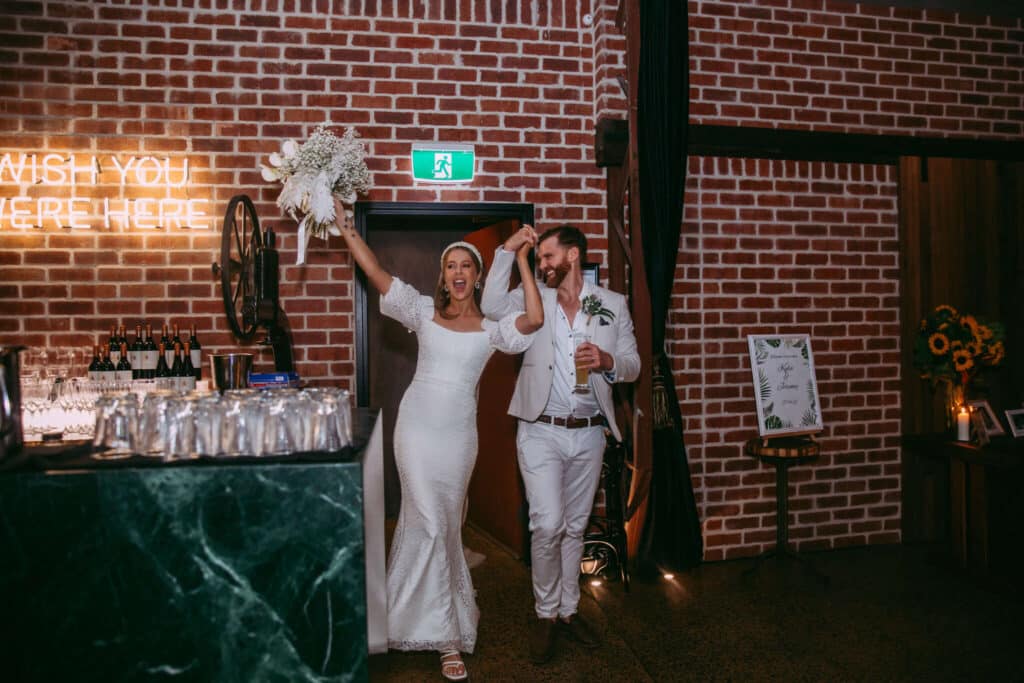 The Week Before 
If you haven't picked up the dresses and suits, now is the time! Try everything on for a final check before bringing them home.
Don't want blisters on your wedding day? Break in those dancing shoes by wearing them a little bit each day.
Get your engagement ring professionally cleaned so it's ready to sparkle on the big day.
Have a final meeting with your wedding planner or on-the-day coordinator to tie up any loose ends.
Remember to schedule your out-of-office and delegate any final tasks so that work is no longer on your mind.
Prepare an Emergency Kit. Apart from the usual painkillers and Band-Aids, you may like to add a few safety pins, bobby pins, nail file, sanitary items, tissues, scissors, tape, a pen, or a mini sewing kit. It's surprising how handy this will be!
Ensure you have arranged transport for the whole day. Often people focus on getting to the ceremony, but you'll also need to get to the photo shoot location, reception, and home or your accommodation after the reception.
Pick up some groceries so that you've got eats on hand for the night before and day of the wedding. You don't want to risk running out of milk for that all-important morning coffee.
Ask someone responsible to take home the cards, gifts, florals and decorations from the reception. It's helpful for them to do a final sweep of the venue to ensure nothing has been left behind.
Circulate final details of the wedding rehearsal to all involved – bridal party, parents, celebrant, and AV person.
Contact your vendors to confirm final details and make final payments.
Nominate someone to look after any outstanding payments on the day (e.g., the bar tab, valet parking).
Spend some time packaging gifts for your loved one, your parents, bridal party, and any other special people you need to thank (check out our Wedding Gift Guide)
Get your clean on! Whether it's hosting people on the morning of the wedding, or whether you're coming back home at the end of the day, having a tidy home will help you feel calm. And, who doesn't love fresh sheets!
After months of planning, enjoy some well-deserved pampering and preening. From manis to pedis, spray tans to waxing, facials to massage, now's the time to put your feet up and relax.

The Day Before
Drop any items to the ceremony/reception to be set up. Venues like Factory51 will help create a stunning space guaranteed to wow your guests.
Remember to check the forecast. If rain is predicted, ensure you have enough umbrellas on hand (plain black, white, or clear umbrellas are typically best for wedding photos).
Remind your bridal party what to bring, to where, and when. Let them know how best to support you (if you want some tech downtime or would prefer to receive all communications).
Double check honeymoon logistics (flight times, accommodation, parking, and dinner or activity reservations).
Pack for your wedding night and honeymoon.
Make a list of final items needing to be added to your personal clutch, honeymoon bag, or to be taken to the wedding (e.g., chargers, lipstick).
Load the car with any bags/items that you can to save heavy lifting in the morning.
Send the final run sheet, wedding day timeline, and list of contact details to your MC, wedding planner, and any other point people.
Print out a hard copy or two of the above! It's quicker and easier for people to refer to during the day.
Eat a healthy dinner and go easy on the alcohol. No-one wants to feel bloated or groggy the morning of their wedding.
If you're keeping to tradition and not seeing each other on the wedding morning, then enjoy a final kiss before becoming Mr & Mrs.
Practice your vows out loud, familiarising yourself with the words which will help ease any nerves.
Treat yourself to some final beautifying. Soak in a bath, apply a face mask, lather on that moisturiser.
Don't get sucked into a social media vortex or stay up late watching Netflix. Plan for an early night to get those z's.

The Wedding Day
Flick off a sweet text to your bride/groom. Remind them why you love them and say you're looking forward to seeing them.
Don't forget to eat! If nerves are making it difficult to stomach a full meal, then try grazing on healthy items throughout the morning.
Keep well hydrated by drinking plenty… of the H2O variety that is.
Set the mood for the morning of your wedding. Whether it's party vibes or chilled out tunes, pop on a playlist that'll create the atmosphere.
Change into a button-front shirt or robe. You don't want to be pulling a tee over your head after your hair and makeup are done.
Have someone on flower delivery to ensure buttonholes make it to the guys before the ceremony.
Pack some photoshoot snacks and water bottles. Whether it's leftovers from the morning's graze, or pre-arranged with the venue, you're likely to want to nibble and drink after the ceremony.
Remember the rings! It's funny how these most important items are often left behind in the flurry of activity.
Give your personal clutch, beauty bag, and wallet/phone to someone for safe keeping during the ceremony.
After the vows, introduce your photographer to an appointed person who will assist with rounding up extended family for group photos.
Take a breath in. Notice all the details of your day. Appreciate the vision brought to life that you've spent months planning.
In warmer months, your bouquets will appreciate getting a little spritz or sitting in a vase of water for a few minutes after the ceremony.
During the reception, sneak out with your newlywed to enjoy a few moments alone.
Often you can hit the dance floor straight after cutting the cake… if you're a sweet tooth, be sure to ask for a piece to be put aside.
Personally thank and say goodbye to those who matter most. Even if you're departing through an archway of hands, be sure to give your Mum a kiss or pull Dad in for a hug.

After the Wedding
RELAX… you've made it! Time to enjoy your honeymoon and soak in the newlywed bubble.
After you've returned, open cards/gifts and remember to record each one for thankyous later.
It's still considered good manners to send thank you cards or notes to guests, vendors, parents, and the bridal party.
Arrange dry cleaning and storage of dresses/suits as soon as possible.
Ask your photographer for a sneak peek at one or two photos from the day. They're usually keen to get your reaction and share in your excitement.
Make it insta official. Time to reconnect with the world (if you haven't already), post a pic, or change that relationship status.
Transition into married life… here are some tips to prepare for marriage!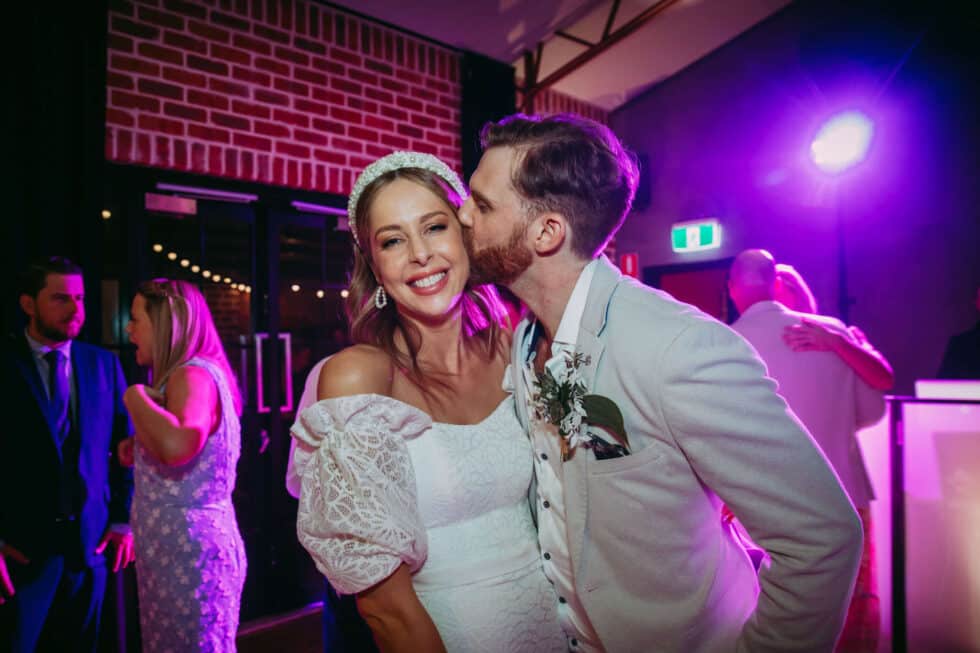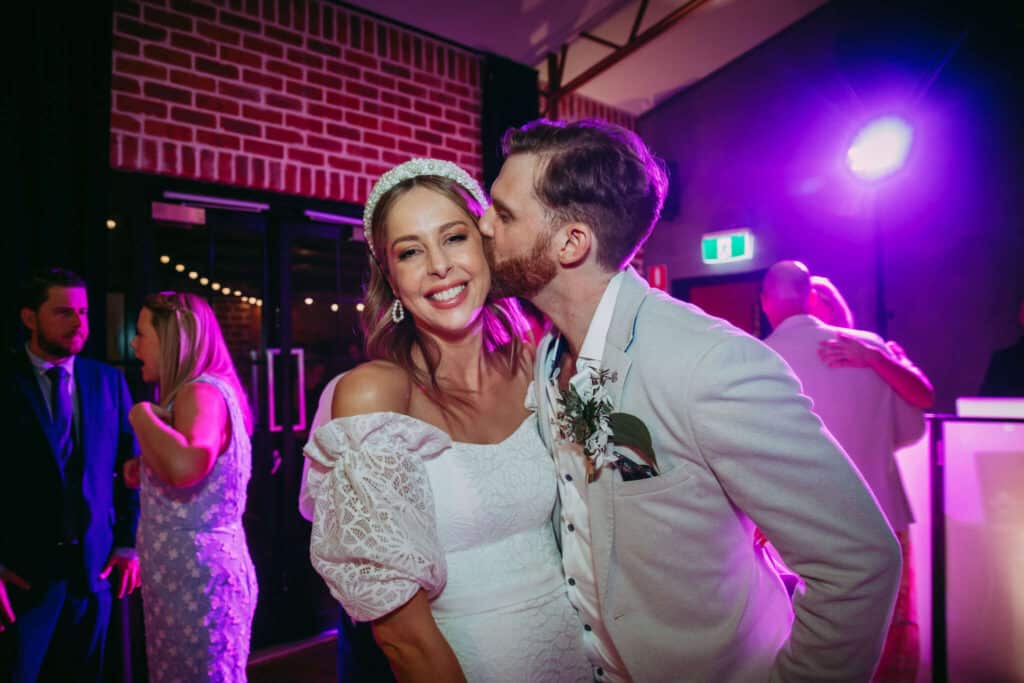 Kylie & Jeremy
Venue: Factory51
Photographer: Oakstone Photography