THE ART OF CONTEMPORARY WEDDING CAKES WITH MARINA MACHADO CAKES
We chat with Marina Machado, the creative behind the breathtakingly contemporary cakes at Marina Machado Cakes. From brushing shoulders with Nicole Kidman to a surprising revelation, Marina shares with us her cake experiences and passes on valuable advice for future brides and grooms.
Excuse us whilst we have a fangirl moment – we're so privileged to be chatting with you! Marina, we'd love to know how you first got into creating wedding cakes?
I am a qualified chef by trade, and my passion was always shared between cuisine and pastry. Since I was young, I always caught myself dreaming about cakes from the local Patisserie in my home town in Brazil. I would spend hours watching the beautiful cakes coming in and out, and I couldn't make up my mind which one I would choose to savour. After a long time working in fine dining kitchens, I found myself making cakes for friends and family as a hobby, which ended up taking over my life! And that was when I started Marina Machado Cakes, specialising in contemporary wedding cake designs.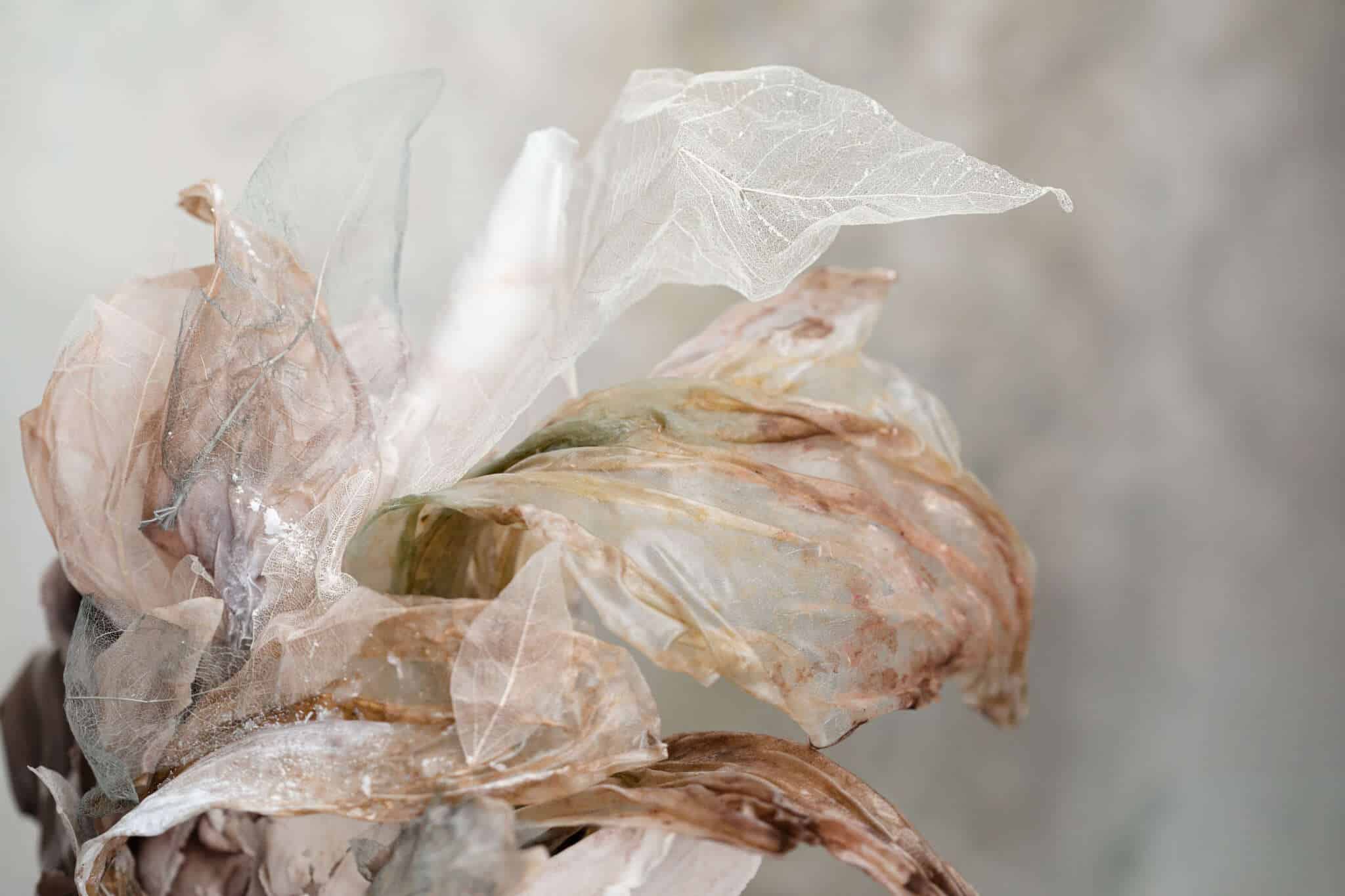 We are a little gobsmacked and in awe of your designs… tell us what you are loving to create lately?
My art is focused on contemporary edible pieces with a meaning to the couple and to me. I have been in a very soothing transition in my cake journey, moving a little more to sculptural shapes, which I find mesmerising! The delightful reaction of… 'Nooo, that can't be a cake! Is it? YES! It is!'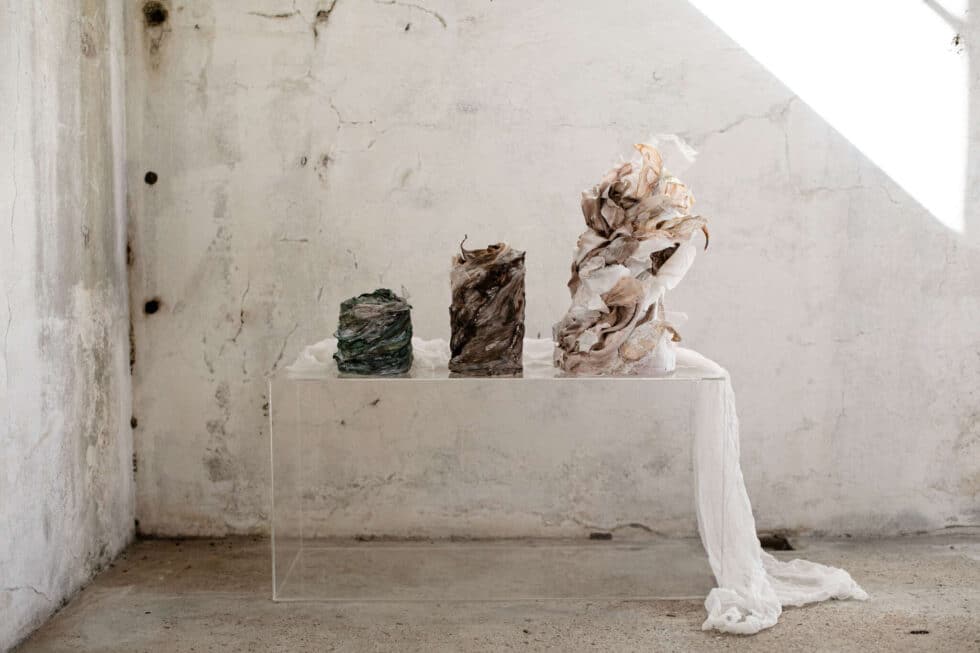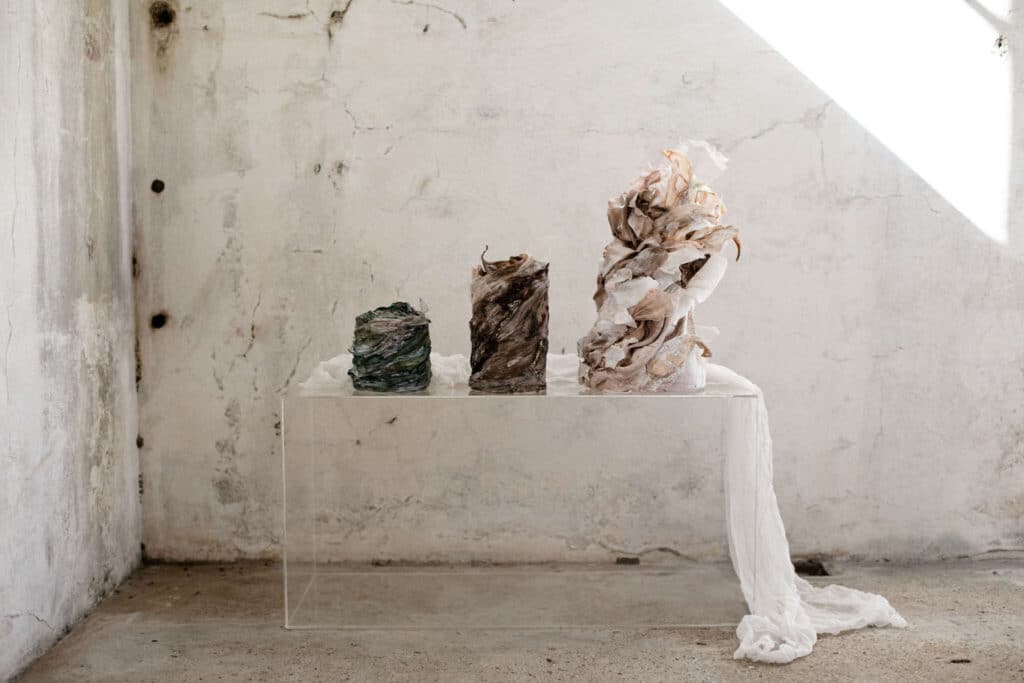 That's exactly what we were saying looking at your photos! They are truly works of art! Now, we know it's important for the cake to look good, but how does the taste/flavour enhance the experience?
The flavour is the most important part of it all! There is no point in having a masterpiece of a wedding cake if it doesn't provoke the same feeling through someone's tasting experience. What I make is edible art, not just art itself, otherwise it would belong in a museum and not on a wedding cake table. The core value of my cakes is to create a fond memory that lingers for couples and their guests through both taste and visual art – connecting the senses to the whole experience, and (hopefully!) making people salivate just by remembering it and wanting to relive that experience again and again! That is what chefs live for – to create unforgettable memories through the connection with food.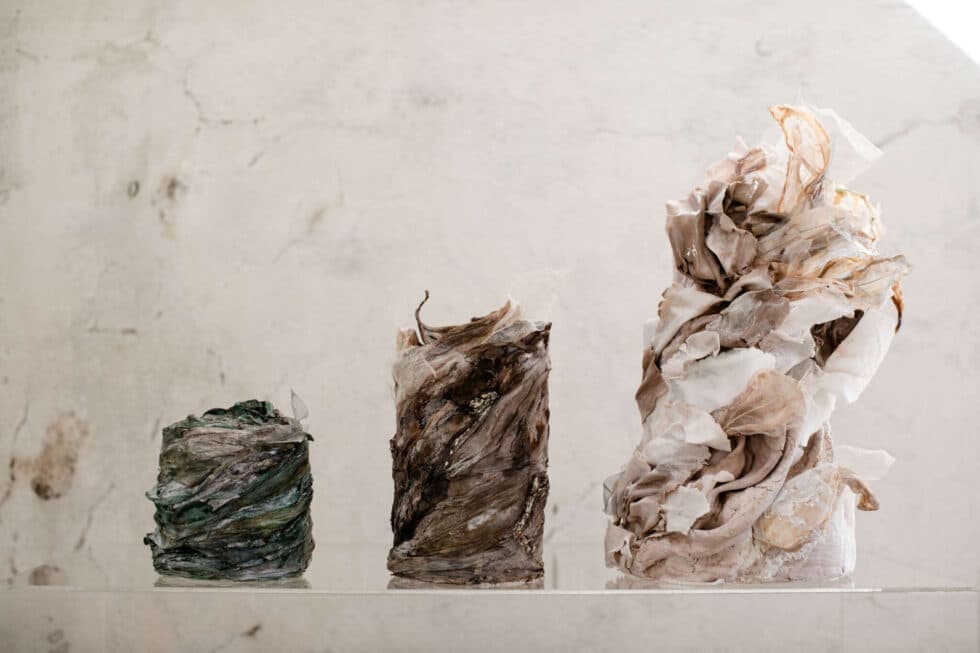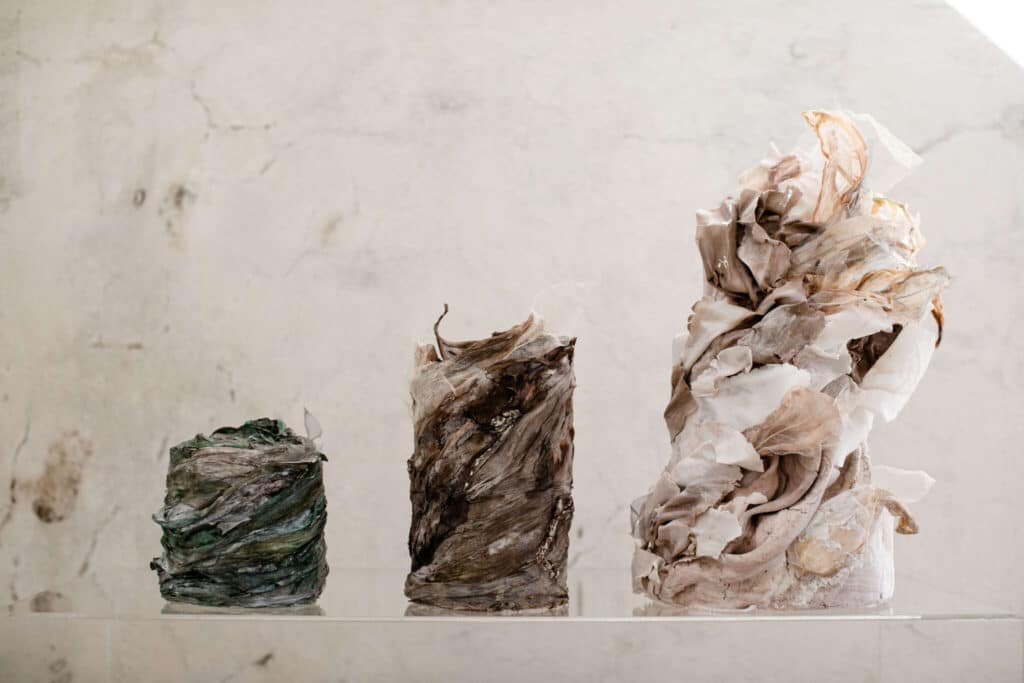 As foodies, we couldn't agree more! So apart from connecting through both sight and taste, how connected should the cake design be to the wedding venue that it sits in?
I find it very important to ensure that the wedding cake design will suit the whole style of the wedding, and become a continuation of the wedding aesthetics. That is why, when I start the cake designing process with the couple, venue choice is an important subject which tells me a lot about the couple's taste and what they want for their big day.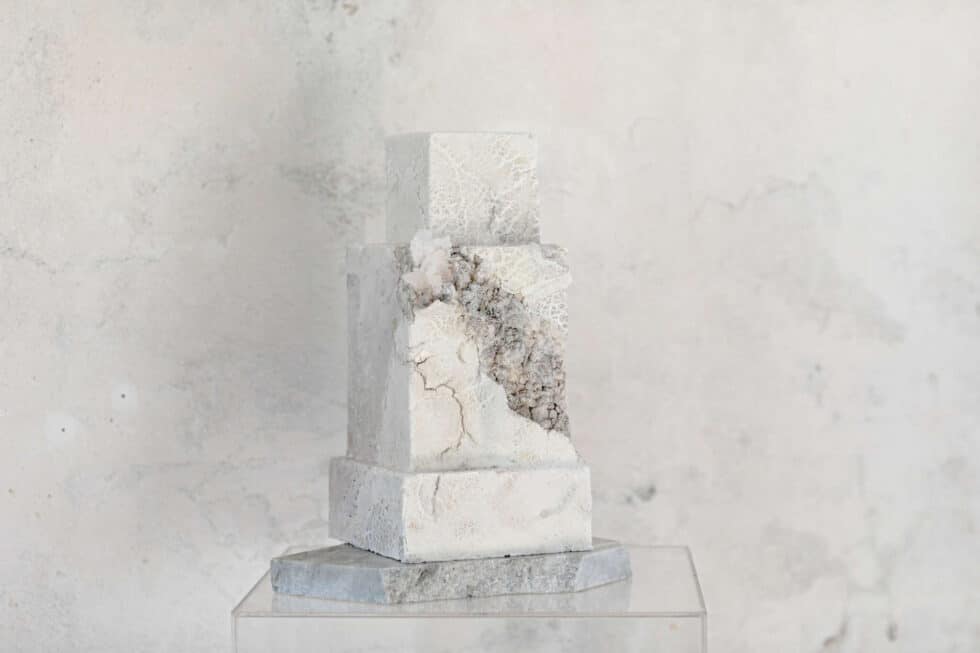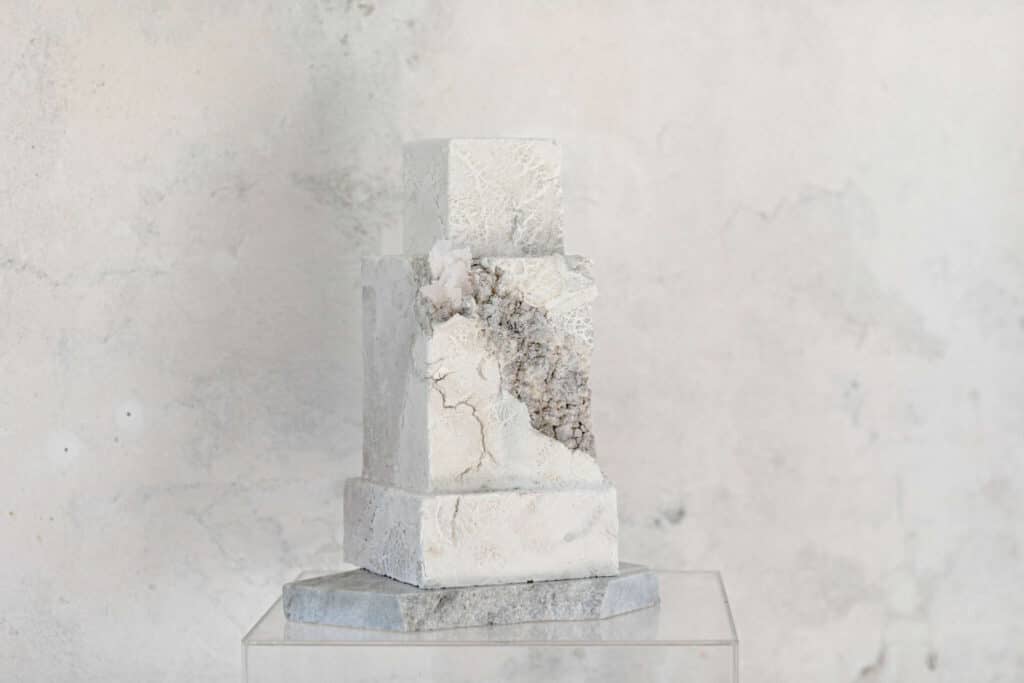 Yes, we love seeing cakes that tie in beautifully with our industrial glam space! So, a couple has booked a venue and they're now on the hunt for a cake artist… what should they look for, or ask a potential cake supplier?
My advice to couples is to find a cake designer with their own voice! Someone that can bring to life something breathtaking for one of the most important days of your life. Someone that will care to know what is special for you, to be willing to go on your wedding journey with you, and to immerse themselves in the deeply creative process of crafting a masterpiece that will blow your mind. Oh, and don't forget – taste is at the core of it all – so make sure you love the taste, as a cake masterpiece needs to be a feast to the eyes and to the palate!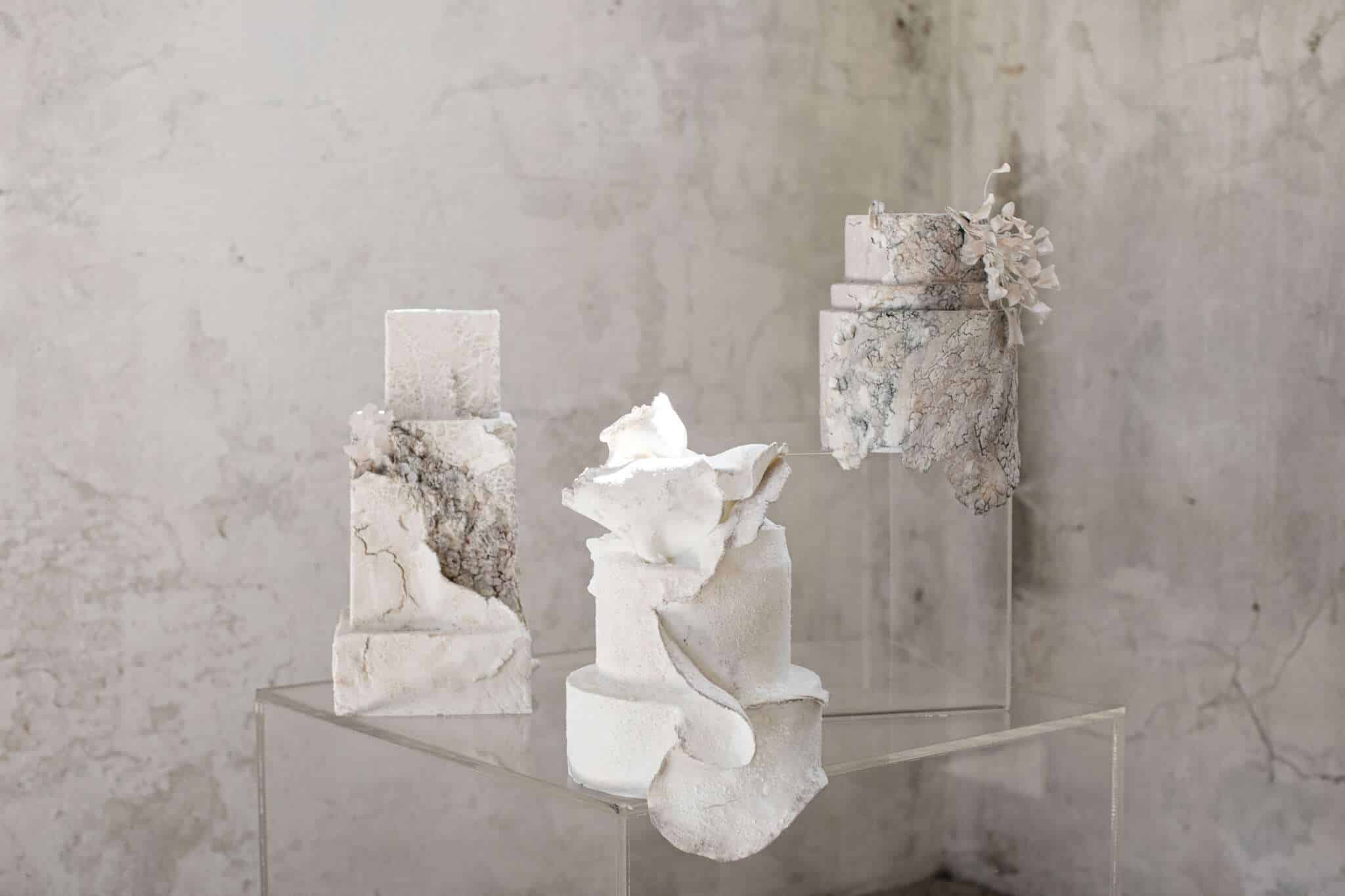 You speak of the creative process involved – what's your favourite part of that?
I absolutely love when the couple and suppliers start sending me their inspiration and mood boards for the wedding. It is so intriguing to see the couple's choices, and also the passion flowing through the suppliers' crafts! It makes me super excited to bring a cake concept to life that everyone will be proud to showcase amongst their styling/designs. And let's not forget the most important part – to be able to make an edible masterpiece that will be an unforgettable memory for the couple on their wedding day, and very yummy!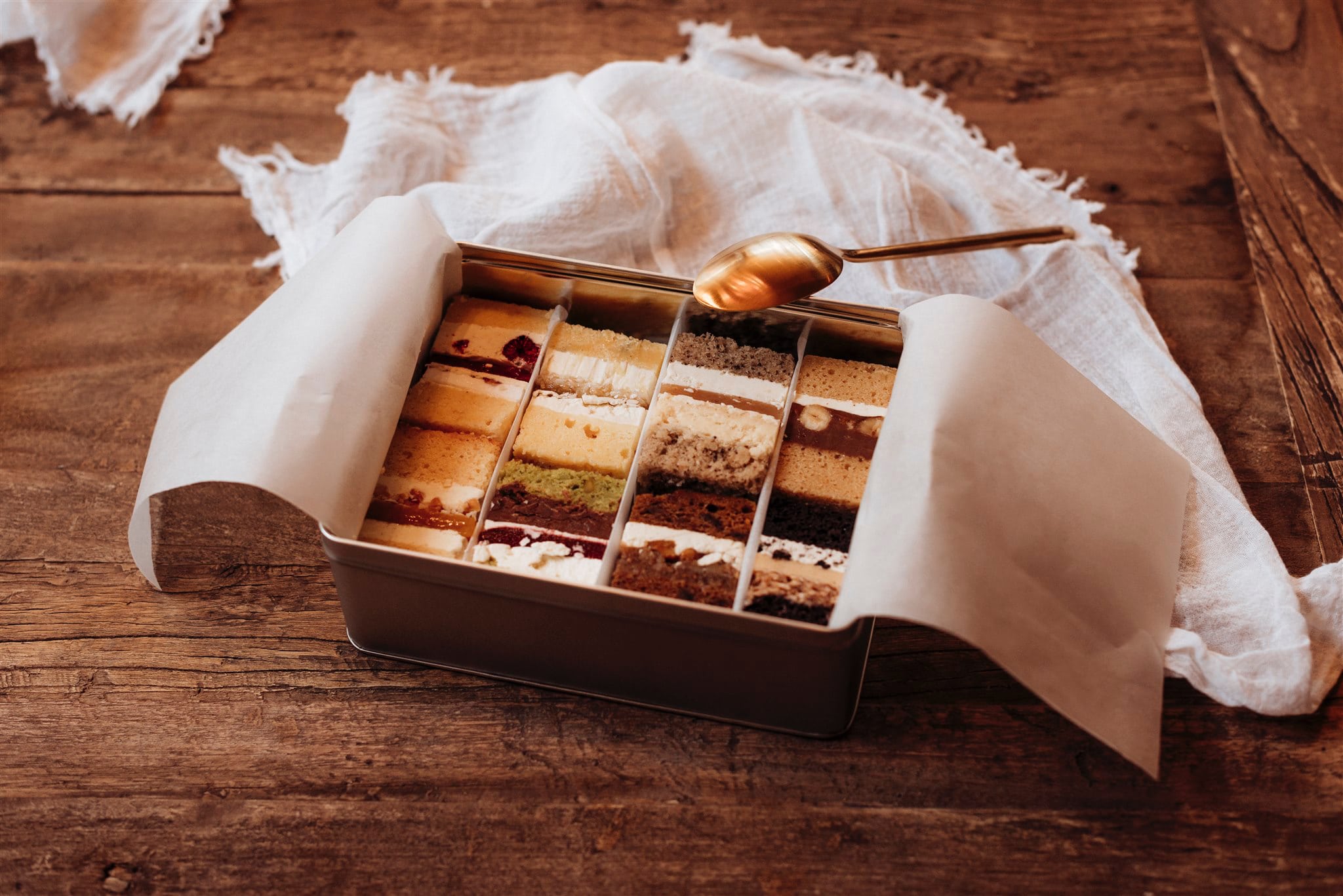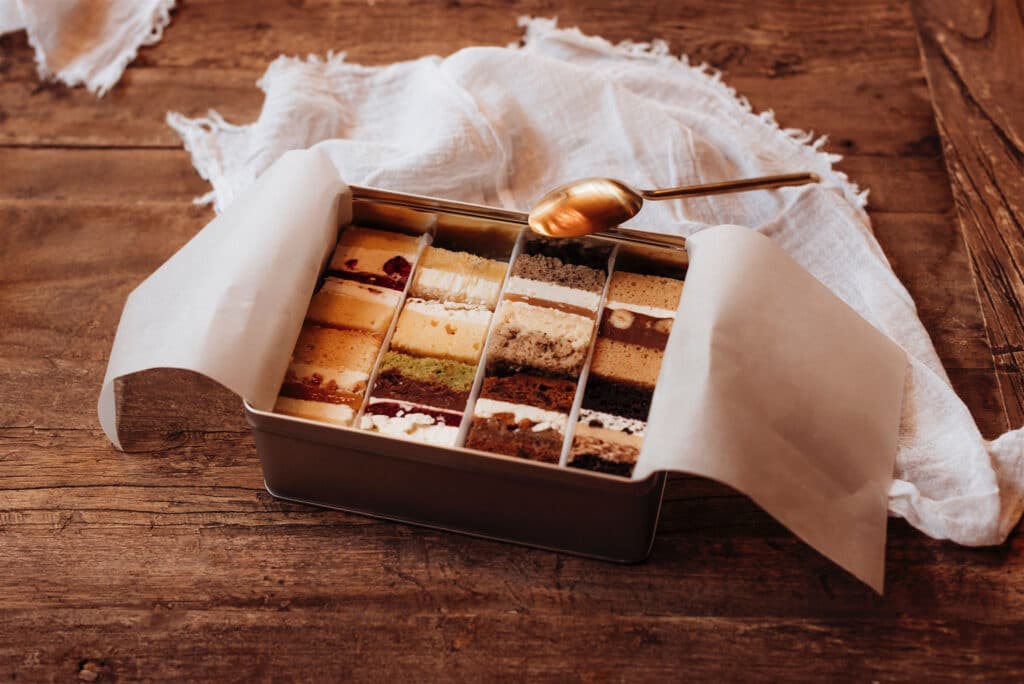 We heard you offer a yummy cake tasting box…
Oh, my signature tasting box! I think about it and I salivate! It took me a long time to come up with each and every flavour. All the cakes are packed with layers and fillings paired to perfection, in terms of taste and also texture. The balance of elements in each flavour choice was precisely thought through to achieve a flavour experience for each of my 8 signature flavours. You will be able to taste the lightest earl grey cake with accents of lemon, wildflower, white peach, and Belgium white chocolate, through to the richest dark chocolate cake, with pecan and coconut paste, a subtle umami combination coming from a salted caramel ganache and textural dark chocolate and vanilla buttercream. It is heaven in cake form, if I do say so myself! I tend to think (and can almost promise), that you will find your flavour explosion choice in my signature tasting box for your wedding.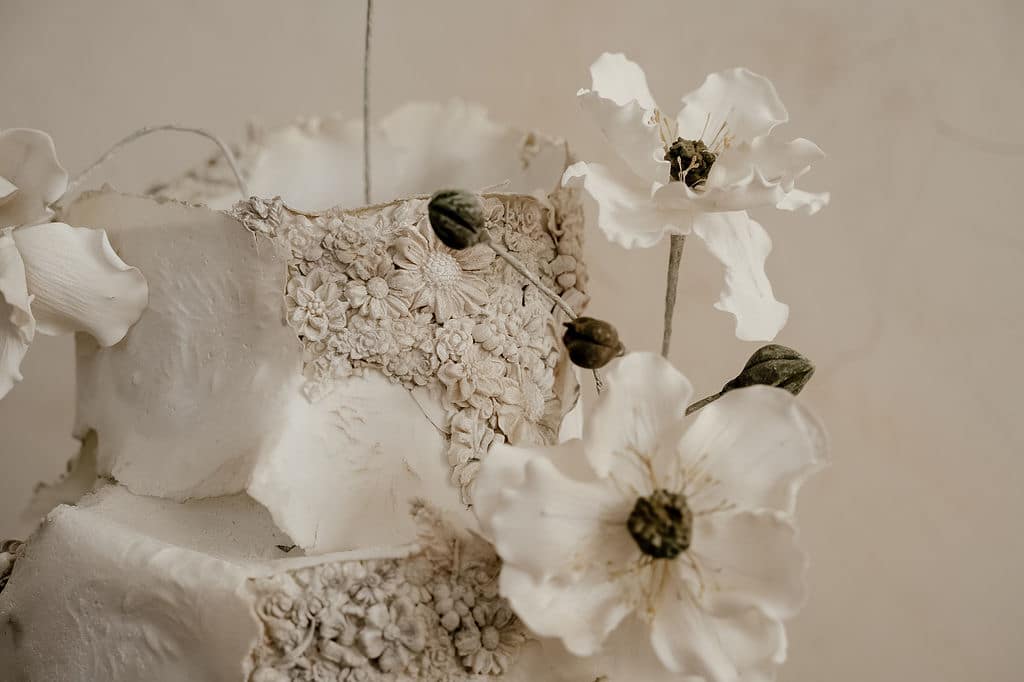 That sounds divine! Please feel free to send one over… we're drooling already! Time for a dream question: if you could create a cake for anyone's wedding, at any time or place in history, whose would it be and what would you design?
Can you believe I didn't have a wedding cake?
No! We're shook…
I know right! So, if I could go back in time, I think I would like to make a wedding cake for my husband and I. And in terms of cake design – it would definitely be something very meaningful to us and very contemporary of course. Something timeless, ethereal and unforgettable… in a mini version so we could grab and eat it, instead of cut. Maybe even a cake degustation menu for each guest – wouldn't that be a dream!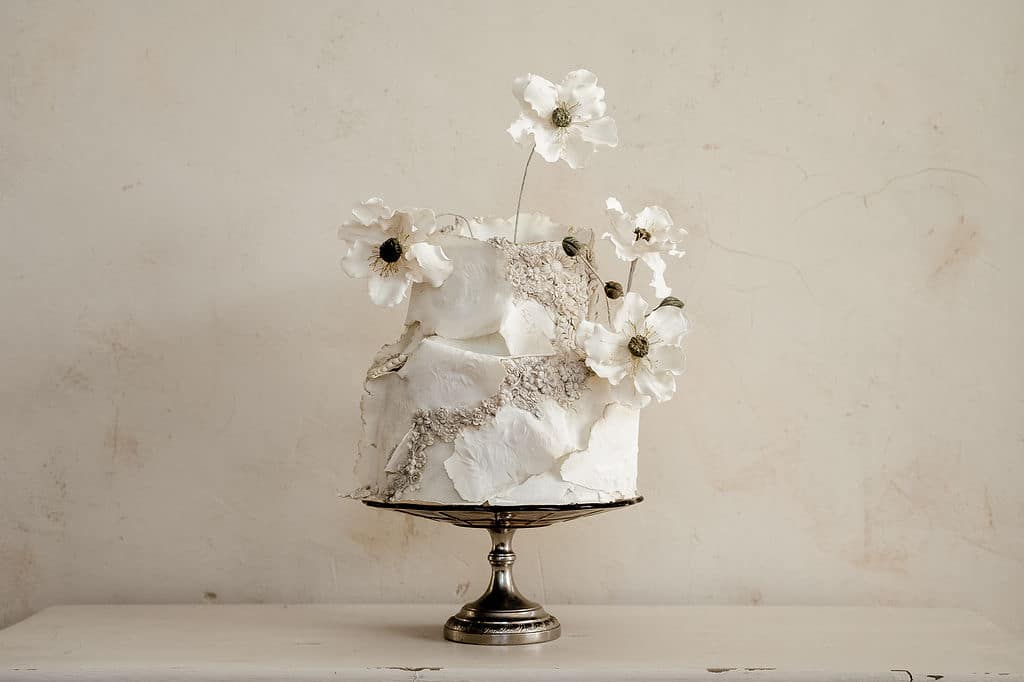 We are there for the cake degustation – time to renew those vows Marina! Speaking of dreams, we hear you recently had the opportunity to brush shoulders with Nicole Kidman… tell us about that experience!
Ohhh! It was a dream and I am still pinching myself! I got a call from production asking me to make a cake for Nine Perfect Strangers, and telling me that Nicole Kidman would be the one eating it… I truly thought it was a prank so I dismissed the call. The production food stylist followed me up many times as the Producer was so drawn to my cherry cake swirl design which he wanted for the show. Eventually, the food stylist told me 'Look, it is a genuine call, not a prank. We need it soon and you will have to make 10 of the exact same cake for all the takes'. I was on set for two days with the whole cast, working alongside Nicole Kidman, adding buttercream to the cake between takes so she could succumb to the guilty pleasure of sugar. It was an amazing experience and I am very humbled to have been gifted with the opportunity. The cherry on top was Nicole ordering tonnes of macarons to give to the cast and crew!
That's so lovely of her! And, what an incredible opportunity for you. We can't wait to see what Marina Machado Cakes creates for future, and thank you SO much for sharing with us today! 
If you'd love to partner with Marina Machado Cakes and Factory51, be sure to check out Marina's website and contact us for a tour of our stunning wedding venue.