ROUND-UP OF THE TOP AUSTRALIAN WEDDING TRADITIONS
In the land Down Under, where blue skies meet the Outback and coastal beauty, Australian weddings are as unique and diverse as the country itself. With influences from its British roots, indigenous Aboriginal culture, and a multicultural society, weddings in Australia encompass various traditions that truly capture the country's spirit. Incorporating these elements into your celebration ensures a wedding filled with love, laughter, and the unpretentious charm that's so quintessentially Australian. Check out our Top 10 Australian wedding traditions:
Marriage Proposals
Australian marriage proposals often reflect the country's adventurous spirit and love for the outdoors. It's not uncommon for proposals to take place during a hike in the Blue Mountains, on the golden beaches of the Gold Coast, or under the starry skies of the Outback.Some couples will simply drop to a knee in their living room at home, whilst others contract the services of professional vendors to create an elaborate set up. However you pop the questoin, the important thing is ensuring the proposal is meaningful to your partner.
The Aussie Barbecue
The informal, friendly Australian spirit often shines through in pre-wedding celebrations with a traditional 'barbecue' – or 'barbie' as we Aussies fondly call it – being a popular choice. This laid-back style features local favorites like prawns, lamb chops, and 'snags' (sausages), often accompanied by a range of local Aussie beers. Many couples opt for a barbecue as part of their pre-wedding celebrations, whether it's for their engagement party, bucks night, or to celebrate with their bridal party after the ceremony rehearsal.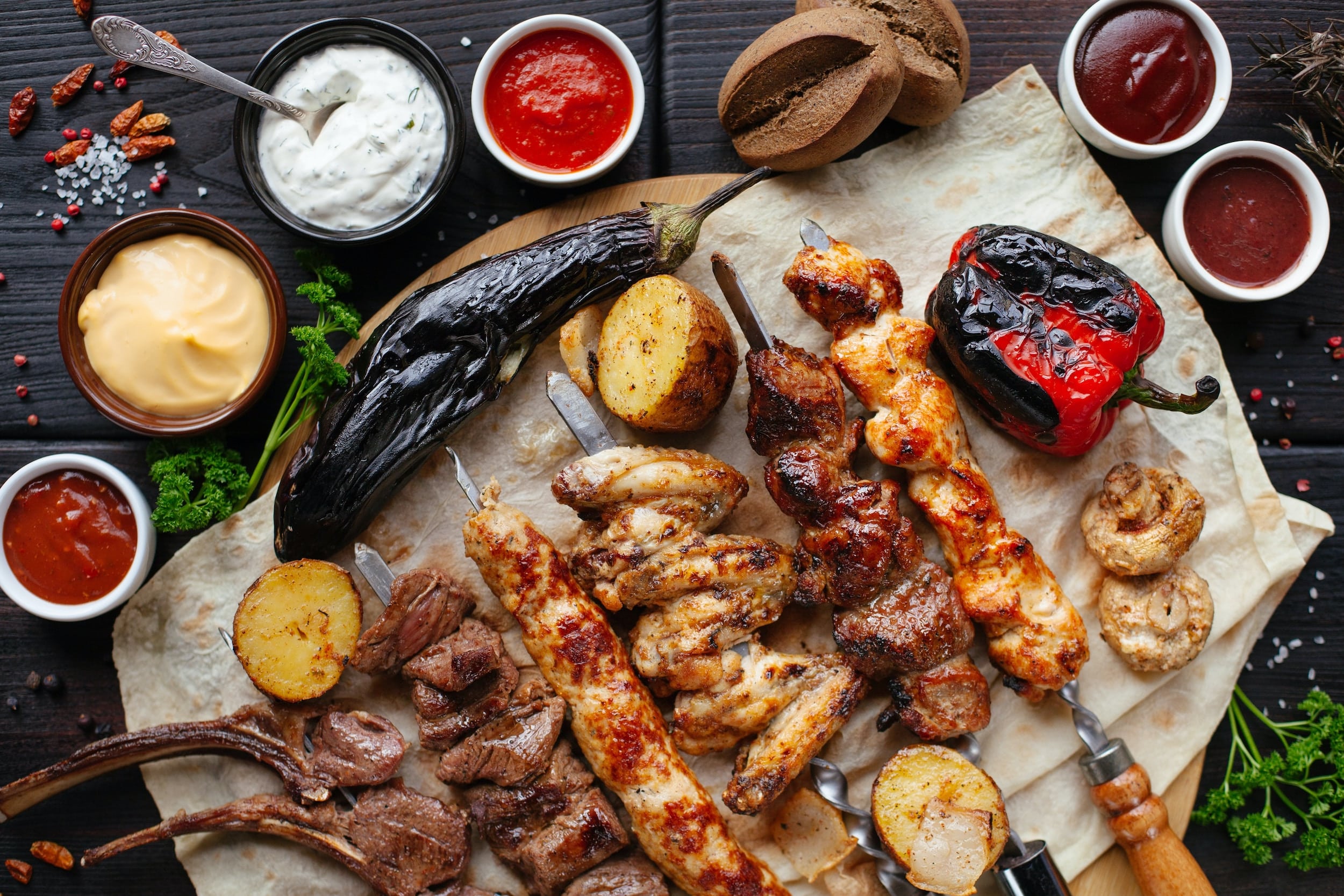 Arriving in Style
Australians love their vehicles, so it's no surprise that unique wedding transport is a beloved tradition. Couples often make their grand arrival in classic British cars, vintage American models, or even quirky options like helicopters, boats, or horse-drawn carriages. For a rustic touch, it's not uncommon to see the bride arrive in a tractor or the couple depart in a 'ute' bedecked with flowers and ribbons. Australian wedding transport is just as diverse as the country itself, so anything goes!
Wedding Attire
Wedding attire in Australia, like many places globally, often includes a long white gown for the bride and a suit for the groom. However, with Australia's generally warm climate and outdoor settings, you'll see a broad spectrum of fashion ranging from casual attire through to black tie. Lighter flowy fabrics, open button-up shirts without jackets, and even the occasional pair of thongs are not uncommon! The chosen attire is reflective of the couple, the formality of the wedding, and the setting or location.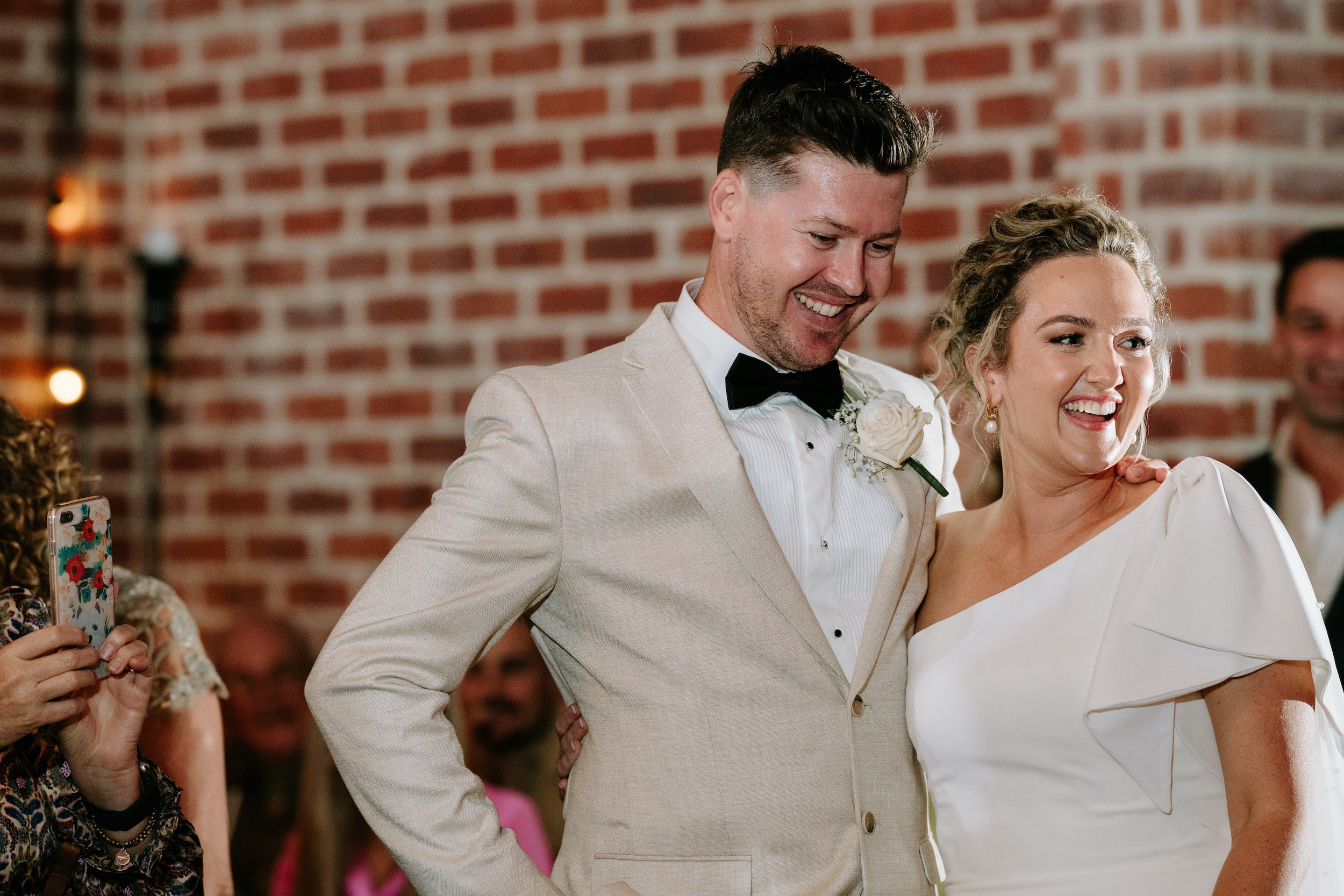 Welcome to Country
For couples looking to infuse their wedding day with profound respect for Australia's indigenous history and culture, including a traditional 'Welcome to Country' is a beautiful and significant choice. This deeply meaningful Aboriginal custom recognises and pays respect to the traditional custodians of the land on which the ceremony takes place. Inviting a local Aboriginal elder or a representative to conduct the Welcome to Country is the most respectful way to include this tradition. The person performing the ritual will likely share stories about the land's history, tell ancestral tales, or offer traditional songs or dances. If it's not possible to have an indigenous elder present, the couple may choose to acknowledge the traditional custodians themselves. This acknowledgment typically involves a statement expressing gratitude and respect for the indigenous people who have and continue to care for the land.
Bush-Inspired Blooms
Australia's unique flora often plays a central role in wedding styling and bridal bouquets. Native plants like Eucalyptus, Waratah, Wattle, Kangaroo Paw, and Bottlebrush, with their robust forms and stunning hues, are used to create arrangements that symbolise the country's natural beauty. One of the advantages of using native flowers in Australian weddings is their adaptability to the country's various climates and seasons. Native flowers are often also used as wedding favors, allowing guests to take home a piece of Australia's natural beauty. This can be in the form of seed packets or small potted plants, which serve as a lasting memory of the celebration.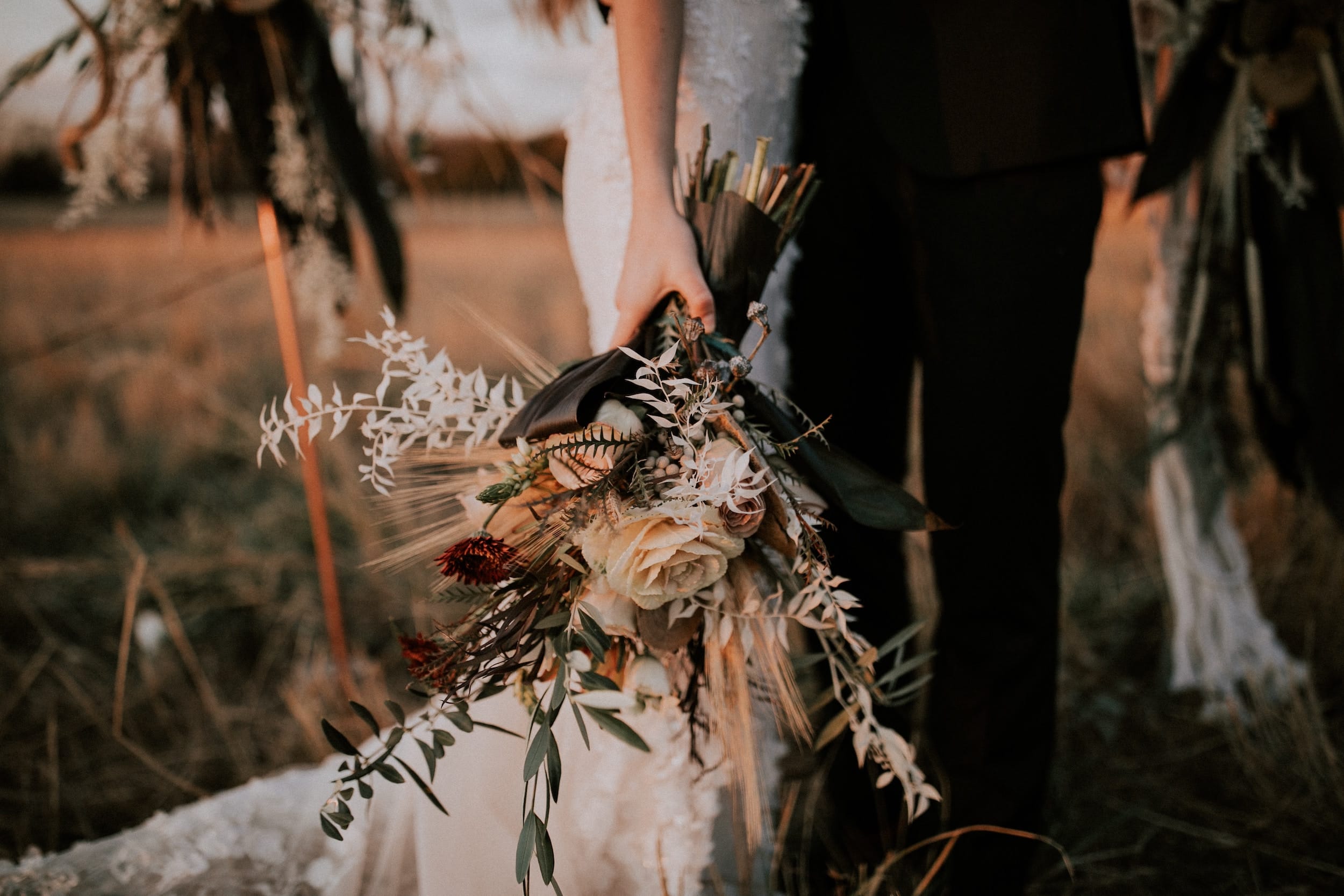 7. Wedding Games and Activities
Australians are known for their love of sport and, at weddings, this often takes the form of 'the shoe game', where the bride and groom sit back to back, each holding one of their own shoes and one of their partner's. A member of the bridal party then asks a series of questions (like "who's the better cook?"), and the couple raises the shoe of the person best fitting the answer, resulting in heaps of laughter. It's one of those fun Australian wedding traditions – check out our article on 20 Fun Wedding Reception Games and Activities for more ideas!
8. Aussie Wedding Venues
Australia's vast and varied landscapes offer an array of stunning locations for weddings. From beachside ceremonies and vineyard weddings, to country backdrops and glittering cityscapes, there's a perfect setting for every couple. Factory51 boasts a rustic yet romantic space for couples looking for a unique wedding venue in Brisbane. With polished concrete floors, exposed brick, and a stunning crystal chandelier, Factory51 is the epitome of industrial chic.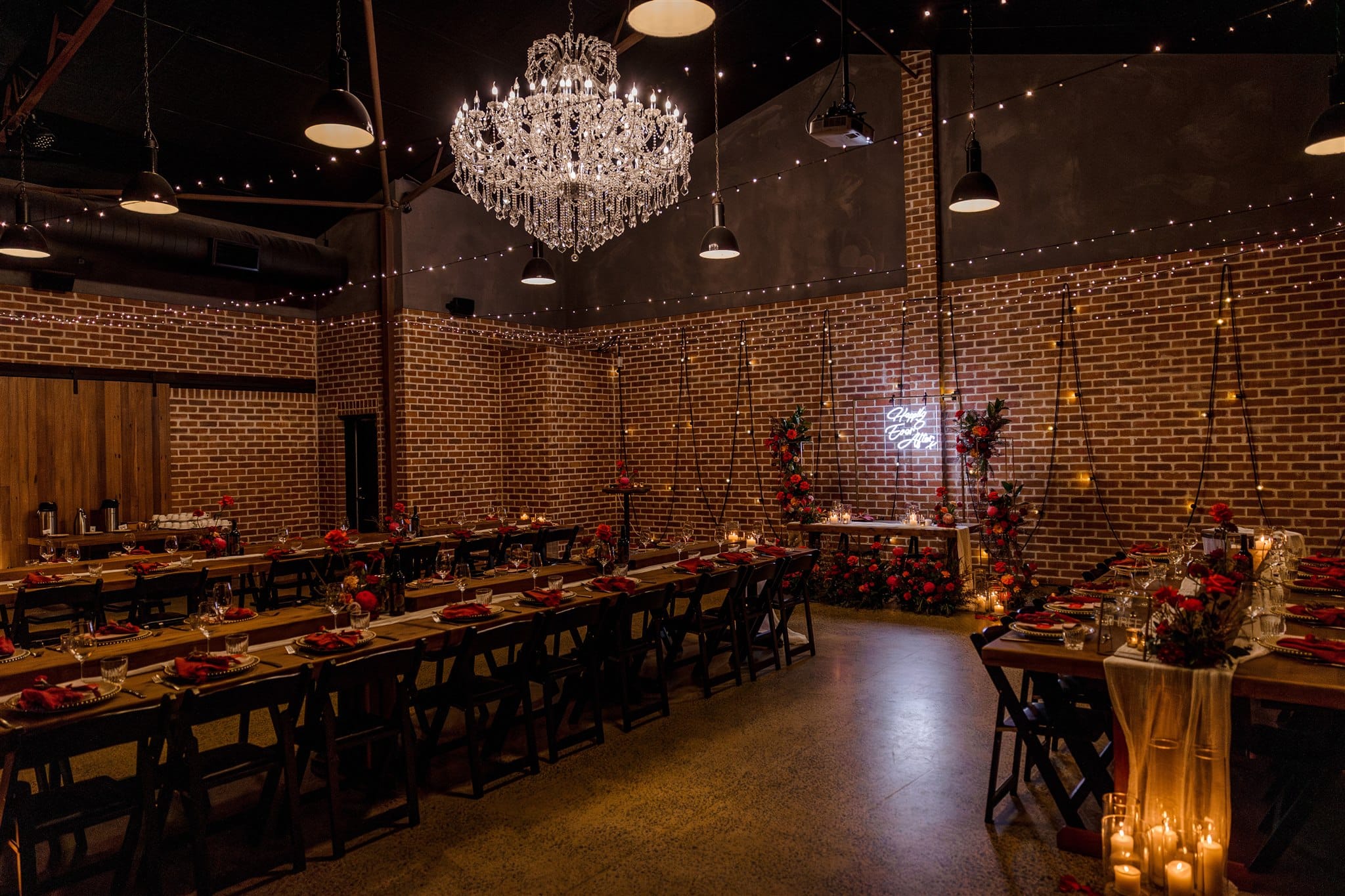 9. Wedding Dances
Dancing is another of our key Australian wedding traditions. The 'Bridal Waltz' is not a waltz in the traditional sense, but the first dance for the newlyweds, kicking off the night's festivities. The dance often transitions from a slow romantic song into a dance party, inviting everyone onto the floor. Like many parts of the world, the father-daughter dance is also a cherished tradition. This symbolic dance often follows the newlywed couple's first dance and is a poignant expression of love, pride, and transition from one important man in the bride's life to another. Some brides may decide to share this dance with their mother or another significant man in their life (such as their brother, step-father, uncle, or family friend). The essence of the tradition is not about adhering strictly to norms, but rather about honouring the influential figures in our lives.
10. Goodbye in Grand Aussie Style
At the end of the celebrations, the couple often departs amidst a guard of honor, where guests form an archway with their hands and cheer as the newlyweds pass through. Aother popular practice is to depart through a tunnel of sparklers held by guests. The couple's departure is often in a vehicle adorned with the classic 'Just Married' sign and tin cans tied to the back.
Your Wedding at Factory51
We'd love to chat about hosting your wedding at Factory51! Give us a call to make an appointment to view our stunning ceremony and reception space, or to chat with our Functions Manager about any queries you may have.