HAVE YOUR CAKE AND EAT IT TOO WITH AN AFFORDABLE WEDDING!
Congratulations, you're engaged! Once you've chinked those glasses together and shifted your attention to wedding planning, we recommend the first step of preparing a wedding budget. For some, this may lead to the intense desire to elope, saving precious dollars and avoiding a whole lot of potential stress. BUT, if you want to celebrate your nuptials with family and friends and keep to an affordable wedding budget, we've done the legwork for you.
Here are five affordable wedding venues in South-East Queensland, where you can hold a small wedding for under $7,500. That's right – ceremony hire, reception hire, food and beverage, all covered for 50 people. It seems possible, after all, to have your cake and eat it too! Many of the packages also include items like styling, AV, parking, or grounds for photos. We suggest requesting a copy of the venue's individual wedding package to find the best fit for you!
Click here to view a copy of Factory51's 2023 Wedding Package.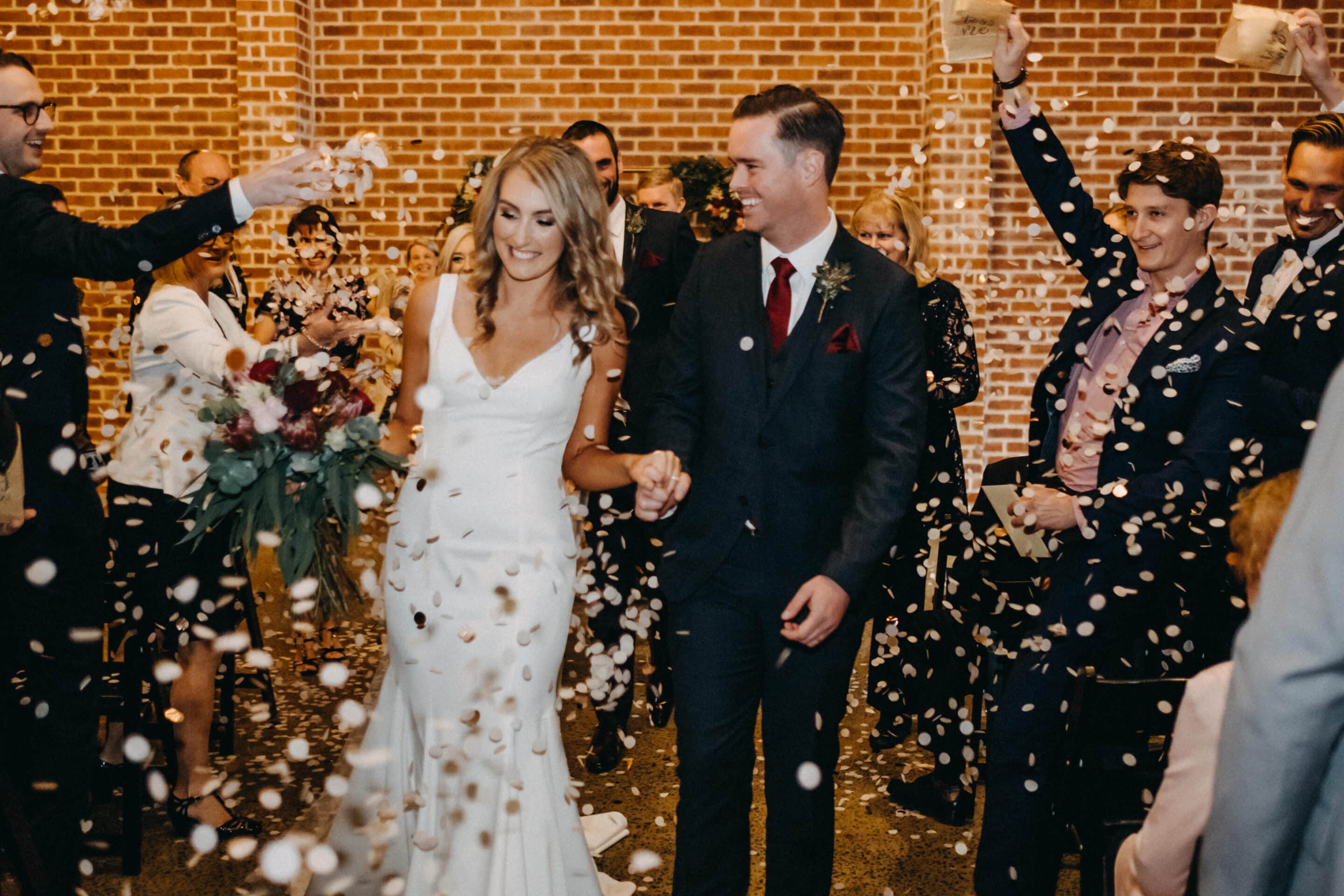 TAKE THE QUIZ
Our hot tip to planning an affordable wedding? Keep an open-mind! The more flexible you are, the more likely you'll be able to have a day that resembles the wedding of your dreams. Sure, there will need to be compromise and a little back and forth to get to where you need to be, but all couples experience this during wedding planning regardless of their wedding budget.
Want to test how wedding-flexible you are? Take a look at the following tips and consider whether you'd be open to incorporating them in your wedding planning:
Limit the guest list to just your nearest and dearest
Consider a Mid-Week Wedding
Plan an off-peak wedding (summer/winter months may offer specials)
Choose a Themed Wedding Venue to minimise styling costs
Opt for grazing or cocktail packages
Swap a beverage package for bar tab (only if guests aren't big drinkers)
Create a playlist instead of hiring a live musician or DJ
Throw unnecessary traditions (read: expenses) out the window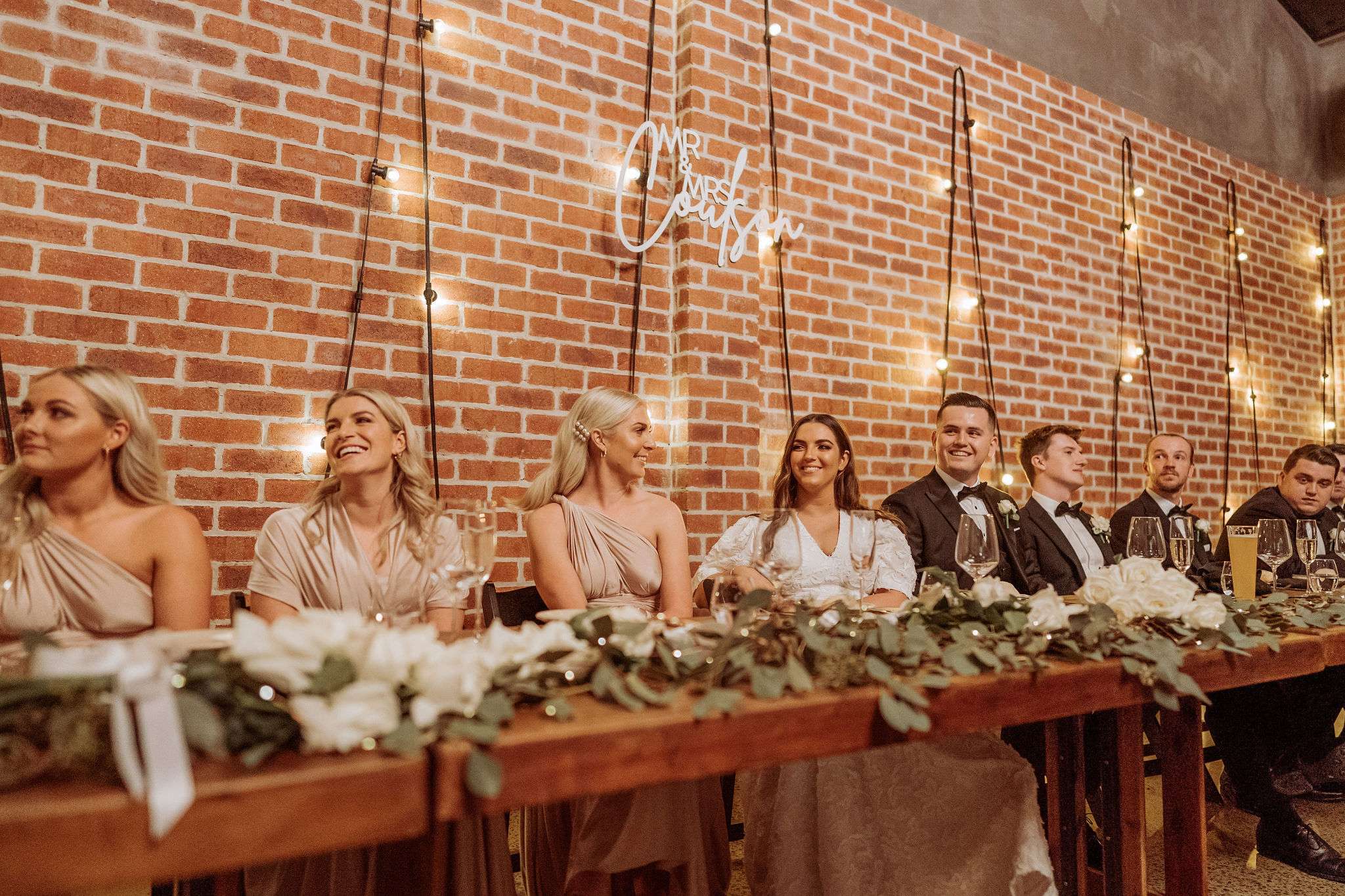 5 AFFORDABLE WEDDING VENUES IN SOUTH-EAST QUEENSLAND
We promised you affordable wedding options, so here they are! From rustic romance to garden parties to waterside views, these gorgeous wedding venues are worth checking out:
Factory51, Coorparoo
Begin your life together with an unforgettable wedding at Factory51, Brisbane's ultimate urban wedding destination. Celebrate with your dearest friends and family under the signature crystal chandelier, surrounded by rustic romance and industrial glamour. Be treated to a remarkable artisan culinary experience, complemented by boutique beverages and wonderful service. Whether you're exchanging vows or hosting your reception, Factory51 can house all the love and celebration. Their all-inclusive wedding packages include all day room access and exclusive room hire, suitable for up to 150 guests seated or 200 cocktail-style.
Ceremony & Reception from $5,200
Ceremony Package from $500 (Tues-Thurs)
Reception Hire: Included
Reception Package from $94pp (Tues-Thurs Cocktail Package + $30pp Initial Bar Tab)
Harrigans Calypso Bay, Jacobs Well
Situated on the foreshore of Moreton Bay, Harrigan's Calypso Bay is the perfect location for a stunning seaside wedding. Their dedicated Wedding Planner can tailor and design your special day so all you need to do is relax and enjoy the breathtaking marina views with your family and friends. You can choose to have your memorable day set in the pristine gardens and lawns for a more relaxed feel, or in their elegant waterside marquee. At Harrigan's Calypso Bay, they are passionate about creating your dream wedding, a day you will cherish forever.
Ceremony & Reception from $6,500
Ceremony: From $1500 (when booking a reception package)
Reception Hire: Included
Reception Package from $100pp (Cocktail Package + Beverage Package)
Tennyson's Garden, The Brisbane Golf Club
The Brisbane Golf Club's manicured grounds and beautiful heritage-listed clubhouse create the perfect backdrop for a truly memorable wedding. Situated just 10 minutes from the Brisbane CBD, you can exchange your vows in their picturesque Jacaranda Gardens before heading out on-course with your bridal party to take advantage of some stunning photo opportunities. Treat your guests to pre-dinner drinks with views of the fairways, followed by a reception in the Tennyson Room with a wedding menu designed and prepared by multi award-winning Executive Chef, Joshua Williams.
Ceremony & Reception from $6,800
Ceremony from $800
Reception Hire: Included
Reception Package from $80pp (Classic Seated Menu) + $40pp (Beverage Package)
Southport Yacht Club
Southport Yacht Club is a world-class venue, with its very own private beach overlooking the glimmering waters of the Gold Coast's Broadwater. Surround yourselves and loved ones with the peaceful tranquillity of their 300-berth marina, setting the scene for your photographer as the sun sets behind the beautiful Hinterland. Start in one of their four ceremony locations, progressing through to cocktails on the garden lawn or waterfront decking. As night falls, join your guests in your elegant reception located in their elevated banquet room overlooking the glistening lights on the marina.
Ceremony & Reception from $7,050
Ceremony from $600 (Western Deck, Mid-Week)
Reception Hire: Included
Reception from $109pp (Seated Menu) + $1000 ($20pp Bar Tab) OR $129pp (Cocktail Package + Beverage Package)
Events on Oxlade, New Farm
Celebrate your special day on your dedicated area of lawn overlooking a panoramic stretch of the Brisbane River at Events on Oxlade. Following your ceremony, guests will enjoy sumptuous food and decadent drinks underneath festoon lighting strung between jacaranda trees. Meanwhile, take a short drive to nearby iconic photo locations like New Farm Park and Brisbane Powerhouse. Return to the Ballroom or River Room to enjoy an evening filled with dining and dancing.
Ceremony & Reception from $7,190
Ceremony from $475
Reception Hire: $550
Reception Package from $84.50pp (Cocktail Package) + $1940 ($30pp Bar Tab + Wait Staff Charge)
We hope our round-up of affordable wedding venues has sparked your interest, and given you hope that you can have a beautiful wedding on a limited budget! Remember, even if a weekday wedding or cocktail package isn't your vibe, you can still request a quote for a weekend date or sit-down reception!
Give us a call today to chat with our Events Manager about how we can help you have the wedding of your dreams.